SEC backs, beware: Wisconsin's Melvin Gordon says RB race is 'on'
Wisconsin's Melvin Gordon returned to school after a 1,600-yard season to become a complete player -- and battle Georgia's Todd Gurley for bragging rights.
• 5 min read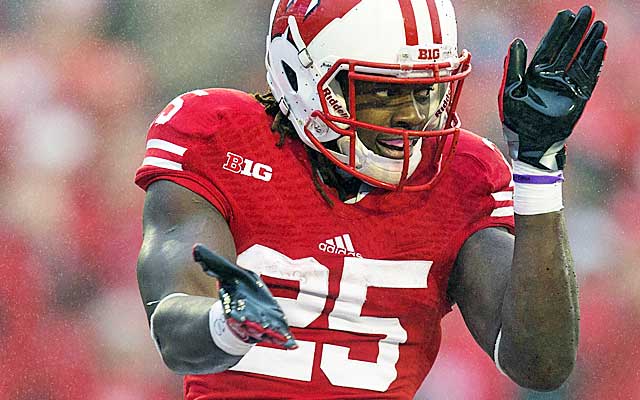 More CFB: Program draft: Did your team make top 32? | Latest news
MADISON, Wisc. -- It's a sticky June day outside the Wisconsin student union, where Melvin Gordon greets a visitor with a vice grip he calls a handshake.
Gordon wears red Badgers shorts, a gray Wisconsin T-shirt and flip-flops. He looks a bit like he just woke up, and that's because he just did. He caught a nap after his four-hour shift as a Merrill Lynch intern.
Gordon didn't need the uncomfortably hot sitdown on the union's patio to perk up quickly for an interview. About 10 minutes in, he reveals what he's really after.
The running back crown.
Then he reveals what might be in his way.
SEC running backs.
Specifically, Georgia's Todd Gurley and Alabama's T.J. Yeldon.
This is not a derivative of empty football trash talk that floods message boards and timelines. Gordon actually does a ton of research on his running back competition. He followed Gurley and Yeldon "heavily" last season, he says, searching for stats on his iPad whenever WiFi allowed. There's healthy admiration here.
That this could be a historically loaded tailback class nationally isn't lost on Gordon, a redshirt junior who eschewed the NFL draft after a 1,609-yard season in part to compete against the best.
As the NFL continues to devalue running backs, these three have potential first-round ability and play in systems that run the ball by committee, which helps stave off injury.
Gordon respects them but make no mistake. He is coming for them. The race for the country's best running back -- and possibly a Heisman invite -- is "on."
"It's been on," said Gordon, whose Badgers open the season against another tailback factory, LSU. "I'm competing against everybody, Gurley included."
With James White off to the NFL, Gordon will have plenty of chances to state his case.
Now that Gordon is the face of coach Gary Andersen's second season, with Corey Clement playing the backup role, he plans to help you understand.
Why returning to school wasn't a foolish decision, but an extension of his natural curiosity.                                                        
Gordon's off-field ambitions are as versatile as his array of midfield cuts on it.
First, a teenage Gordon -- a native of Kenosha, Wis., by way of Illinois -- wanted to flip cars like his dad, Melvin Sr., who always had to stop when he saw a weathered car with a For Sale sign on the corner. Dad wouldn't let him touch his renovated green Cadillac at home, though. Gordon's mother, Carmen, is a nurse.
Then Gordon, as a freshman at UW, wanted to major in architectural design but the school doesn't offer that program. He wanted to stare at a building "knowing it's something you created." He still wants that, after a post-playing career as a sports analyst. He wants that, too. He's also thought about entrepreneurship, since that Merrill Lynch internship has him thinking about navigating the financial world. It's a part-time gig that other Badgers players have done in the past.
"I don't want it where they say he can't do this or can't do that," Gordon said. "That goes for anything, really. Football and life."
Which brings it back to the decision to stay in school, despite good chances he'd go in the top two rounds in the 2014 draft's weaker running back corps (Gordon got a second-round grade from the NFL draft advisory board).
Last year proved Gordon could combine speed, power and vision to pump out a 12-touchdown performance. But White got most of the third-down blocking responsibilities and caught 39 passes out of the backfield to Gordon's one catch.
He wants that burden, and more. Gordon's career 8.1 yards per attempt won't offset that corner blitz Gordon remembers giving up in the Arizona State game, which still bugs him nearly a year later.
"I want to show people I can be a complete player," Gordon said. 
Apparently that's not a plausible reason for some. People on campus or back home ask him all the time why he stayed and risked further injury, he says. His answer is simple.
"I want to be great, not just a guy who came and went," Gordon said.
He's validating those words in the locker room, where offensive coordinator Andy Ludwig says Gordon took ownership of the offense in spring ball by speaking his mind when necessary.
Pass protection and receiving didn't come naturally to Gordon early on, Ludwig said, but they will by the fall because of the time he's spent on improving.
The natural rushing ability never has been a problem. For evidence, Ludwig points to Gordon's 143 yards against a stout South Carolina front in the Capital One Bowl. The words "physicality" and "excellent pad level" come up often.
"I'm anxious to see what he does after this offseason of putting it all together," Ludwig said.
For Gordon, that statement should apply to the entire roster, which he believes can be "something special." He's defensive about this team, from urging teammates to maximize their potential to supporting quarterback Joel Stave after an uneven performance last year prompted criticism from some fans. Stave will compete with Tanner McEvoy for the starting job in the fall.
Apparently it's easy to feel camouflaged by bigger, shinier Big Ten programs here in unassuming Madison.
"I just want us to be great," Gordon said. "At Wisconsin, you never get your respect, no matter how many Rose Bowls you win."
Quarterback play didn't stop Gordon and then-senior White break the FBS record for teammates' rushing yards with 3,053 -- a feat Gordon hopes to break with Clement (seven touchdowns last year).
This always seemed possible to Gordon, even when he was a 130-pound freshman at Grayslake Central (Ill.) High.
Now, with a 215-pound frame, he plans to become Wisconsin's first first-round tailback since Michael Bennett in 2001.
"I expected all of it," Gordon said.
If he has his way, he'll see Gurley in New York in about five months.
The Horned Frogs looked a lot like their old selves on Saturday afternoon in Stillwater

Stay with us all day Saturday for updates and highlights from Week 4 of the 2017 season

Harbaugh also said that Trump's comments at an event in Alabama were 'ridiculous'
The Horned Frogs had all the right defensive answers for the Cowboys

The Tide looked as you'd expect the top team in the country to look on Saturday in Nashvil...

Tua got plenty of action in the second half of Alabama's win at Vanderbilt