SEC-bound Missouri, Texas A&M officially embrace their great leap sideways
Missouri and Texas A&M are trading the same second-class niche they've always occupied for another one with a better PR machine.
At the stroke of midnight on Sunday, crowds in Columbia, Mo., and College Station, Texas, began ringing in July 1 as if it was Independence Day, or New Year's Eve, and in a way, it was both: The beginning of a new fiscal year officially marked Missouri and Texas A&M's independence from the Big 12 and arrival as full-fledged members of the SEC. And just to make it really official, the new kids on the block were greeted the following morning with condescending headlines like this one from the Baton Rouge Advocate:
Missouri stepping up in class with move to SEC
Somehow, I doubt that the harried copy editor in Baton Rouge who penned that sentiment gave much thought to whether it was verifiably true. I'm almost certain her readers didn't, the inherent superiority of the SEC over all comparable entities that are not the SEC being a matter of local gospel on par with, well, the Gospel. Ask around, and you might find the same consensus beginning to form in Missouri, too.
Given some of the projections of impending doom for the Tigers and Aggies in their new league, you'd think they'd just given up a chance to burn path of destruction through the old one. In fact, as far as football is concerned, they're not stepping up so much as they're trading the same second-class niche they've always occupied for another one with a better PR machine. They're stepping sideways.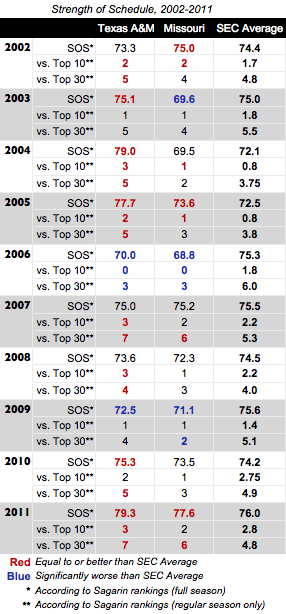 After a century of going head-to-head with the likes of Nebraska, Oklahoma and Texas — not to mention occasional, usually short-lived runs into the national elite by conference rivals Colorado, Houston, Kansas State, SMU and most recently Oklahoma State over the decades — it's not like either side is going to see anything in the SEC it hasn't encountered on an annual basis in its old digs. Mizzou hasn't won a conference championship since 1969, in the old Big Eight; A&M hasn't claimed a conference crown since 1998, its first and only appearance in the Big 12 Championship Game. That was also the year Mack Brown was hired to resurrect Texas, just ahead of Bob Stoops' arrival at fast-fading Oklahoma in 1999. With the traditional regional powers restored to their traditional glory, A&M spent the last decade playing second banana not only to the Longhorns and Sooners, but also to traditional also-ran Texas Tech, which beat the Aggies seven times out of eight from 2001-08. Before the abrupt midseason turnaround in 2010, A&M had gone a full decade since their last top-25 finish in the final polls. It hasn't finished in the top 10 since 1994, in the dying days of the old Southwest Conference. When Missouri landed at No. 4 in 2007, it was its first top-10 finish in almost 40 years, and hasn't been replicated. New boss: Same as old boss.
Refer to the chart at right for evidence of just how little their on-field reality figures to change. Using computer pollster Jeff Sagarin's strength of schedule ratings as a shorthand, the degree of difficulty for A&M and Missouri in the Big 12 has been virtually indistinguishable from the average SEC slate over the last ten years; in fact, following the Big 12's adoption of a nine-game, round-robin format for conference games, there's a valid argument that the eight-game gauntlet and attendant gaps in the cross-divisional exchange are going to make for a slightly friendlier road than the Aggies or Tigers would have faced if they'd stayed put. That was certainly the case in 2011.
Still, A&M and Mizzou have both have remained competitive and consistent enough to ensure a steady diet of bowl games, with nearly identical records over the last decade as their new second-tier peers in the SEC, Arkansas, Ole Miss and South Carolina, none of which has won the conference since its last expansion in 1992, either. Overblown reputations aside, life in the SEC doesn't figure to dramatically change the Aggies or Tigers' fortunes in either direction.
Of course, that doesn't account for the collective high of victory-by-association if the SEC continues its success in the BCS Championship Game, or the year-round circus ginned up by the likes of Paul Finebaum and SEC Media Days, the one area in which the conference is clearly miles ahead of the rest of the country. For ego and lowest-common-denominator entertainment value, the move is a step up. For anything you can actually measure, it's just a change of scenery.
Greg Huegel suffered a knee injury during Wednesday's practice

The Wildcats and Utes open conference play on Friday night

Eichorst's firing on Thursday sets Riley's seat ablaze, even if a decision won't be made i...
Eichorst had been at Nebraska since 2012

Three straight titles makes it seem like 'Alabama and everybody else' in the SEC

Some early-season Big Ten games could shake up the national standings