SEC-bound Missouri unveils inevitable expansion plans for Faurot Field
New additions will expand capacity to 77,000-plus.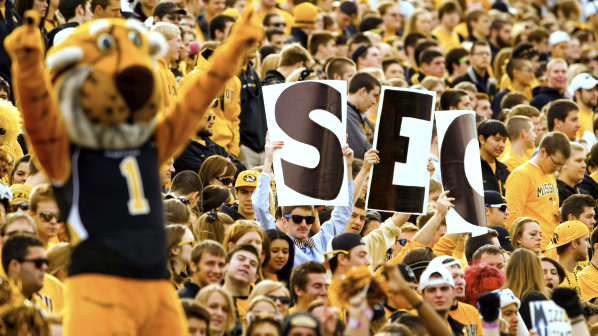 New conference, new demands: Expecting a surge in attendance following its defection from the Big 12 to the SEC, Missouri announced plans today for a $72 million renovation project that will add at least 6,000 new seats to Memorial Stadium, expanding total capacity to 77,000.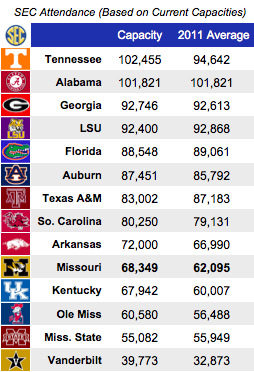 The plan – announced on the same day as a "major private gift" to the Mizzou athletic department – calls for 5,200 bleacher seats on the stadium's east side, along with 800 to 900 premium seats and the obligatory addition of new luxury suites on the west side, sales of which are expected to fund most (if not all) of the construction. A newly expanded concourse at the stadium's north entrance will also provide room for another seating increase at some point in the not-too-distant future. Athletic director Mike Alden will formally present the proposal Tuesday at a meeting of Mizzou's Board of Curators, who are expected to vote on Wednesday amid ongoing protests over budget cuts elsewhere in the university.
Officially, Mizzou averaged a little over 62,000 per game last year, up slightly from 2010 but down from the averages in 2008 and 2009 – the best seasons at Faurot Field since 1980. At any rate, the Tigers are entering a whole new league, literally and figuratively: Where last year's attendance ranked fourth in the Big 12, behind only Texas, Texas A&M and Oklahoma, the post-expansion capacity will rank just ninth in the SEC. With in-conference road trips to South Carolina, Florida, Tennessee and Texas A&M, the only stadium Mizzou will play in this fall smaller than its own is Central Florida's Bright House Networks Stadium (capacity 45,300) on Sept. 29.
Fun Memorial Stadium fact, according to the school: Legend has it that, during the stadium's initial construction in 1925, a rock crusher and truck were buried in the course of dynamite blasts, and remain entombed beneath the field to this day, Jimmy Hoffa-style. Maybe that explains why the turf has sometimes seemed to be haunted?
The Alabama QB has a new look after the Tide claimed another national title

Young was injured during Miami's Orange Bowl loss to Wisconsin

The movie will zero in on former Penn State coach Joe Paterno during the Jerry Sandusky sc...
Bidding for Salaam's trophy, which the auction house says was obtained legally, ends Satur...

Locksley has been the offensive coordinator at Illinois and Maryland during his coaching c...

Many NFL-eligible juniors ignore advice provided by the league and risk going undrafted each...