SEC conventional wisdom starts its 2014 season 0 for 3
The season is one night old, and already it looks like you should probably forget everything you think you know about this season's SEC.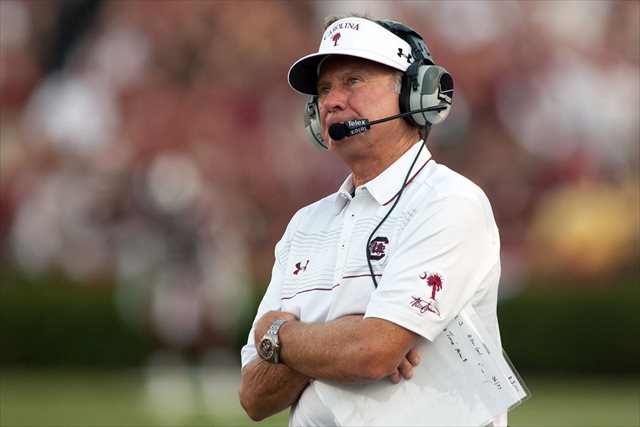 At SEC media days, Nick Saban finished his podium remarks by jabbing at the assembled media's track record when it came to predicting the league's season, and with good reason: Of the media's 22 attempts at picking the SEC champion in the preseason, 18 had ended in failure.
And on the opening night of the SEC's 2014 college football season, it didn't look like the media days' conference-prognosticating abilities were any better this offseason. Saban's league favorites at Alabama have yet to play, of course, but the conventional wisdom forged over the summer was made to look silly for each of the first three SEC teams to take the field Thursday night.
Let's take those pieces of conventional wisdom one at a time, shall we?
1. Texas A&M is no longer a factor in the SEC West. The Aggies were picked to finish fifth by the experts here at CBSSports.com, tied for fifth in the preseason magazine consensus, and sixth at SEC media days. A&M appeared in both the AP's and the coaches preseason Top 25, but even there, they were placed behind Ole Miss in both polls and widely derided as undeserving of even that level of respect. 
Expect that to all change in a big, big hurry. The Aggies didn't just go into Williams-Brice Stadium and snap South Carolina's 16-game home winning streak; they annihilated the Gamecocks, start to finish, looking far more like the 2012 Aggies that rode spectacular quarterback play and a dynamic, big-play defense to an 11-2 record than the 2013 version that sputtered (for a given definition of "sputtered") to four losses.
A&M may -- may -- still be a couple of defensive backs shy of actual West contention. But sixth place suddenly seems far more laughable than a trip to Atlanta.
2. South Carolina is the SEC East favorite. Though Georgia had its support, the Gamecocks were easily the consensus choice to represent the division in Atlanta, thanks to a bruising run game, a years-developing solid defensive reputation, and getting the Bulldogs in Athens. With Steve Spurrier's team favored Thursday by more than 10 points, the Aggies weren't supposed to be much more than a speedbump on their way to the Georgia Dome.
Now? Not only are the Gamecocks one loss to Georgia away from being essentially eliminated in the division race, but it's hard to imagine the team on display Thursday night -- at home! -- surviving seven more SEC games without another loss or two even if it does bounce back vs. UGA. The young, talented secondary looked far more the former than the latter, for now. The impact-light, Clowney-less defensive line missed Kelcy Quarles and Chaz Sutton, too. And most worrisome, between Mike Davis' rib injury, the early deficit and a surprisingly inconsistent push from what many believe to be the SEC's best offensive line, the run game accomplished next to nothing -- 16 carries for the Gamecock tailback netted just 61 yards (3.8 per carry), without a touchdown, against a defense that ranked dead last in SEC rush defense last season.
Give a metric ton of credit to A&M; the Gamecocks simply aren't as bad as they were made to look Thursday, and if they beat the Bulldogs, they'll still be able to say they have as good a shot at the East title as anyone. But SEC East favorites? Not any more. Not even close.
3. Ole Miss has a chance to crack the West top three. Few preseason projections had anyone other than Alabama, Auburn and LSU in some order atop the SEC West. But when the occasional limb-rider wanted to slide someone else into one of those top three spots, one of the Mississippi schools was basically always the "dark horse" choice, and the Rebels were that choice more often than not. (Our own Jeremy Fowler took Ole Miss for third over LSU, for instance.) Even those expecting a Tide-Tigers-Tigers finish frequently acknowlegded that the Rebels were dangerously talented, and a real threat to upset the top-three apple cart.
To judge by the final score, the Rebels looked every bit that part against Boise State, thumping the Mountain West favorites 35-13. But that final score doesn't tell you how staggeringly sloppy the Ole Miss offense was through 45 minutes, that through those three quarters it had as many false starts (seven!) as points, that Bo Wallace three interceptions stick out far more clearly in the memory than his three touchdowns, that while largely excellent the Rebel defense also had moments of lost discipline that could have put in a real hole had Boise not been every bit as committed to self-destruction. (Grant Hedrick finished with four interceptions himself.) Playing against a defense without a single 2013 first-team All-Mountain West defender, the Rebels entered the fourth quarter having scored 7 points and averaging less than 5 yards a play. 
Yes, the fourth quarter was amazing ... 
. @OleMissFB 28 4th qtr points were the most points in a qtr since scoring 28 in the 4th against Memphis in the 2009 season opener.

— Michael Thompson (@mtjrolemiss) August 29, 2014
... but you'll notice that 2009 team -- ranked No. 8 to start the year -- finished the season at No. 20. That would be a decent finish for this team, and Boise is a far better team than that Memphis squad.
But Boise isn't nearly the caliber of a team like the Tide, or the West's pair of Tigers, either. If Wallace doesn't settle down, if the Rebel offensive line doesn't perform dramatically better (especially in the run game), if Hugh Freeze can't get the ball to LaQuon Treadwell and his other playmakers more consistently, fourth will remain very much the ceiling.
So consider yourself warned, Alabama. We're one day into the season, and we media's predictions are already looking more wobbly than ever.
The junior will take the snaps for the defending national champions in 2017

MetLife Stadium is about 10 miles away from where the World Trade Center buildings once st...

The Terps will wear these against Indiana on Oct. 28.
The coach of the Eagles isn't here for no science talk

These are the teams that are getting too much -- or too little -- love before the season

The Crimson Tide start atop the AP Top 25 poll for the second straight season