SEC coordinators take you inside Auburn's rushing attack
Defensive coordinators from Georgia, Texas A&M and Mississippi State discuss Auburn's potent running game entering the national title game against FSU.
• 5 min read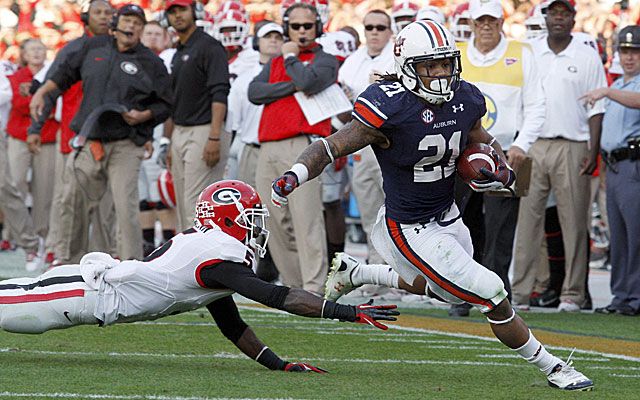 NEWPORT BEACH, Calif. -- Florida State defensive coordinator Jeremy Pruitt has probably called defensive coaches he respects for input, watched gobs of game film and peppered his players with monotonous messages about focus and discipline.
Auburn's running game elicits such behavior. It's the best FSU will face all season.
Well, a few coaches that have seen this beastly attack in person would like to help.
Three SEC defensive coordinators share their thoughts, roundtable style, on a rushing attack that leads the country in yards per game because of its fusion of timely playcalling, misdirection, quickness and an imposing offensive line.
Here's the panel: Mississippi State's Geoff Collins, Georgia's Todd Grantham and Texas A&M's Mark Snyder.
Amazingly, Auburn had 120 rushing yards in a 24-20 win over Mississippi State, well below the season average of 335. Auburn also threw the ball 34 times that game despite averaging 20 passing attempts per year.
Auburn relied more on the run in the second half of the year, playing more to its rushing average in wins over A&M (369 yards) and Georgia (323).
'The Magic is the playcalling'
COLLINS: "Gus is a great playcaller, knowing what situations to run at what plays to go to based on looks he's getting defensively. They don't pick bad plays. No tackles for loss or sacks, just plays that give them options."
SNYDER: "It's more of a Wing T. It's not really an option offense. You have to be willing as a defensive guy to give up some plays, which is hard to do. If you get greedy, he'll score on you. You have to be willing to let them run the ball at times, and when the field shrinks, hopefully they kick a field goal."
COLLINS: "What Coach Malzahn does a great job of, every play they have, there's a distinct complement of that play. If you're overloading one area, he knows what to go to. He calls it from the sideline, he gets in the formation, the tempo is fast. He knows what you're looking for, so he'll call the play based on how you're lining up."
Misdirection, Auburn's eye candy
GRANTHAM: "You'll have a misdirection with the runner carrying it or the quarterback carrying it or guy coming in motion carrying it. They all complement each other well. They are a little more modern than the basic option. They can get in more formations -- wishbone or a three-back set. They can be in four-wide looks or two-back look or can motion to three-back look. It adds a little more versatility in the offense."
SNYDER: "They try to take your eyes away. They do movements with cross motion pullers. Speed sweeps. You've got to be very disciplined. You talk to your guys about eyes. Gus knows we do that, so he has moving parts. That's why when you try to be multiple, it can hurt you because they'll hit you with an easy pass over the top. And if you try to be simplistic, they'll hurt you there, too."
COLLINS: "They'll start with two backs, then the motion comes and it creates the illusion of the three-back set. They constantly try to give you eye candy to make sure you're looking at what you're not supposed to."
SNYDER: "They don't run a lot of plays, but what they do run creates problems because they formation you to death."
That pesky sweep play
GRANTHAM: "The sweeps to the receivers, they probably ran those about eight times against us. The fullback and the running back are both blockers. That gives them an extra dimension. What you're doing is creating a true 11-on-11. Even if you know it's coming, it can be hard to stop."
COLLINS: "Three years ago we played them in Auburn, Gus' last year [as offensive coordinator], I bet they had about 200-300 yards rushing off a simple old-school sweep play from the Wing T days. That wasn't gonna be a play that would beat us on that play. We managed that play really well this year. But it's pretty much a 1960s buck sweep out of the Wing T."
The power to move you
SNYDER: "That left tackle [Greg Robinson] is really good. He's REALLY good. He's a road grader. When the going gets tough, it's going that way. Zone read, the ball's going to that cat. He can move the pile."
GRANTHAM: "I think they block really well. They are physical and pretty talented. That offensive line probably doesn't get much credit because they won three games the year before but they are good. Their runner [Tre Mason] runs hard. He's a physical downhill runner who competes at the line."
SNYDER: "That tight end [Sammie Coates] caught a pass and threw our DB to the ground. He's strong."
GRANTHAM: "The receiver [Ricardo Louis] really helps them because of his yards after catch. In this offense, you need a receiver who can win one-on-ones as a deep option."
Trying to stop it
SNYDER: "Change up your looks. Don't let Nick Marshall and Gus get comfortable. If he does, he'll wear ya out. There's a price to pay for that too. If they guess right, it could be six."
COLLINS: "As you had to get lined up and they go fast, we don't want to be in a situation where our kids didn't have their feet set. Even though we might tip our hand to what we're doing, at least we're lined up. Sometimes you see defenses aren't in their stances and they get gashed. So that's important when playing them, just simply being ready to make a play."
GRANTHAM: "I think you have to insert a safety in there or a corner to try to create negative plays. Your big people have to hold the point of attack on double teams. The edge guys have to set the edge to close out the seam. Your linebackers have to recognize the redirection and come back with the tight end and the puller."
These five teams have the best chance of being the Group of Five darling this coming year

Drevno had been running the Michigan offense for three seasons

Aaron was reportedly shot while trying to protect his girlfriend when a fight broke out at...
An assistant-by-assistant look at changes Saban made to the Tide's staff ahead of 2018

Find out when Nick Saban, Kirby Smart and the rest of the coaches will speak ahead of the...

It wasn't only the massive $75 million contract that got Fisher to depart for College Stat...