SEC enters new world: Covering itself on TV channel
The SEC Network brings with it some potential complications in regard to how the league will cover negative stories.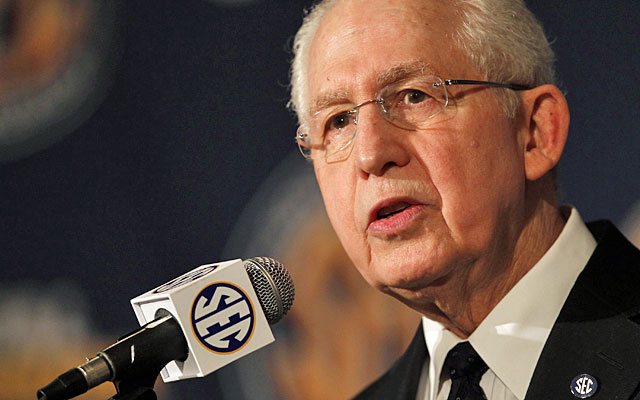 More college football: Dennis Dodd | Jeremy Fowler | Latest news
HOOVER, Ala. -- More than a year ago, the SEC Network made a major statement by making Paul Finebaum its first on-air hire. With just that one decision, the ESPN-owned channel told cable and satellite distributors, advertisers and the public that not only would this be no ordinary conference network, it would embrace some controversy.
Finebaum has made a career out of stirring the pot, first on local radio and newspapers in Alabama and then on Sirius and ESPN. Through the years, Finebaum and his callers and guests have at times made cringe-worthy statements that upset people within the SEC while also entertaining many listeners.
As the SEC Network prepares to launch on Aug. 14, the SEC -- already arguably the most exposed conference in the country, including through CBS -- enters the new world of covering itself through what figures to eventually be a lucrative endeavor. The rise of conference or school-owned channels by the Big Ten, Texas, Pac-12 and SEC raises the question of whether they can objectively report bad news about themselves or whether they're essentially longer infomercials.
Perhaps more than anyone, Finebaum understands the potential dilemmas that could arise from his four-hour radio show on an SEC-branded channel. He says there are "legitimate" questions about whether his show will be toned down once it is simulcast on the SEC Network, and if doing so would impact the show's popularity.
"If I had to predict where we have our first problem with this network it's with the callers," Finebaum said. "I think callers have gone way beyond anything I've ever said. It's a way of life to react and criticize. Like we've done on the radio, if callers go over a certain line on TV, we pull the plug. I've always been one to have the callers have a say."
Three football games each Saturday are the heart of the SEC Network, providing leverage with cable and satellite operators over reportedly the highest subscriber fees ever sought by a conference. Many games in other sports will also be shown.
Still, this is a 24/7 channel. How the SEC Network covers the SEC could be telling in what's highlighted and what's not. ESPN and SEC officials stress the SEC Network will report on unflattering news, but won't be investigating topics.
"This is not ESPN, this is not Outside the Lines," said Justin Connolly, ESPN senior vice president of programming for college networks. "Our focus is going to be on reporting news, making sure it gets covered. But we are not an investigative journalism network and we're not necessarily out there with the same news infrastructure as ESPN to break stories or go deep into layers of stories. Yet at the same time when stories break, we're going to report on it and make sure fans know about it. We're going to seek comment, seek feedback from the schools. It's a fine line. It's a balancing act of what we air on this network."
The SEC won't be the first major sports entity with a TV channel to navigate this tricky road. When the child sex abuse scandal hit Penn State in 2011 as a national story, the Big Ten Network -- owned jointly by the Big Ten and Fox -- was heavily criticized for its lack of initial coverage. The NFL Network made waves in 2012 by hiring Andrea Kramer to cover the NFL's most controversial issue: player safety.
The SEC and ESPN have had broader coverage conversations for a while through the SEC Network content committee. It's a group of SEC and ESPN officials that has often met about every six weeks.
Representing the SEC on the committee are SEC commissioner Mike Slive; SEC television consultant Chuck Gerber; Kentucky athletic director Mitch Barnhart; Mississippi State president Mark Keenum; and Florida executive associate AD for administration Lynda Tealer. ESPN is represented by Connolly, the head of the SEC Network; senior vice president of programming acquisitions Burke Magnus; VP of production for college networks Stephanie Druley; senior VP of SportsCenter and news Rob King; and senior VP of marketing Aaron Taylor.
Mangus said the SEC understands "in order for this network to have credibility and authenticity, if it's not reporting a story about a player or a team or a circumstance that's important, that's a huge hit to what the promise of this network should be. We're not going to shy away from reporting the news, good or bad."
Said Keenum, Mississippi State's president: "The network has to have latitude to cover all issues, the good and bad, and do it in a fair, objective manner. I think the presidents and chancellors understand that and are willing to accept that."
Give and take over role of coaches
At his annual SEC Media Days speech on Monday, Slive devoted much of his time to what even he acknowledged was a "commercial" to promote the SEC Network. He identified some of the network's analysts, prominent ex-SEC players such as Tim Tebow, Greg McElroy, Booger McFarland and Marcus Spears, and new documentary films on the network.
Left unspoken was the role of the SEC's biggest stars -- the coaches -- with the channel. SEC coaches have been told there will be a "give and take" over how much access they give the network, said Florida coach Will Muschamp, who added: "Based on what I was told, I think it will be very fair." The SEC Network will have a "film room" show each Wednesday night in which an SEC coach rotates every week analyzing game film.
A lot of the content will come directly from the schools, some of which invested a couple million dollars each to beef up their broadcast infrastructure. For instance, Auburn is spending approximately $3.5 million for a new control room, fiber and equipment.
SEC schools are betting on a longterm financial payoff that could eventually double their annual TV revenue. Without knowing precisely how well the SEC Network will initially be distributed and at what prices, SEC athletic directors spent the spring budgeting conservatively for 2014-15.
"There are a lot of [financial] numbers out there," Keenum said. "We won't know until we know the number of distributors. But I'm optimistic, very optimistic."
ESPN set a goal to have the SEC Network in 75 million homes. Comcast is expected to soon add the SEC Network, which would then be in about 50 million homes. TimeWarner, DirecTV and Charter are the other major distributors left for the SEC Network.
The Big Ten Network launched in 2007 in 16 million homes and now is in about 90 million homes in the U.S. and Canada. As the first of its kind among major college sports properties, the Big Ten Network fought more distribution battles than the SEC Network faces. The SEC initially passed on a channel. Later, the SEC added Texas A&M and Missouri as members and expanded the number of cable and satellite subscribers in its regional footprint by about 46 percent.
A sports channel's subscriber fees from distributors tend to be much higher within the regional footprint than nationally. The SportsBusiness Journal reported in January that ESPN was looking to charge a fee of $1.30 per monthly subscriber for the SEC Network within the SEC's 11-state region and 25 cents outside SEC territory.
Media rights deals translate to access. For example, at this week's SEC Media Days, each SEC coach is spending 50 minutes exclusively with ESPN properties, including 20 with the SEC Network. CBS, which has a TV deal with the SEC, is receiving a total of 20 minutes exclusively with each player and coach through two of the company's properties.
"Media people push for access on a regular basis, and it's sort of a delicate balance whether it's ESPN or CBS or Turner or NBC or Fox," Magnus said. "We want to give fans as much ability to discover interesting facets about the enterprise outside of what happens on the field. That brings with it a lot of complications. It's going to be an ongoing conversation that I feel they'll approach in the same earnest manner as other things."
'You define the narrative'
For the SEC, the balance between entertainment and comfort is perhaps the trickiest with Finebaum's show, which used to claim his program helped get SEC coaches fired.
This is the show that three years ago dominated the "news" at SEC Media Days when oddsmaker Danny Sheridan told Finebaum the NCAA had found a "bag man" who helped recruit Cam Newton to Auburn. It's the show where Alabama fan Harvey Updyke felt comfortable to admit he poisoned Auburn's famous Toomer's Corner oak trees. It's the show where some callers gain their own slice of fame -- or infamy, depending on your perspective -- based on outlandish comments that outsiders sometimes perceive as representing entire SEC fan bases.
The potential tension that comes with a Finebaum-SEC relationship was displayed at times last season. Appearing on ESPN, Finebaum called South Carolina star Jadeveon Clowney the biggest joke in college football. South Carolina athletic director Ray Tanner fired back at Finebaum, labeling the comments unprofessional and hateful, and said he would address them with Slive. Finebaum apologized to Tanner and then later in public on a visit to Columbia, S.C.
"I probably in retrospect went a little too far," Finebaum said. "I think I've learned there's a way to be critical and make your point without personalizing it. That's something I've been told by the people I work with: You can still get the message across without beating someone over the head. I think that's always been a legitimate criticism of me in the past that I've overdone things."
Magnus said the SEC understands the network needs to be relevant and reflective of its fan base with compelling content.
"Paul, if nothing else, is compelling," Magnus said. "That brings with it complications. But in order to get comfortable bringing him on in the first place, they had to get comfortable there would be times he might say or do something that we'd have to have the kind of trust built up where we could address those things in real time."
Finebaum said he believes his four-hour show on ESPN Radio has already changed, with his blessing, by discussing more national topics and relying on more guests in addition to the SEC. He's now transitioning to a radio show also aired on TV, where he wants to cater to both the radio and TV audiences.
Finebaum said it's not his intent to prevent callers from being critical of SEC coaches on an SEC-branded channel. Whether there will be internal SEC pushback, "truthfully, I don't know what will happen," Finebaum said. "Will there be something that happens? Sure. I can't imagine at the end of the football season there won't be one situation that somebody didn't like. I don't go into the programs hoping I don't upset somebody."
This is the new world for the SEC -- more money, more exposure, more challenges. And now, more than ever before, the SEC can shape its story through the most powerful communication medium available: television.
"It's our television," Kentucky basketball coach John Calipari said. "It's kind of like having your own Twitter account, your own Facebook, your own website. You define the narrative. They can't write the story about you: 'The league's this, the league's that.' No, they can't. You have your own narrative now."
Love was second in the nation in rushing with 2,118 yards in 2017

It looks like Jennings is slowly making his way back to the Vols after being dismissed last...

Offensive coordinator Brian Daboll's departure to the NFL has left a void at Alabama
Wilkins was considered a potential first-round pick in the NFL Draft

Brown will have two years of eligibility remaining

Chip Kelly has added some talent to his quarterback room from within the Pac-12