SEC eyeing Belk, Meineke Car Care Bowls, own selection process
The Southeastern Conference is formulating its bowl-game plans for 2014, including adding the Belk Bowl, Meineke Car Care bowl and having its own selection process among a five-game slate. This plan could affect the ACC, Big Ten and more.
• 2 min read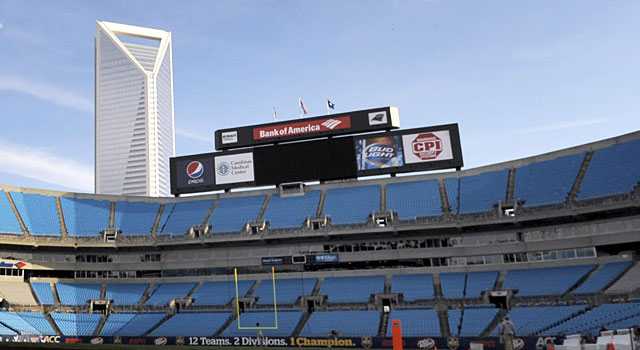 ATLANTA -- The Southeastern Conference is weighing options for bowl-game plans starting in 2014, including adding the Belk Bowl and having discretion to slot its own teams among a five-game platform, according to sources with direct knowledge of the situation.
The league has briefed bowl officials about a potential formula involving Belk, Music City, Gator, Meineke Car Care and possibly Outback in which the league would decide, with input from bowl officials, which SEC teams play in those games.
Bowl officials and conferences feel matchups got stale in recent years as teams were slotted to games based on ranking within their conferences, often causing repeat performers.
SEC officials met this week with the Belk Bowl, which is located in Charlotte, the SEC Network's new home. The SEC lost the Chick-fil-A tie-in to the College Football Playoff semifinal rotation, so the Belk is a chance to pair with the ACC in another southern bowl.
The Meineke Car Care in Houston would provide a Texas presence after losing the Cotton Bowl to the playoff. The Gator, Outback and Music City Bowls already have SEC tie-ins.
Bowl contracts are up after the 2013-14 season. With this plan, the SEC would lower the league's ticket guarantees and create bowl-friendly revenue plans in exchange for selection flexibility.
One bowl exec from one of the five games said he supports the change "in an effort to create flexibility in creating matchups in the cities that make the most sense in a given year rather than be bound by a rigid pecking order."
The Capital One Bowl, traditionally the SEC's best non-BCS bowl, is likely a stand-alone deal.
Sides haven't discussed money yet, so the plan could take a few turns, but this is what the SEC wants to do.
In recent months, the SEC had discussed a multi-site, rotational bowl partnership with the Big 12, Big Ten and ACC to maximize matchups over six years.
Big Ten commissioner Jim Delany acknowledged the consortium idea but added that it's difficult to execute because of the intense coordination involved among several conferences.
The bowl business is concerned with "bowl fatigue, bowl coma," Fiesta Bowl executive director Robert Shelton said.
But Football Bowl Association president Wright Waters said, despite matchup challenges and schools facing problems selling their ticket allotment, 18 bowls still increased attendance last year.
This is precisely what you'd think would happen between Kiffin and Saban

Anybody can rank the best 25 teams, only the Bottom 25 ranks the worst

Former Tennessee State player Latrelle Lee has already been expelled from school for the i...
Whether Kelly picks Florida, UCLA ... or even Tennessee ... his decision will reverberate

The Canes have put themselves in a great spot in this college football rankings prediction

Mayfield will not start and will not be a captain in Oklahoma's regular-season finale