SEC fatigue sets in for Florida State
The Florida State Seminoles can't stand alone as a dominant team. They must be compared to the SEC, Auburn and Alabama.
• 2 min read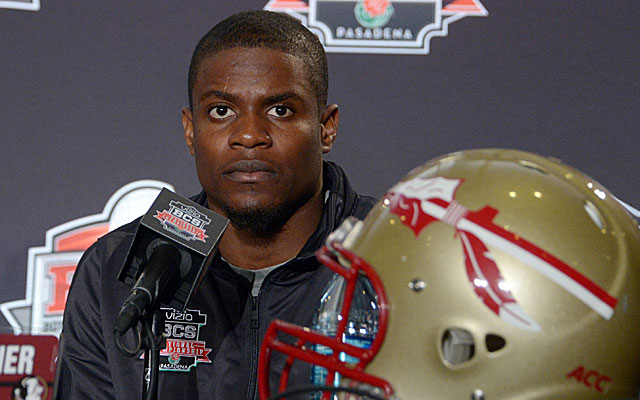 NEWPORT BEACH, Calif. -- Oklahoma's win over Alabama in the Sugar Bowl should be enjoyed as a singular performance, but predictably it will be packaged into conference superiority rhetoric -- specifically, how it affects the SEC.
This is playing out in the pregame interviews with Florida State players leading up to the national title game aginst Auburn. Thursday marked the first media session for both teams, and first to the podium was SEC fatigue. Questions about the SEC's seven-year title streak were more available than free iPhone apps. 
"It gets a little bit annoying at times," cornerback Lamarcus Joyner said.
Don't mistake that quote for agitation by Joyner, one of several Seminoles asked about the league while handling the questions deftly.
FSU, with its clear-cut argument as the best team in the regular season, can't stand alone as a body of work, just like Oklahoma couldn't before it unleashed Big Game Bob from a hiatus.  Its worthiness to the SEC must be examined. Joyner might as well have taken off his shoes and belt for this security check.
By unofficial count, Joyner got 10 SEC-related questions during a session of 20 minutes or so. And this doesn't count questions about stopping Auburn.
These were inquiries about whether the Seminoles could get through an SEC schedule undefeated, whether FSU has an SEC-style defense or whether the team is disappointed it isn't playing Alabama -- which just finished the year on a two-game losing streak.
"I just think we're a pretty good football team," Joyner said about the SEC defense comparison.
The SEC has earned its right to be a measuring stick, but not its own NCAA subdivision. The streak will not go forever. The SEC knows this. Florida State has arguably the best chance to crack the streak than the six non-SEC championship opponents before it. Oregon's 2010 team or Oklahoma of '08 might disagree, but FSU might be deeper than those teams.
FSU has won its past 13 games by an average score of 53-11 but the Seminoles can't talk about that. They must talk about Bama.
"I feel like we have some good teams in the ACC, too," linebacker Christian Jones said. "There are other teams out there that can play football."
Clearly OU wanted not just a Sugar Bowl win but one over Alabama -- "I think it shows we can play with anybody," Stoops said. Some FSU players might embrace a similar motivational tactic playing an SEC team.
So, for that, perhaps FSU thanks you for the questions.
"After this game is over it may mean a lot, if we're fortunate enough to pull out the win, but I don't look at it as we must stop the SEC," Joyner said. "I look at it as we must win. Our opponent has no face."
It just might have been the best game of the season so far

Projecting the new AP Top 25 poll college football rankings after Week 4

Stay with us all day Saturday for updates and highlights from Week 4 of the 2017 season
Georgia dismantles Mississippi State between the hedges Saturday night

The Horned Frogs looked a lot like their old selves on Saturday afternoon in Stillwater

Harbaugh also said that Trump's comments at an event in Alabama were 'ridiculous'