SEC imbalance: When will the West's dominance over the East end?
Alabama obliterated Florida 32-13 in the 2009 SEC Championship game. The SEC hasn't been the same since, tilting heavily to the West over the past five years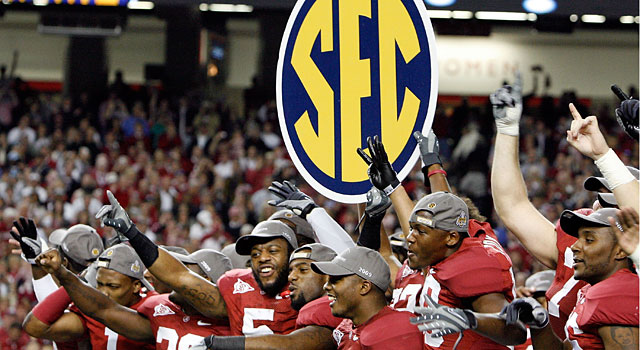 More college football: Dennis Dodd | Jeremy Fowler | Latest news
HOOVER, Ala. -- Entering Dec. 5, 2009, the king of the SEC resided in the East. Florida was riding a school-record 22-game winning streak, putting Urban Meyer and Tim Tebow in position to possibly win their third national championship in four years.
Then came the SEC Championship Game. Alabama obliterated Florida 32-13, causing Tebow to shed tears, Meyer to get hospitalized and eventually leave Gainesville, and Nick Saban to win the first of three national titles in four years at Alabama. The SEC hasn't been the same since, tilting heavily to the West over the past five years.
The cyclical nature of college football sees these types of runs from time to time. With traditional powers Tennessee and Florida struggling lately, how the West is won lately means how the SEC is won, too.
The West has won five straight SEC championships thanks to Alabama (two titles), Auburn (two) and LSU (one). If the West wins the SEC again this year, the six-year streak would match the longest by any SEC division since the SEC Championship Game started in 1992. Florida and Tennessee combined to win six in a row for the East from 1993 to '98.
SEC Divisional Split
For the first time, the SEC West is now tied with the SEC East all-time in conference championships since the SEC went to divisions in 1992. The West has now won 53 percent of its games against the East. Here are the historical results by team during the 22-year history of SEC divisions. (Note: Missouri and Texas A&M didn't join the SEC until 2012.)
SEC West
School
SEC Rec.
vs. East
Overall
West Titles
SEC Titles
Alabama
112-64-0
46-26-0
187-93-0
8
4
LSU
106-69-1
37-31-1
187-86-1
5
4
Auburn
105-69-2
42-26-1
184-86-2
5
3
Texas A&M
10-6-0
2-2-0
20-6-0
0
0
Arkansas
80-94-2
27-40-0
145-120-2
3
0
Ole Miss
67-109-0
30-34-0
137-128-0
0
0
Mississippi State
65-110-1
32-33-0
125-126-2
1
0
Totals
545-521-6
(.511)
216-192-2
(.529)
985-645-7
(.604)
22
11
SEC East
School
SEC Rec.
vs. West
Overall
East Titles
SEC Titles
Florida
134-42-0
46-28-0
213-69-1
10
7
Georgia
111-64-1
44-24-1
193-82-1
5
2
Tennessee
110-66-0
39-30-0
185-89-0
5
2
Missouri
9-7-0
2-3-0
17-9-0
1
0
South Carolina
79-96-1
25-39-1
143-120-1
1
0
Kentucky
45-131-0
23-41-0
102-158-0
0
0
Vanderbilt
35-141-0
13-51-0
88-168-0
0
0
Totals
523-547-2
(.489)
192-216-2
(.471)
941-695-3
(.575)
22
11
The SEC West is two conference championships away from tying the longest streak by one division in college football history. Texas and Oklahoma combined to win seven straight Big 12 titles out of the Big 12 South from 2004 to '10.
Over the past five years, the SEC West is 58-29 vs. the SEC East (.667 winning percentage). Every West team has a winning record against the East since 2009 except Ole Miss and Texas A&M (only four cross-divisional games since joining the SEC in 2012).
"The West has been strong ever since Saban arrived in 2007, and to a certain extent that's part of the reason for the ebbs and flows of the SEC," former Alabama quarterback Greg McElroy said. "I think some programs have seen the success he's had in a relatively short amount of time and they've been able to really commit themselves to recruiting because he is such a fierce recruiter and has gone to places all over the country."
Is the balance about to shift after Alabama lost its final two games in 2013 to Auburn and Oklahoma? That remains to be seen. It's not showing up in recruiting.
Auburn, which won the West last year, had the No. 6 recruiting class in the country in 2014, according to 247Sports. That left Auburn with only the fourth-best class in the West. (Tennessee, Georgia and Florida were ranked Nos. 7-9, respectively, out of the East.)
So far for the 2015 class, five West teams are ranked by 247Sports in the top 14 nationally, including three in the top six. Alabama is No. 1. The East has three teams in the top 12.
SEC West vs. SEC East
(Since 2009)
School
vs. East
Alabama
14-1
LSU
11-3
Auburn
10-5
Mississippi State
9-4
Arkansas
8-5
Texas A&M
2-2
Ole Miss
4-9
Alabama arguably has "the greatest collection of football players ever assembled for a college team," South Carolina coach Steve Spurrier said, both complimenting Saban and raising the stakes for him. "… As long as they can recruit like that, they're always going to be the favorites. I guess fortunately sometimes the team that plays the best is the team that wins instead of maybe who all has the best players."
The SEC West's dominance has occurred as Florida, Tennessee and, to a lesser extent, Georgia have struggled at times. In part, those programs' difficulties have helped South Carolina produce three straight 11-win seasons for the first time.
Georgia has lost at least five games in three of the past five seasons while winning the East in the other two years. Florida has lost at least five games in three of the past four seasons, including a 4-8 record during an injury-filled 2013 season as Missouri won the East.
No one has impacted the East more than Tennessee, which has a 33-41 overall record and 14-34 SEC record since 2008. Tennessee hasn't beaten Alabama since 2006 or Florida since 2004 -- the Vols' two rivals.
"We have to get back to making these rivalry games relevant again," said Tennessee coach Butch Jones, who added he sometimes feels like "an expansion" team given the Vols' youth in 2014 and lack of success lately.
SEC expansion in 2012 made the strength or weakness of cross-divisional opponents even more important. Instead of playing three teams from the opposite division, SEC teams now play two, increasing the chances that a team's cross-divisional schedule will be tougher or weaker than what a divisional rival faces.
The SEC elected to keep eight league games instead of going to nine. That means one of Alabama's two cross-division games every year is against Tennessee. The Vols enjoyed a similar advantage when Alabama was down in the early 2000s, although SEC teams played three cross-divisional teams at the time.
"Tennessee has historically been a strong brand for the conference," SEC executive associate commissioner Mark Womack said. "With what they're doing there, they're on their way back. But all teams probably go through cycles. Some teams in divisions have been fairly dominant in short periods of time."
Division Win Streaks
If the SEC West wins the next two SEC championship games, it will match the longest streak by one division in the history of college football league championship games.
Conf. and Division
Div. Streak
Teams
Big 12 South
7 (2004-10)
Oklahoma 5, Texas 2
SEC East
6 (1993-98)
Florida 4, Tennessee 2
SEC West
5 (2009-pres.)
Alabama 2, Auburn 2, LSU 1
C-USA East
5 (2007-11)
UCF 2, East Carolina 1, Southern Miss 1
ACC Coastal
4 (2007-10)
Virginia Tech 3, Georgia Tech 1
MAC East
4 (1997-2000)
Marshall 4
ACC Atlantic
3 (2011-pres.)
Florida State 2, Clemson 1
Pac-12 North
3 (2011-pres.)
Stanford 2, Oregon 1
On the other hand, the unexpected can happen in the SEC. No one saw Auburn and Missouri coming in 2013. The  teams were picked near the bottom of their divisions and met in the SEC Championship Game. 
When the SEC added Texas A&M and Missouri, there was discussion about Missouri joining the West and Auburn being shifted to the East. Alabama led the effort to put Missouri in the West in order to keeps its annual rivalry game against Tennessee and not possibly allow Auburn to grow its recruiting presence in talent-rich Florida and Georgia.
Missouri coach Gary Pinkel said he has no problem playing in the East despite the mixed-up geography alignment.
"We told our fans this is a whole different level, and our fans got it," Pinkel said. "I'm very, very proud of them. We travel. That's one thing about SEC fans: They travel big and we travel big."
Because of the West's recent dominance, the SEC divisions are now tied in conference titles (11 each) for the first time since divisions started. Over the 22-year history of divisions, the West has won 53 percent of its games against the East, a number that continues to increase each year.
The West is on top now. If history tells us anything about the SEC, the East will rise again. But when?
The Alabama QB has a new look after the Tide claimed another national title

Young was injured during Miami's Orange Bowl loss to Wisconsin

The movie will zero in on former Penn State coach Joe Paterno during the Jerry Sandusky sc...
Bidding for Salaam's trophy, which the auction house says was obtained legally, ends Satur...

Locksley has been the offensive coordinator at Illinois and Maryland during his coaching c...

Many NFL-eligible juniors ignore advice provided by the league and risk going undrafted each...