SEC may not need satellite camps, which help schools outside its domain
SEC rules prohibit member schools' coaches from working at so-called satellite camps. Meanwile, schools outside the SEC use the camps to lighten the recruiting burden with more players in one spot.
• 2 min read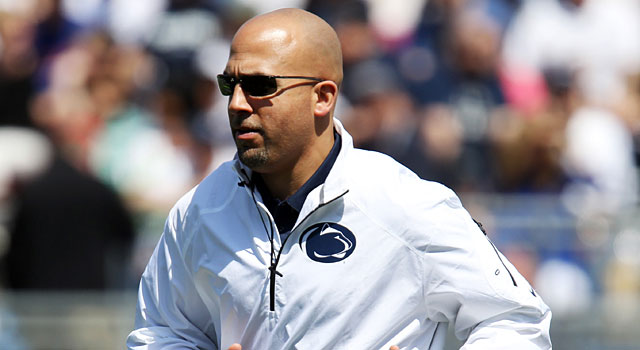 More on summer camps: Have summer camps exposed recruiting loophole?
SEC coaches can complain all they want about Penn State head coach James Franklin helping Georgia State coach a camp in Atlanta, but others see satellite camps as a way to evade risks associated with shuttle-service recruiting.
Coaches come to the players instead of the other way around.
In May, the Pac-12 passed a bylaw where head coaches could attend satellite camps, to the relief of Colorado's Mike MacIntyre.
The Buffaloes are holding camps in California, and possibly Texas.
"If you are able to have camps in different areas, you'll eliminate some of that because kids will drive over, pay $50 to be in the camp and there it is," MacIntyre said. "There's no gray area."
SEC rules -- at least for now -- prohibit league coaches from guest coaching at campuses more than 50 miles away, even if the NCAA permits it.
The SEC doesn't need to host camps outside its footprint because of the premier talent there. They want to muscle schools out.
Notre Dame is following Penn State's cue. The Irish will collaborate with Georgia State on a camp.
Contra Costa (Calif.) College coach Alonzo Carter will get help from Arizona State assistants for camp at his junior college. That means more local players will be seen by college coaches because the travel is minimal.
"In my backyard, instead of taking two guys I could take 10 guys," Carter said. "It's more beneficial for everyone involved."
Of course, coaches are still trying to figure out the logistics of these camps. Oregon's Mark Helfrich said league coaches discussed the matter at a conference compliance meeting in June.
Helfrich could see satellite camps going two ways -- total expansion or "totally shutting down." The Ducks coach sees the value in the camps but also sees the downside: Getting to know players at a random site is not the same as the traditional campus visit.
"Being here is always better," Helfrich said.
Satellite camps can become localized recruiting, which matters to Apopka (Fla.) HS coach Rick Darlington. Recruits often feel pressure to travel in the summer despite minimal resources, Darlington said.
That's why Darlington proposes spring game or summer camp visits become official -- paid for by the school -- to accommodate the new era. Currently, players can't take official visits until September.
"It's hard on families and it's hard on kids," Darlington said.
From Chip Kelly to Billy Napier, did these schools and coaches make the right calls this silly...

SportsLine's computer model simulated every college bowl game 10,000 times, with surprising...

Everything you need to know to watch and pick the Boca Raton Bowl on Tuesday
College football recruiting begins earlier than normal with a National Signing Day in Dece...

Getting Leavitt back was obviously high on Cristobal's list of priorities

Cristobal's first game at Oregon ended the same way Chip Kelly's did