Sec. of Defense: Academies OK to play through October
Defense Secretary Chuck Hagel has given approval to Army, Navy and Air Force playing their football games through the end of the month.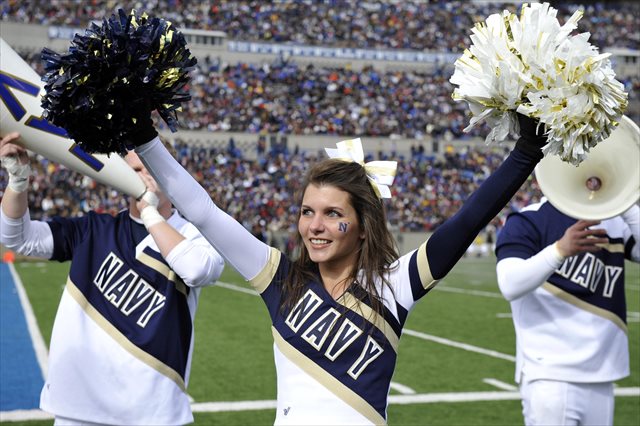 The government shutdown won't shut down service academy football, at least in the month of October.
Per the Associated Press, Pentagon spokesperson Col. Steve Warren said Thursday that Defense Secretary Chuck Hagel had decided that football and other athletics teams at the Army , Navy and Air Force academies would compete as scheduled through the end of the month. Hagel will "reassess" that decision at the end of October if Congress has still failed to reopen the government.
According to Navy athletic director Chet Gladchuk, the Midshipmen are still using private funds to pay for its travel to Duke for this Saturday's game, and a failure to show for the game on Navy's part could have led to a breach-of-contract and possible fines.
Warren said that after consulting with Pentagon counsel and military leaders, such fines were taken into consideration as a reason to continue playing the academies' scheduled games.
Per the AP, "the games are largely paid for with funds that come from outside sources and are not approved through Congress."
The Pentagon's approval meant that Air Force's Thursday night home agame against San Diego State went ahead as planned. The Falcons lost 27-20 to fall to 1-6 on the season. Troy Calhoun now has 16 days to prepare for Notre Dame's visit to Colorado Springs on Oct. 26.
After facing Duke in Raleigh on Saturday at 12:30 p.m. ET, Navy will play at Toledo Oct. 19 and at home against Pitt for homecoming Oct. 26. Army will play Eastern Michigan at home this Saturday and at Temple on Oct. 19, with a bye scheduled for the final Saturday of the month.
This is precisely what you'd think would happen between Kiffin and Saban

Anybody can rank the best 25 teams, only the Bottom 25 ranks the worst

Former Tennessee State player Latrelle Lee has already been expelled from school for the i...
Whether Kelly picks Florida, UCLA ... or even Tennessee ... his decision will reverberate

The Canes have put themselves in a great spot in this college football rankings prediction

Mayfield will not start and will not be a captain in Oklahoma's regular-season finale