SEC Spring Review, Part 1: Aggies don't lack swagger
With half of the SEC's spring games in the books, here's a review of what we've learned.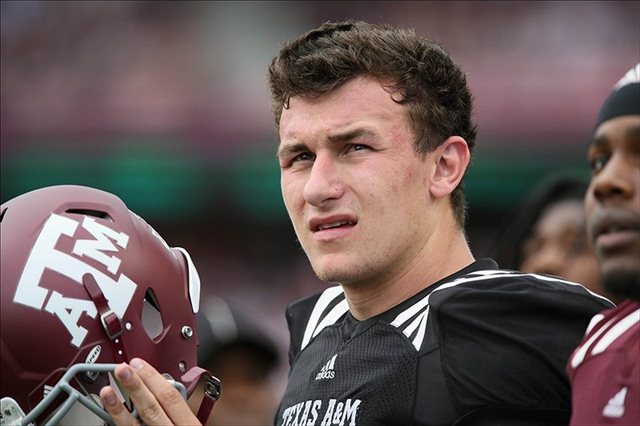 It's not easy to learn a lot from the grab bag of spring practice, but that doesn't mean fans can't try. With half of the SEC's spring games (or "games") complete, here's what we think we've learned from those seven. Part 2 will arrive next week after the other seven games this weekend.
Texas A&M does not lack for swagger. Most of the headlines coming out of the Aggies' spring game last Saturday were about the same thing that they've been about ever since the start of the 2012 season -- one Johnny -- in Saturday's case, both his 300-yard passing day against the Aggies' second-team defense and the dangerous head-first block that he threw during a Brandon Williams touchdown run.   
But anyone tuning in on ESPN would have seen plenty of fireworks that had nothing to do -- directly, anyway -- with Manziel. As the Associated Press put it:
Williams received a penalty on the touchdown for a hip gyrating dance after the score, one of several unsportsmanlike conduct penalties the Aggies received for touchdown celebration penalties. Manziel said he explained to the referees why they were over-celebrating in a spring game.

"I told them ... `we're going to celebrate every time. We don't get to be on ESPN for a spring game like this every day. So we might as well have fun with it and get the recruits to have fun.' Everybody is here to have fun. It's spring ball. It's been a grind. It's the last day to go out and really show that we've been working, so we were going to have fun with it regardless."
On the one hand: unsportsmanlike flags in a spring game mean less than nothing, it's in the best interest of A&M's program to show recruits they'll be able to enjoy themselves (when appropriate) under Kevin Sumlin, and the brand of swagger that seems to seep from Manziel both on and off the field played no small part in the Aggies' 11-2 triumph last season.
On the other hand, the team that's going after its fourth crystal football in five years this fall isn't about to have the phrase "hip gyrating dance" appear in any account of its spring game, unless the phrase "Nick Saban spontaneously combusted" also appears. On the surface, Manziel's social-media-happy offseason has been one that's been about enjoying last year's success as much as building toward this year's, and it's arguable the spring game suggests the team as a whole might be taking the same approach.
But again: that's on the surface, and the Aggies aren't taking down Alabama without a healthy dose of that swagger, anyway. Can Sumlin and Manziel find the balance between "having fun with it" and doing the hard work necessary to win a championship? They deserve the benefit of the doubt, but it's also hard not to acknowledge that there is some doubt after the past few months.
Kentucky fans exist. No, really! And, boy, howdy do, they love Mark Stoops. We kid, we kid about that "existing" part. But even the staunchest Wildcat supporters had to be goggle-eyed at the final attendance tally for Stoops' first spring game: 50,831. For Kentucky's spring game. Stoops was generally considered a soild-if-not-spectacular hire in Lexington. But if he can sell the program to recruits half as well as he has to Big Blue Nation -- and find a way to translate that interest into an actual home-field advantage -- the Wildcats might actually start going places. (It'll help if Jalen Whitlow's performance wasn't a springtime fluke; the sophomore quarterback hit 17-of-28 for 193 yards with 58 more on the ground.)
Georgia's defense isn't worth losing sleep over. In 2011, Georgia ranked 11th in the nation in rush defense. In 2012, they brought virtually everyone back and finished 12th ... in the SEC. With nearly as many contributors gone in 2013 as returned in 2012, the Dawgs could be expected to struggle on that side of the ball again ... except, maybe, for the part where they held the Bulldogs' SEC-best offense to 245 yards and Aaron Murray to only three scoring drives in eight attempts. That the Georgia defensive line appeared to have taken a step forward after their disappointing showing last season has to be particularly encouraging for Mark Richt ...
... unless, of course, he wantes to blame the lackluster showing by the offensive line. (And no, going forward, this wouldn't be the first time an experienced Georgia offensive line didn't play up to potential.) The guess here is that Todd Grantham has learned from his mistakes and that Bulldogs' glass is half-full -- but the situation on both lines will bear watching going into fall camp.
Mike Gillislee won't be missed in Gainesville. Things didn't go all that smoothly for the Gator offense this spring. The offensive line ran so short of bodies that the spring game became an open practice. By all accounts, the backups behind Jeff Driskel need plenty of work if an injury to the Gator starting quarterback is going to be something other than an enormous setback. And the perpetually disappointing receiving corps seems to have its hopes pinned on a true freshman. (Demarcus Robinson had best be more Amari Cooper than Dorial Green-Beckham, for the Gators' sakes.) But there was some good news: between sophomore Matt Jones (the likely starter), five-star freshman Kelvin Taylor and steady junior Mack Brown, Will Muschamp won't have to worry about the tailback position, at least. Jones was arguably the star of the Gator camp, while Taylor -- the son of former Florida and NFL great Fred Taylor -- turned plenty of heads in getting a jump start on his career, and Brown was as reliable as ever. The odds of none of the three stepping in and filling the 1,000-yard shoes left behind by the departed Mike Gillislee are slim indeed.
Bo Wallace will be forced to live in an impenetrable bubble between now and the first game of the season. Wallace has already undergone offseason shoulder surgery but should be fully healthy by the time the season rolls around. Judging by the performance of the other quarterbacks on the Ole Miss roster this spring, he'd better be; despite the Rebels also succumbing to a rash of offensive injuries and scaling back to an open-practice format rather than an actual game, the scrimmage portions of that practice yielded the following combined stats for the four QBs who saw action: 15 of 37, 197 yards (5.3 YPA), one touchdown, two interceptions. And the contributions to that line from Wallace's likely backup, senior Barry Brunetti were 3 of 13, 55 yards, one pick.
Hugh Freeze blamed his patchwork offensive line, but those are the kinds of stats that seem too ugly to lie -- the Rebels will have to have Wallace intact to build on 2012's bowl breakthrough.
At South Carolina, "spring is really about learning the playbook." So sayeth none other than Jadeveon Clowney, who skipped Saturday's spring game as expected -- except for his surprise "touchdown" reception cameo:
Both Clowney's appearance off the sideline and his and Steve Spurrier's postgame comments showed that the Gamecocks weren't taking the spring game (or arguably even all of spring practice) all that seriously. Which makes it hard to tell if the Gamecocks' biggest question entering spring practice -- whether Dylan Thompson could gain any ground on the injured Connor Shaw in the battle to be named the team's No. 1 quarterback -- got anything like an answer or not. That Thompson went a productive-if-not-eye-popping 6-for-10 for 96 yards with a touchdown and interception apiece might mean something, and it might not. But judging from Spurrier's approach, it seems safe to lean towards "not."
Austyn Carta-Samuels looks like your Vanderbilt starting quarterback. The former freshman sensation at Wyoming got the start for the Commodores' first-string "Black" team and appeared to make the most of the opportunity, hitting 14 of 20 for 196 yards (9.8 YPA) and a touchdown without an interception, adding on a game-winning, two-minute drive for good measure. QB competitor Patton Robinette wasn't too shabby himself -- 11-for-15 for 101 yards, and without the help of receiver Jordan Matthews -- but Carta-Samuels' experience and dual-threat potential makes him the favorite as long as he can maintain his accuracy. On the basis of the spring game, at least, that's a mission that he's accomplishing.  
Schiano would have made $4.4 million in Year 1 with annual raises as part of a six-year de...

Dykes spent this season as an offensive analyst at TCU

The "Wyoming Wild Man" notched six tackles for loss as a junior in 2017
Zaycoven Henderson was charged with aggravated assault with a deadly weapon

Patterson is a former No. 1 recruit in the country

Baker Mayfield and two Sooner teammates made the first team