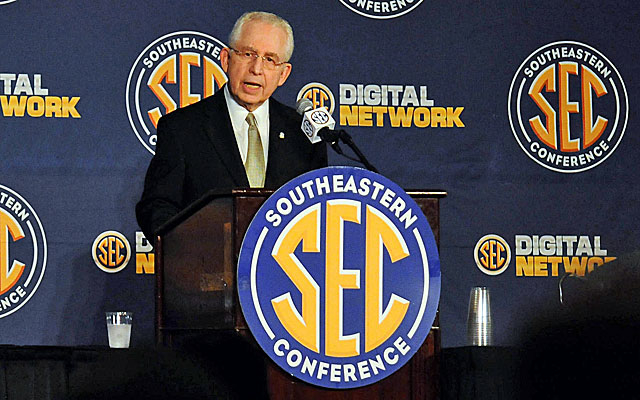 More: Dodd: More SEC genius | ACC monitoring SEC's decision | Latest news
The SEC enters the College Football Playoff era boldly -- without changing a thing, basically.
The league on Sunday decided to maintain an eight-game football schedule for the foreseeable future, CBSSports.com has learned. The league announced the schedule commitment at 6 p.m. on Sunday.
All 14 teams are required to play at least one opponent from the four other power conferences (and Notre Dame would fulfill that requirement), which most SEC schools already do, while keeping a 6-1-1 format inside the league (six divisional games, one permanent crossover, one rotating crossover).
The SEC was locked into eight games for 2014-15 but had been evaluating a possible to jump to nine games, a path taken by the Pac-12, Big 12 and Big Ten.
Commissioner Mike Slive told CBSSports.com on Sunday that a substantial majorityof presidents and athletic directors voted for eight games after the issue had been "thoroughly, carefully analyzed and talked through."
Slive said he's sensitive to the arguments against eight games -- mainly, how it fares in the playoff era. If the ACC decides on nine games in the future, the SEC would be the lone power conference playing eight.
"One thing about the SEC is it has always marched to its own drummer," Slive said. 
In the SEC release, the conference stresses its willingnes to play tough non-conference opponents. The SEC will have played 132 games against schools from the ACC, Big 12, Big Ten and Pac-12 from 2006 through 2015. More than half the SEC schools played two or more of those games at least once during that period.
The SEC discussed whether to continue playing FCS schools but decided to keep scheduling them, Slive said, because the league feels it's important to support college football at all levels.
The SEC Network, which launches in August, had no input on the decision, Slive said. Slive believes the league can get more SEC Network inventory with the guarantee of seven home games, as outlined in a Birmingham News piece last month.The use of neutral-site games will also help.
"There may be a perception that eight is as good as nine, but when you analyze nad rationalize it, I think we are in a good position given our conference schedule," Slive said. "Given the fact half of the league is already playing nine (with end-of-season rivalries), it didn't require an additional action." 
The SEC also maintained permanent crossover rivalries such as Georgia-Auburn, Alabama-Tennessee and Florida-LSU.
As for the four-team playoff and whether the league feels it's well-positioned, Slive emphasizes his teams' body of work.
"We expect the committee will look at the whole schedule," Slive said.