SEC Ultimate Preview: Tennessee looks for streak-buster at Florida
Can Butch Jones and the Vols finally break the Gators' decade-long hex over Tennessee? The CBS Sports SEC Game of the Week is ready to find out.
It's nothing less than tradition: Florida vs. Tennessee will air as the SEC on CBS Game of the Week. The Gators can stamp themselves as legitimate SEC East contenders by taking down the preseason division dark horses, while the Vols can snap their 10-season losing streak against the Gators, which would be nothing less than the biggest win of Butch Jones' tenure. Neither team may be ranked (yet), but the stakes are sky-high regardless.
When: Saturday, Sept. 26, 3:30 p.m. ET | Where: Ben Hill Griffin Stadium -- Gainesville, Fla.
On the call: Verne Lundquist (play-by-play), Gary Danielson (color commentary), Allie LaForce (sideline)
History: 45th meeting; Florida leads the all-time series 25-19
Line: Florida +1 | O/U: 48
At stake: When you play Nick Saban's Alabama every season -- particularly in seasons when you play at Bryant-Denny Stadium, as the Vols do in 2015 -- your margin for error in mounting a challenge for an SEC East title is already next-to-nothing. Lose to a Gators program in Year 1 of its coaching transition (in Year 3 of your own, no less), then fall to Georgia on Oct. 10, and you'd be essentially eliminated from divisional contention by midseason. 
As for Jim McElwain's team, its 3-0 start hasn't been a thing of beauty -- worthwhile opponents though they may be, wins over East Carolina and Kentucky that require needing last-possession stops don't qualify as works of art -- but a future road slate with both Missouri and South Carolina on it suddenly doesn't look as imposing as it once did. Cross-divisional games with Ole Miss and LSU don't help at all, but unlike Tennessee, the Gators didn't come into the season expecting an East title; beat the Vols, and they can start dreaming anyway.
Storyline: Tennessee's come-from-ahead home defeat at the hands of Oklahoma dropped the Vols' record against AP Top 25 teams to a staggering 2-34 in their last 36 attempts, and though the majority of those losses belong to Butch Jones' predecessors, he's earned his fair share as well. Since upsetting No. 11 South Carolina in Jones' 2013 debut season, the Vols have gone on to lose another nine straight to ranked teams. Combine that with the now decade-long losing skid vs. the Gators (not to mention the recent struggles vs. the Dawgs and Tide), and there might not be a program in the country more desperate for a statement-grade win. (And while beating the current Florida might not qualify in some quarters, it certainly will in Knoxville.)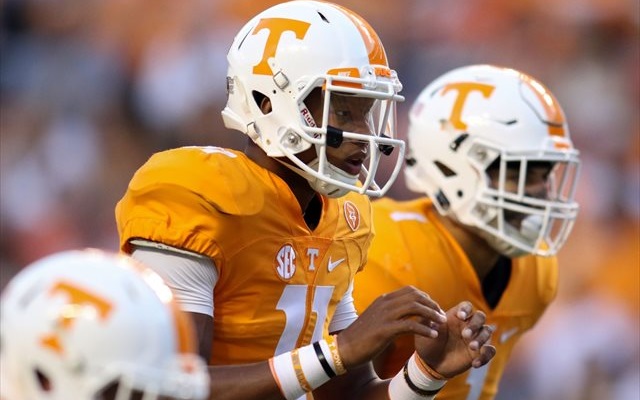 Breaking it down
Advantage Tennessee -- field position: After three weeks, the Vols aren't an easy team to figure out. The Bowling Green game suggests they're a rushing juggernaut with serious holes in the pass defense, the Oklahoma game suggests they're a stout defensive team with major rushing issues, and the Western Carolina game isn't allowed to suggest much of anything. But there's been one consistent: Between Tennessee's exceptional special teams and steady (if not explosive) efforts from both the offense and defense, the Vols currently rank fifth in the FBS in average offensive field position, as wella s second in defensive field position. Of the Vols' 15 touchdown drives in regulation this season, 11 have covered 60 yards or fewer, and that's not counting the pair of returns for scores -- Evan Berry on a kickoff, Alvin Kamara on a punt -- vs. the Catamounts.
If the Gators can avoid three-and-outs and giving up big plays in special teams, the Vols haven't had enough big plays yet to think they can overcome starting deep in their own territory. But the evidence to date argues they won't have to.
Advantage Florida -- rush defense: So far, it's been a succcessful season for the Gators' defense against both the rush and pass, with pass-happy East Carolina suffering through a miserable game on the ground (-13 rushing yards) and Kentucky's Patrick Towles struggling mightily against Vernon Hargreaves III and Co. in the air (8 of 24 for 5.2 yards per attempt, no touchdowns, two interceptions). But with Jalen Tabor out, the Pirates enjoying some measure of success via the pass, and the Vols boasting a deep and talented receiving corps, Tennessee could get the ball moving somewhat via Josh Dobbs' arm.
On the ground? Against Oklahoma, Tennessee looked every bit the same team that finished 103rd in FBS yards-per-carry in 2014, rushing for just 2.9 yards per-carry and unable to grind out the game-icing first-downs in the second half. Meanwhile, Florida is seventh in the FBS in yards-per-carry allowed (or seventh in rushing defense S&P+, if you prefer the advanced stats version) and is fresh off allowing Kentucky 115 yards on 41 carries in Lexington. Don't expect big things on the ground for the Vols in Lexington.
Advantage TBD -- quarterback composure: Between Florida's Hargreaves and Tennessee's Cameron Sutton, each quarterback will drop back knowing one of the nation's premier cover corners is waiting downfield ... and that this shapes up as the kind of low-scoring game in which one crucial mistake could make all the difference. (Just ask Towles, whose team never really recovered from the first-quarter Hargreaves interception that set up the Gators' first touchdown.) Redshirt freshman Will Grier will enter with far less experience than Dobbs, but (a) he'll have the advantage of playing at home, (b) though he's only thrown one interception thus far this season, Dobbs currently ranks 69th nationally in QB rating, thanks to a lousy 6.4 yards-per-attempt number. Grier will have his hands full, but to keep Tennessee moving, Dobbs also has to prove he can make the plays downfield he rarely has thus far in 2015. 
One stat to know: Via STATS, another measure of how desperate the Vols (and their fans) will be to start winning games like this one and move out of one of the nation's deepest ruts:
The prediction: It's hard to see either team accomplishing a whole lot offensively this game -- the Vols just haven't done enough yet in the passing game to expect big things on the road against a defense as good as the Gators', and Florida hasn't shown nearly enough explosiveness to think it'll negate Tennessee's potential advantage in field position.
Besides, the Vols' defense already kept an Oklahoma offense with far more weapons largely in check, which speaks to why Tennessee is ultimately the pick here. Based on what we know of the Sooners and Bowling Green, losing to the former in overtime and beating the latter by 29 points is far more impressive than edging the Pirates and Wildcats by a combined 12. With the game in Gainesville, Tennessee narrowly being better team may not count for much, but the guess here is that it will count for just enough. Tennessee 20, Florida 16.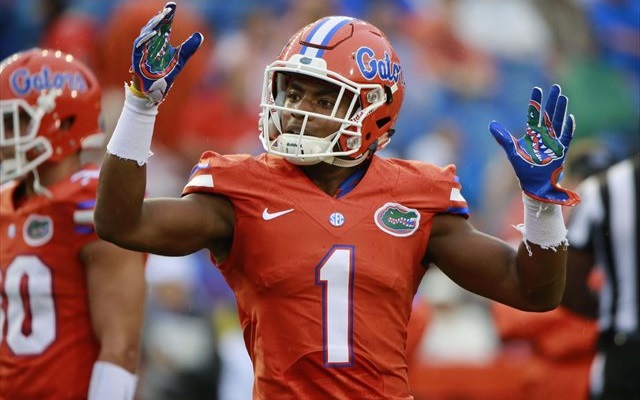 CBS Sports HQ Daily Newsletter
Get the best highlights and stories - yeah, just the good stuff handpicked by our team to start your day.
Please check the opt-in box to acknowledge that you would like to subscribe.
Thanks for signing up!
Keep an eye on your inbox for the latest sports news.
Sorry!
There was an error processing your subscription.
It takes more than one arm for sustained success, and these schools clearly know that

Mike Leach tweeted a hoax video on Sunday night under the premise of promoting discussion

A sticky situation arises when one goes after a job but ultimately does not get it
The end zones inside Michigan Stadium will have a new, distinct look

Fotu Leiato was found at the scene of a crash near Oregon's Autzen Stadium

UCF was No. 2 on last year's list, but where does it rank this year