SEC won't endorse early signing period -- but it has a plan anyway
The SEC is still against an early signing period, but if it's going to happen, the league has a plan for a post-Thanksgiving signing date.
• 1 min read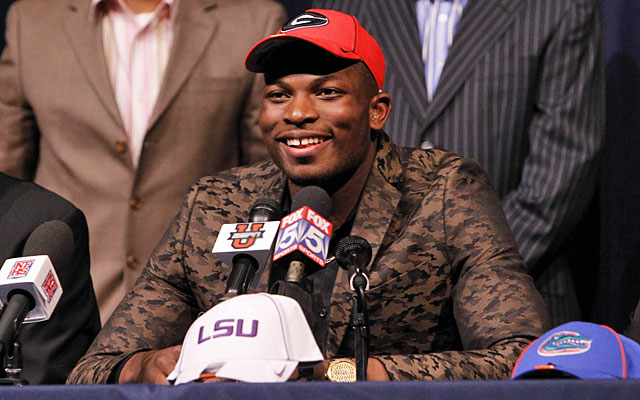 More college football: Jon Solomon | Dennis Dodd | Jeremy Fowler | Latest news
DESTIN, Fla. -- The SEC wants to keep the status quo on early signing period but gave a nod to its league coaches by outlining a contingency plan.
The league would favor a signing date the Monday after Thanksgiving if the Collegiate Commissioners Association decide to support an early signing period -- which commissioner Mike Slive hopes doesn't happen.
Under that plan, only players who haven't taken an official visit could sign on that date, while the remaining recruits would sign on the first Wednesday of February as normal.
"There's understanding there's mounting interest in an early signing date," said SEC associate executive commissioner Greg Sankey on Wednesday from the spring meetings in Destin, Fla. "There's a need to identify a workable model that respects the current recruiting calendar that I think in many ways has worked well."
The ACC's proposal for an August signing date is not "a solution we think is practical" because fo the effects to the calendar, Sankey said.
SEC administrators and athletic directors this week appeared lukewarm on changing the date, but coaches such as LSU's Les Miles are in favor.
Many coaches from other conferences prefer a mid-December signing built around junior college signees. Sankey said SEC coaches didn't support that because of the coaching transition that occurs around that time. Signing on the post-Thanksgiving Monday would pose similar problems but probably less so than midway through December.
Buzz for early signing period is growing in part because players are taking official or unofficial visits earlier in the process.
The SEC has been opposed to early signing period for years, so Wednesday's announcement from Sankey should not be a surprise. But publicly outlining a plan shows league coaches the SEC is at least willing to discuss it.
A concert is a nice way to break up preseason camp

Mills was arguably Georgia Tech's most important player coming into the season

Hugh Freeze's phone records reportedly show another troubling pattern for Ole Miss
They aren't necessarily great teams, but they're teams I'm really interested in following this...

The Irish will wear them on Nov. 18 against Navy

The fourth-year coach of the Nittany Lions led the program to the 2016 Big Ten Championshi...