SEC's Slive: Future of college sports must be all about student-athlete
Mike Slive, the man in charge of the most powerful conference, says the NCAA is in an 'evolutionary mode.' Specifically, it's more about the athlete.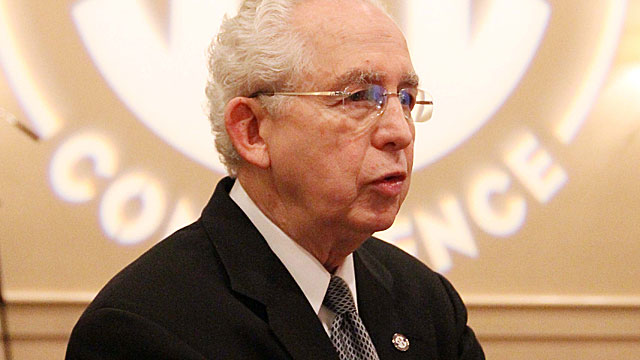 More college football: Bruce Feldman | Dennis Dodd | Jeremy Fowler | Latest news
It usually goes the other way, so this time Mike Slive wanted to ask a question.
What do you want college athletics to look like in the future, the SEC commissioner inquired?
The interviewer said he wanted to go back to covering games, enjoying the spectacle of it all, instead of this.
Exactly, the commissioner said.
Unfortunately, this isn't going away anytime soon. The playing seasons have become a respite for an ongoing off-field upheaval -- a revolution, perhaps -- in college athletics.
That upheaval is seeking to define what college athletics mean. What was once taboo -- paying athletes -- may be routine. The same for agent interaction.
Conferences have leveraged bowl games with their brands and teams to take control of the postseason. The irony -- when you consider what some Northwestern players are seeking in unionization -- is that the bowls are nothing without those conferences/teams. Those conferences/teams are nothing without those players.
Using the leader of the most dominant conference as a sort of oracle, CBSSports.com attempted answer key questions about that revolution. In less than two weeks, an NCAA steering committee is expected to take up the issue of autonomy.
Simply defined, autonomy is those five power conferences (Pac-12, Big 12, SEC, ACC, Big Ten) being able to control legislation that suits them. The 65 schools comprising those leagues won't have a majority of the voting power, but enough to shape their own futures.
As more than one critic has asked, "I'm not sure we know what we believe in. Why do we have an NCAA?"
That's from a person who works intimately with those five power conferences. Those leagues are almost assured of taking further control of Division I athletics. Most folks are OK with that.
They just want to know what that control means. Or how far it will go.
"We also have to accept the fact that college sports are evolving," Slive said. "We are in an evolutionary mode."
Already, the SEC and Big 12 "own" the Sugar Bowl in the new playoff era. The five conferences are running the playoff and its massive worth ($7.2 billion over the next 12 years). The NFL is becoming less of a threat -- salary-wise -- to ADs. They're paying their coaches like the NFL breed.
The idea is to get to a place where the commissioners feel like they don't have to apologize for all it. The next iteration of the NCAA -- basically, their NCAA -- is going to be about the athlete.
That could mean a stipend that essentially rewards players for being ... players. Common sense additions include a lifetime education fund and enhanced post-college medical protection. There could be agent representation while still in school. It will, at least, make sure a school can pay for three square meals a day -- plus snacks.
What, you didn't know they couldn't? The system has gotten so ridiculous that legislation is finally in place mandating that head coaches know CPR. Seems logical since it's the 21st century.
Meanwhile, the SEC remains the most dominant conference more for winning seven of the last eight BCS titles. It realized a $41 million increase in revenue with the addition of Missouri and Texas A&M. Slive, if it matters, remains one the lower-paid commissioners among the power five.
His power, though, doesn't come from a salary. It comes from a wonderful life that has led him from a job as assistant AD at Dartmouth to NCAA troubleshooting lawyer to the SEC. His power comes from wisdom. The 73-year-old will stay at least through the 2014-15 academic year.
He's got too much to work on -- the SEC Network, keeping his conference at the top and reshaping the NCAA.
"I'll be here as long as you see me," he told al.com last month.
And maybe longer than that.
Slive on ...
Agents: For at least three years the commissioner has suggested a more open relationship with agents.
"How do you advise kids in a timely way?" he asked. "This is a critical piece to take advantage of talents and to fulfill dreams and aspirations. We can't do it under current rules."
Under current rules, players can seek advice from player reps but cannot sign without turning pro. Floating out there is a suggestion that players could someday sign with an agent while still in school. The player wouldn't get paid at the time but the agent could negotiate endorsement deals that would pay off once the kid left school.
That doesn't necessarily professionalize those players. It certainly would have diffused the outcry over Johnny Manziel signing a few (thousand?) autographs.
Texas A&M would still be better than Sam Houston State on the field whether Manziel was paid for his autographs or not.
We are in the process of eliminating such practices as being "competitive advantages." At some point, there is no level playing field. And it certainly isn't defined by whether certain schools can't afford to provide cream cheese for between-meals snacks.
An action plan developed by the five commissioners this past summer began to address the issue. There are still few specifics.
"Do you say he can have agent?" Slive asked. "I don't have all the answers but I know it's going to be part of a model that puts the student-athlete first."
The bottom of FBS: There are 128 teams in the Football Bowl Subdivision. Technically, Idaho and Alabama are in the same weight class. However ...
"We do live in different worlds," Slive said.
It's no secret that the bottom end of big-time football isn't going to be able to afford some these changes.
Cost of attendance? It will be optional, increasing the value of the current scholarship by $1,000-$6,000 per year. It would cost Idaho $440,000 per year to implement. That's going to be a tough addition to a $4 million football budget.
It may be that those who can't adopt financially may simply drop out of FBS. Slive said that's not the intent.
"We want Idaho to have a very successful athletic program," the commissioner said. "There are so many different interests, it's time in the evolution of intercollegiate athletics to declare ...
"The best way to think about it is to put the student-athlete first in health, safety and nutrition.
"It isn't about resources, it's about doing what is right. If you look at our list of things, there isn't anything on there that you wouldn't say isn't right."
Scholarship limits: The big five could hasten the elimination of those FBS bottom feeders by increasing scholarship limits.
Those 85 scholarships in football all have to be paid for by the athletic department. What would happen, say, if the commissioners voted the max up to 95?
A simple raise in the Division I sports sponsorship minimum from 16 to 18 could have a chilling effect. None of the commissioners have even hinted at such a move.
"Those are the fears but those matters are not on the big five agenda," Slive said. "They are the fears of others but they are not part of our thinking."
Timing: An NCAA steering committee will formally consider the autonomy concept at the end of the month. The five conferences could have enhanced Division I voting power by August.
Then, proponents say, anything is possible including cleaning up the NCAA's image.
"You can do me a favor and ask the steering committee to finish this," Slive said.
Considering the rash of lawsuits and pressure from the public and Capitol Hill, is August soon enough?
"It has to be," he said. "August is as late as it can be. We have this done by August. We're prepared to go right to work and implement those items we have included in our vision."
Louisville and TCU get big-time bumps after conference rivals fell on Saturday

Georgia jumped four spots to No. 8, while Florida State dropped 14 spots to No. 25

The Bulldogs jumped up to No. 7 after an emphatic win over Mississippi State
The Penn State running back made a case that he's a legit Heisman Trophy contender

The Nittany Lions came up huge when they needed to against Iowa

It just might have been the best game of the season so far