Seeding NCAA tournament football/basketball combos 1-16
Michigan State, Ohio State and Louisville are the top seeds among NCAA Tournament teams with the best football/hoops combos.
• 3 min read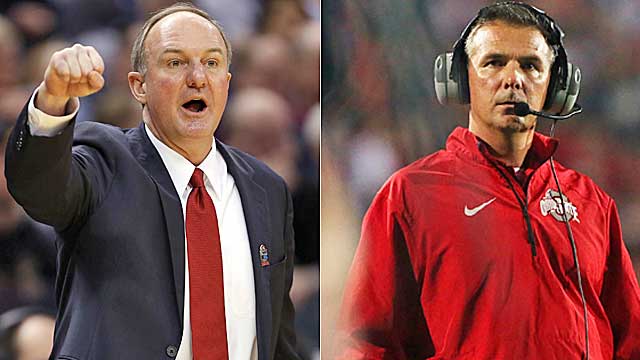 More NCAA Tournament: Tourney hub | Expert Brackets | Celebrity brackets
Considering the programs' recent body of work in both sports, this is an honest attempt at a bracket of best hoops/football combos among teams in this week's NCAA tournament.
The NCAA field is missing several elite football programs -- seven of the end-of-season AP top 10 -- which makes the seeding not so clear-cut.
Note that 2013-14 performances, though carrying serious weight, don't offset past accomplishments. For example, Florida won't be a 12 seed just because football went 4-8 last year. It's still Florida football. Not that we're letting programs live off merits of decades past, but one off year won't kill a well-established program. Two might.
A lot of these seedings were really tough and could go either way, especially on the back end.
1. Michigan State: If Tom Izzo is the country's most consistent hoops coach, Mark Dantonio is learning well from his counterpart, averaging 10.5 wins the last four years along with a conference and Rose Bowl title.
2. Ohio State: Urban Meyer's two titles at Florida and 24-2 record at Ohio State, coupled with Thad Matta's two Final Four appearances, comprise a strong case for the No. 1 seed. But Izzo is the tiebreaker here.  
3. Louisville: Rick Pitino can't slip if he wants to outmuscle the football program, which is coming off back-to-back top-15 finishes. Good thing for Pitino he's got a realistic shot at going back-to-back.
4. Duke: K and Cut form one of deadliest coaching tandems thanks to Duke's football resurgence despite inferior talent compared to ACC peers.
5. Florida: Obviously Florida would be higher without the 4-8 football implosion last year. But the Gators' two-sports prowess is still undeniable, with each hoisting two titles since 2006
6. Michigan: Rarely do you say Michigan football has to match the basketball team's intensity, but that's the bar John Beilein's team has set. Wolverines had a down year in football but are still two years off a Sugar Bowl win.
7. Oklahoma: Give second-year Sooners hoops coach Lon Kruger two more years and Oklahoma might crack a top-five seed. He's always been a good coach. Bob Stoops is doing his part, obviously.
8. Wisconsin: Badgers probably have the third-best Big Ten program in both spots right now, which we think is something to brag about.
9. Baylor: This might be a tad high for Baylor, but Scott Drew has two elite eights and Art Briles' Bears can outscore most basketball teams.
10: Oklahoma State: Mike Gundy and Travis Ford form a strong tandem – they aren't winning titles every year (one outright Big 12 championship between them) but build rosters that are always a threat to do so.
11. UCLA: Bruins head coaches Jim Mora and Steve Alford have a combined three years at the school but have done damage in that span.
12. Kansas State: K-State rarely deceives in either sport. You know you're getting at least a decent, but sometimes great, season.
13. North Carolina: It's been a while since Tar Heel football surpassed the middle-tier-bowl realm, but when it does, Roy will be waiting.
14. Oregon: Look, the Ducks finally beat Stanford. Dana Altman is starting to bring balance to the football-basketball equation in Eugene. If Mariota's knee doesn't go out in the second half of last season, the Ducks might have been title-bound.
15. Arizona: RichRod has rebuilt his career at Arizona and could break out in Year 3. Wildcats haven't dropped off under Sean Miller.
16. (play-in game) Brigham Young vs. Syracuse: Dave Rose's string of seven NCAA tournaments in eight years is impressive. Bronco Mendenhall looks to regain his double-digit-win seasons after back-to-back 8-5 campaigns. Syracuse hoops pushes Orangemen into top 16 but football wasn't much of a presence in the 2000s and is just picking itself up again the last two seasons.
LAST FOUR OUT: Stanford, Arizona State, Texas, Cincinnati
Anybody can rank the best 25 teams, only the Bottom 25 ranks the worst

Former Tennessee State player Latrelle Lee has already been expelled from school for the i...

Whether Kelly picks Florida, UCLA ... or even Tennessee ... his decision will reverberate
The Canes have put themselves in a great spot in this college football rankings prediction

Mayfield will not start and will not be a captain in Oklahoma's regular-season finale

Barrett Sallee is 12-6 on his best bets and says Oklahoma State will prevail this week