Selection committee process flawed in a couple key areas
The college football playoff committee has set itself up for controversy with it's selection process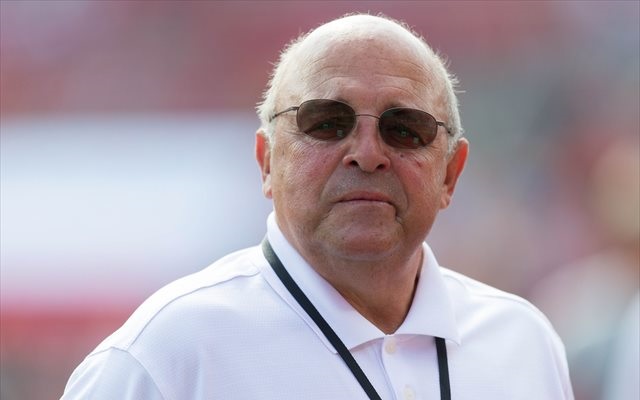 The college football playoff selection committee finalized its process for selecting the teams for the playoffs and host bowls (Cotton, Fiesta, Peach) last week, and while it is generally solid, there are a couple flaws that leave the committee open to criticism.
The committee will get together each Monday and Tuesday, from the last week of October through the next-to-last week of the regular season, to rank and publish their top 25. On the final week of the regular season, the committee will meet on the weekend, but those decisions will be released on Sunday instead of Tuesday.
Releasing weekly ratings is one of many concepts held over from the BCS, and serves no purpose other than to give people something to talk about that week. The potential pitfall is that it locks the committee into a poll mentality, where teams move down if they lose, no matter to whom or by how much.  Ideally, a selection committee would evaluate each team based on its entire body of work and not put so much weight on what happened that particular week, but it's human nature to make those mental week-to-week adjustments when you operate this way. There is a reason why the basketball committee doesn't do something similar. Well, several reasons, but this is a big one.
Among the factors the committee will consider when ranking teams are conference championships, strength of schedule, head-to-head results, outcomes against common opponents, and roster issues like injuries and suspensions.
Those are fine criteria, but a very significant problem is that the committee has no intention of detailing how it will measure strength of schedule. It seems willing to leave it to the eye of the beholder. That is patently unfair. Teams should know how they are being judged. Teams should be able to schedule toward such criteria to maximize their chances of being selected.  That will not be possible, and it will be a source of frustration the first time a team is left out because it is told its schedule is too weak. The committee may refuse to address that this year, but at some point, they will be forced to.
Otherwise, the selection process is reasonably straightforward. The top four teams at the end of the season go into the playoff bowls. The top seed faces the No. 4 seed and No. 2 plays No. 3.  The top seeds gets preferential treatment when it comes to assigning placement for its semifinal bowl.
After that, the contract bowls (Rose, Sugar, Orange) get set based on their conference affiliations. Then the committee will set the host bowl matchups from a pool of teams that will contain any major conference champion not already placed, the highest rated non-major conference champion, if not in the playoff.  Any spots left open will be filled by the highest rated teams in the top 25 that are not already placed.
The committee also created a recusal policy to help avoid conflict of interest for its members.  In short, if a committee member or a member of its immediate family has an active relationship with a school in certain ways, that member cannot participate involving that school.
Here is a list of recusals for this year.
Mike Gould -- Air Force
Jeff Long -- Arkansas
Dan Radakovich -- Clemson
Archie Manning -- Ole Miss
Tom Osborne -- Nebraska
Pat Haden -- USC
Condoleezza Rice -- Stanford
Oliver Luck -- West Virginia
Barry Alvarez - Wisconsin
So, while the committee has set itself up for controversy with a couple of flaws in its selection process, it should be noted that there will be controversy no matter what.  When the playoff isn't big enough to include all the teams that could legitimately win the playoff if they got a chance to participate, it doesn't matter how you select the teams.  Someone will have a legitimate beef over being left out.
Find out which of your favorite team's players are among the nation's best entering the 2017...

Rosen, a junior, will be eligible for the upcoming NFL draft

Texas A&M has to be better defensively to stand a chance in the SEC West
A letter indicated that there is a growing awareness of the persistent problem in college...

The series will follow the Navy football program throughout the 2017 season

Should college football players still be tested and punished for using marijuana?