Seminoles not short on locker-room inspiration entering Gators rivalry
The Gators are looking to avoid a third consecutive loss to FSU, which is plenty of motivation entering Saturday's home game at Doak Campbell Stadium. The Seminoles still have slim title hopes should they knock off Florida.
• 2 min read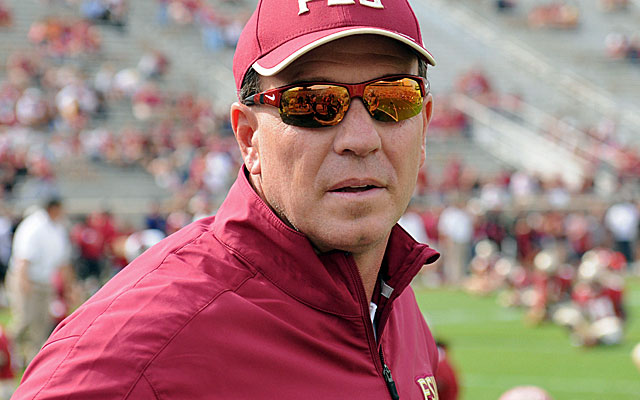 Says FSU coach Jimbo Fisher: "We're physical. We're violent. But we play clean. We play with class." (US Presswire)
TALLAHASSEE, Fla. -- This week's on-campus dispatch comes to you from the bowels of Doak Campbell Stadium, where about 100 boosters toured the team facilities and watched the players walk to the team bus Friday -- less than 24 hours before one of college football's most heated rivals will collide on Bobby Bowden Field.
The fine folks of Seminoles Boosters were nice enough to let me observe the portion of the tour where boosters watched a 3-D highlight video of the Seminoles' 2012 season inside a booster-funded theater. Apparently, recruits also visit the theatre when permissible. Employees even handed out 3-D glasses at the door.
The video portion I saw didn't include clips of the NC State loss, but they cut it about two minutes early to allow boosters time to watch Seminoles players and coaches leave the facility.
The most entertaining parts of the video were not the on-field moves (touchdowns, tackles, etc), but the locker-room messages, courtesy of coach Jimbo Fisher and quarterback EJ Manuel.
Here's a list of notables from throughout the season, in no particular order (it was difficult to track which messages belonged to which games). There were some good one-liners. Wasn't sure how fiery Fisher would be in private team settings, but he seems to connect pretty well. Same with Manuel.
* "Be gentlemen. Play the game the way it's supposed to be played." -- Fisher
* "Great teams understand the moment." -- Fisher
* "Every field we play on is our field." -- Fisher
* "Ain't nobody better than us. Nobody. Nobody is better than us."  -- Fisher
* "The good, the bad -- stay in the middle." -- Manuel, urging his team to stay calm
* "When you hold this sucker up ... what's your legacy with this helmet?" -- Fisher, holding a Seminoles helmet decorated with tiny, black Tomahawks given for on-field accomplishments.
* "Make the people who gave it to you proud."  -- Fisher, about the Seminoles jersey.
* "We're physical. We're violent. But we play clean. We play with class."  -- Fisher
* "LeBron's watching. Barack Obama's watching. Mitt Romney's watching ... the election's over with. This the real game. Put on a show." -- Manuel
That last one's probably my favorite. If the Seminoles need motivation to win a third straight over Florida, they can find it inside the locker room.
Grier will return to West Virginia for the 2018 season instead of entering the NFL Draft

The Chick-fil-A Peach Bowl just got spicy

Anderson had been under investigation for an incident at a bar in Cleveland County, Oklaho...
Between Arizona State and Tennessee, no one would have guessed how this coaching cycle turned...

The Ducks and Broncos tee it up at 3:30 p.m. ET

SportsLine's top college football experts pick a 5-team parlay that pays 20/1