Sharrif Floyd plaintiff in latest lawsuit against NCAA, conferences
The NCAA is being sued again, this time with Minnesota Vikings defensive lineman and former Florida Gator Sharrif Floyd among the plaintiffs.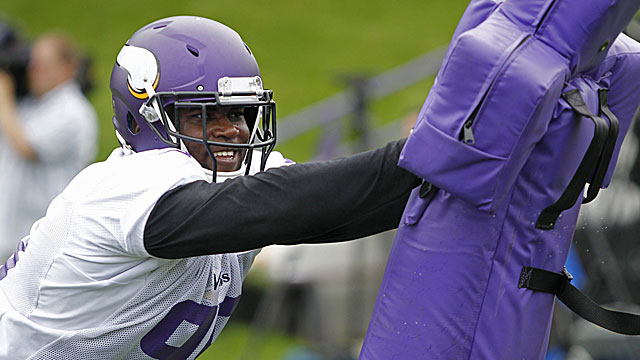 The NCAA and several major conferences have been sued once again over athletes' compensation, and this time a current NFL player -- and prominent former Florida Gator -- is the lead plaintiff.
Sports Illustrated's Michael McCann reported Friday that Minnesota Vikings defensive tackle Sharrif Floyd is that plaintiff in a class-action lawsuit filed in U.S. District Court and the District of Minnesota, one naming the NCAA and 11 different conferences -- the 10 FBS fotball conferences, and the Atlantic Sun -- as defendants. The suit accuses the NCAA and the conferences of forming an "illegal cartel" that has worked to unfairly cap the value of athletic scholarships .
Though similar to suits aganst the NCAA led by labor attorney Jeffrey Kessler or former West Virginia running back Shawne Alston, the suit featuring Floyd is notable since it includes a female athlete, Kennesaw State basketball player Ashley Holliday. Per the Los Angeles Times, Holliday is the first female plaintiff in such a suit.
Floyd declined comment to the St. Paul Pioneer Press, but did issue a statement on Twitter.
"It's hard for great coaches to do their job when their athletes are just looking for something as simple as an extra meal, a movie date with a friend and comfort that they are gonna be taken care of and not taken advantage of," Floyd wrote. "Athletes shouldn't be suspended for raising money, to better his life or for looking at a mentor as a father."
Floyd was suspended by the NCAA in 2011 for two games over benefits provided to him by a man who would eventually become Floyd's adoptive father.
Floyd is entering his second season with the Vikings. 
Florida State-Miami will be on Oct. 6, and the Seminoles will play Clemson on Oct. 27

Weis Jr. was an offensive assistant for the Atlanta Falcons in 2017

Lott is joined by three current athletic directors and will serve a three-year term
These are the top guys every school is still chasing

College football lost a ton of star power, but these players are studs going into next fal...

Pac-12 referee Chris Coyte ejected Kentucky RB Benny Snell Jr. for initiating contact with...