Shuttle Service: Have summer camps exposed recruiting loophole?
Jeremy Fowler looks at the way schools are running their summer football camps, and the complications they bring.
• 14 min read
More college football: Jon Solomon | Dennis Dodd | Latest news
Summer football camps are supposed to be honest and good. High school prospects can hop into vans, drive to college campuses, maybe land a few scholarship offers with stellar performances on the field.
Arizona's Rich Rodriguez and Tennessee's Butch Jones know the other, more compromised side. Both say high school coaches attempt to leverage them by offering to bring top players in exchange for getting paid to work a camp. "It's a growing question we hear," Jones said.
Several FBS coaches are concerned not that camps exist, but that the recruiting system is designed for potential abuse, or to create pressure for coaches to abuse it themselves.
Putting high school or junior college coaches on the camp payroll to potentially steer players' campus visits could create a new arms race among high-resource schools. There's no definitive limit on pay for on-field guest coaches, assuming everyone gets the same rate based on work they perform.
Rules of Engagement
Between 7-on-7 camps in the spring and college camps in the summer, Ground Zero coach Armond Hawkins out of California stays busy. Sometimes he works college camps and often brings players with him. Here's how Hawkins handles that process.
Category
Comment 
Goal for this summer
Getting 25 players a scholarship offer (at 18 as of last week)
2013 camps visited or worked
Oregon State, USC, Arizona, Washington, Utah
2014 camps visiting
Washington State, UTEP, Colorado and BYU (both satellite), more
Typical pay
$100 per session, usually two sessions per day, maybe 2-3 days plus travel. "It's peanuts," Hawkins said. "All that does is get you there."
Which players go to camps?
Ones that need to be seen. "If our top guys are committed, we don't take them to camps," he said. "If not committed, at the Pac-12 level, we'll go to as many camps we can squeeze in."
Do coaches expect that he'll bring players when he's scheduled to work or attend a camp?
Yes.
Does he pay for players' expenses
No.
Camp mentality
"If your goal is to get your kids to schools, it's by any means necessary," Hawkins said. "You take them where you need to go."
"Essentially what (schools) are doing is paying to bring prospects to their camps," Arizona's Rich Rodriguez said.
The race to get players over the summer, before they take official visits in September, has intensified. Forget signing day -- between 65 and 75 of 247 Sports' Top 100 players in 2014 knew where they would sign before the fall hit, recruiting analyst J.C. Shurburtt says. Five years ago, Shurburtt said, that number was probably 50 percent. Ten years ago, no more than 30 percent.
Camps have become an excuse for the deregulation of campus visits, coaches say. NCAA rules allow players to take unlimited unofficial visits.
Many schools hosting one-day camps -- sometimes with hundreds of players, requiring additional manpower -- expect working coaches to bring players because, as one C-USA head coach points out, "you have no shot" without getting players on campus in June.
What Rodriguez describes would essentially violate at least one NCAA bylaw. A school shouldn't pay a guest coach "on the basis of the value he or she may have for the employer of his or her reputation or contact with prospective student-athletes," according to bylaw 13.12.2.2 (b).
That creates plenty of gray area but what is black and white: Schools run large camp enterprises, sometimes with a diverse group of guest coaches working them.
Washington, Ohio State and Florida State combined to pay more than $150,000 in guest camp fees last summer, according to open records obtained by CBSSports.com.
Washington's 29-person payroll of $32,588.60 included several high school coaches from California, Utah and Arizona.
Ground Zero 7-on-7 coach Armond Hawkins out of California worked Washington's and Oregon State's camps last year. He's not naïve about the process, and that goes for any school.
"They want to see some of your kids," said Hawkins, who has nearly 20 players with a scholarship offer in 2014.
Florida State paid 141 camp coaches a total of $70,808.64 for two overnight high school camps, one overnight junior camp and a kicking camp. Ohio State paid 147 coaches a combined $50,359.09 for its 2013 summer camps.
The money doesn't seem unreasonable. Most Washington coaches got no more than $1,200 after expenses, which covers travel, a stay in the dorm rooms and maybe some leftover money. "It's peanuts," Hawkins said. The highest-paid are kicking coaches -- 'All-American Kicking' ran a Seminoles camp for $4,550, and Washington gave specialists Chris Sailer and Chris Rubio $2,000 a piece.
What youth coaches wouldn't want to learn from Ohio State or Florida State's staff, possibly sitting in on meetings? Players aside, hiring coaches fosters good relationships with schools that might have recruits down the road. Just because schools hire coaches from out of state doesn't mean conditions were attached.
The problem is this, coaches say: Whether oblivious, implicit or blatant, schools are paying for influence, which is difficult to regulate in a recruiting world that's all about relationships.
A shuttle service is "exactly what it is," said Rodriguez, who last year used guest coaches on a volunteer basis. Tennessee pays coaches $100 per session (up to two sessions a day), plus $0.46 per travel mile.
This has occurred for years, coaches say, but the stakes have risen to keep up with faster recruiting cycles.
College basketball has done something about this. An "individual associated with a prospect" can't work schools' basketball camps, according to NCAA rules.
Football has not. The NCAA is "very much aware of these potential issues" with summer camp recruiting, NCAA managing director of enforcement Mark Hicks said.
"One-hundred percent, (payments) create an incentive for those involved," Arkansas coach Bret Bielema said.
Camp Money
Last summer, Dwyer Palm Beach assistant coach Paul Meunier got word that several major FBS schools wanted him to work their camps.
As the routine goes, Meunier said, schools "indirectly imply" Meunier should bring top players with him -- in this case, wide receiver Johnnie Dixon and safety Shawn Boone.
Meunier chose to work Ohio State's camp because the school had intrigued Dixon and Boone. They wanted to learn more about the program. Ohio State paid Meunier a total of $1,409 for on-field coaching and mileage during a one-day camp for high school kids in late June.
Meunier covered the players' transportation, camp fees and food. After all expenses, Meunier said he lost $30.
"You put it on the credit card and get the check later," Meunier said.
Meunier wasn't persuaded to buy the flights, he said. He simply thought the trip was beneficial to his players. Dixon committed to the Buckeyes on Dec. 21. But he admits the camp process isn't easy to navigate. The high school coach plays conduit between the college and the player while trying to offset costs.
"There's a business element like anything else," said Meunier, one of six coaches to receive at least $1,000 in OSU camp pay last year.
Schools vary in their approach to guest coaching.
Ohio State runs several large one-day camps that require coaching help. Most of the Buckeyes' highest-paid were members of their own staff, including $2,000 for a former OSU intern now with Colorado State. The school paid $977 to Aazaar Abdul-Rahim, presumably the former Friendship (D.C.) Collegiate Academy coach who's now on Alabama's staff.
For Florida State's camps, a few South Florida coaches -- including Flanagan assistant Tyrell Conyers ($1,023.30) and former McArthur coach Andrew Rhoden ($1,003.72) -- came to Tallahassee. FSU coach pay did not surpass $1,329 save All-American Kicking.
FSU pays all coaches the same working rate and reimburses 0.445 cents a mile one-way, according to a football staffer. Most of the working coaches are from Florida, South Georgia and East Alabama high school scenes. Some coaches bring players, some don't.
Virginia Tech and Georgia both say they didn't employ guest coaches. Georgia used Billy Bennett, Danny Buggs and Mike Hagen as guest speakers for a total of $1,250.
Oklahoma, LSU and Clemson say their camp information is not available because independent entities control it -- Dabo Swinney Football Camps, LLC, in the case of the Tigers.
Wisconsin paid $10,809.38 for 39 coaches (three were not paid). Most received a rate of $225. Oregon paid 20 coaches -- mostly from non-FBS collegiate levels -- $150 each, no expenses.
The Camp Hustle
Public records responses from 10 major schools show some utilize -– or pay -- summer camp guest coaches more than others. High school coaches across the country work camps and often bring recruits with them.
School
Pay
Average
Notable coach
Florida State
Paid $70,808.64 for 141 coaches
$502.19
Flanagan (Pembroke Pines) OC Tyrell Conyers, $1,023.30
Ohio State
Paid $50,359.09 for 147 coaches
$342.58
Dwyer (Palm Beach) assistant Paul Meunier, $1,409
Washington
Paid $32,588.60 for 29 coaches
$1,123.74
Desert Edge (Phoenix area) head coach Rich Wellbrock, $1,200
Wisconsin
Paid $10,809.38 for 39 coaches
$300.25
Badgers grad assistant Joshua Oglesby, $1,000
Oregon
Paid $3,000 for 20 coaches
$150.00
American Canyon (Calif.) assistant Earl Joseph, $150
Virginia Tech
No guest coaches used
N/A
N/A
Georgia
No guest coaches used (three guest speakers for $1,250)
N/A
N/A
Oklahoma
Records protected by Robert Stoops Camps, Inc.
N/A
N/A
Clemson
Records protected by Dabo Swinney Football Camps, LLC
N/A
N/A
LSU
Records protected by Tiger Football Camps
N/A
N/A
Most Washington guest coaches got no more than $600 in session fees ($18,900 total) and between $400 and $600 in travel expenses ($13,687.50 total). They worked the one-day 'Rising Stars' event, which comprised roughly 50 prep players. Hawkins coached Summit Fontana receiver Erik Brown, who attended the camp and later committed to Cal.
Washington's camp records don't list affiliations, but CBSSports.com independently confirmed the attendance of Fresno Central (Calif.) coach Tony Perry, $1,063.50; Lompoc (Calif.) coach Andrew Jones, $1,141; Hamilton (Ariz.) coach Lane Reynolds, $1,090; Desert Edge (Ariz.) coach Rich Wellbrock, $1,200; and Highland (Utah) coach Brody Benson, $1,030.
Wellbrook traveled with three-star outside linebacker Ismael Murphy-Richardson, who signed with Arizona State. Wellbrook got work inquiries from four or five major schools last summer, adding, "I'm sure there's more popularity on years when you have better football players."
Several Pac-12 coaches have privately bemoaned Washington's aggressive approach to summer recruiting in 2013, but a Washington spokesman said the school is unaware of any formal Pac-12 complaints filed to the school.
Contra Costa (Calif.) coach Alonzo Carter, a junior college coach who frequently works camps or holds his own, said schools get too much credit for the perceived shuttle service.
It's about players getting to camps on their own -- with or without a paid coach.
Carter hears stories of how summer camp work "can get diluted" by ambitious coaches, but he's never seen large bundles of money exchanged as a result.
"If I know coach X and I know he's taking his kids, I might say, 'Can mine travel or ride with you guys?'" Carter said. "It has nothing to do with the college or payments. It's communication."
That was the experience of Auburn left tackle Shon Coleman, who as a top recruit in 2010 carpooled with Olive Branch, Miss., assistant coaches to camps at LSU and Alabama. Coleman said he's not sure if those assistants were paid to work.
Regulating Camp Pay
Coaches would like more stringent camp regulations, though Rodriguez is not hopeful, given the NCAA's glacial movement on certain issues like the "unlimited free meals" debate.
"We just got allowed to have bagels and cream cheese," Rodriguez quips.
The NCAA considers summer recruiting an "evolving issue," said Hicks, who, along with NCAA investigator Chris Howard in a joint interview last week, says tracking every unofficial visit would be impossible.
Hicks took over enforcement operations in January. Word in compliance circles is Bill Benjamin, who resigned in 2012 after eight months as an enforcement director, was expected to help curb summer recruiting issues.
Unofficial visits can be a good thing, Hicks and Howard say, because they help recruits make well-informed decisions.
"There will be times where it makes you raise your eyebrows, the traveling of long distances," said Hicks, a former high school and college coach out of North Carolina. "Are we concerned? Absolutely. Does it mean every time a high school coach works a football camp that something must be wrong? No."
The department evaluates school camp records if it gets a tip but Hicks adds, "We're not an auditing business." Both declined to address hypothetical scenarios with summer camps, adding schools have a duty to self-evaluate.
"As we become more informed in football and identifying issues, it may not have the same type of legislation (in the future)," Howard said.
Like stronger definitions for camp work that, in the current setup, allows guest coaches to be score keepers if paid "commensurate with similar fees" -- as if there's a pay scale for the score-keeping market.
The catalyst for change would come from power conferences, which want autonomy over several legislative issues, including the ability to "revise and establish rules as necessary" with recruiting, according to a recent NCAA board of directors agenda.
Duke coach David Cutcliffe figures legislative overhaul could take months to address and more than a year to enact.
"Extremely serious violations can occur, but until legislation is passed, we'll have a hard time seeing any concrete change," Cutcliffe said. "It's going to be ongoing."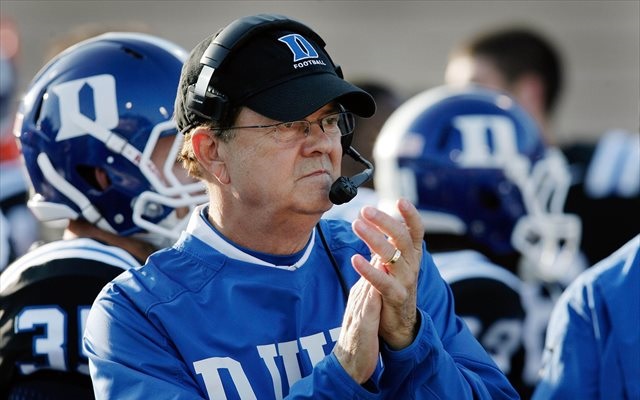 Until then, Rodriguez suspects he'll have more dialogue with coaches that propose stipulations. Rodriguez hears stories of coaches getting paid up to $3,000 for a camp. "We're not going to get to the point where we're paying guys to bring guys," said Rodriguez, whose guest coaches worked on a volunteer basis last year.
Jones' compliance staff does background checks on coaches. He'll have at least 150 players coming to campus soon.
"I'm all for developing the coaching profession and the individuals that work your camps and building those relationships, but I think there comes a point in time where we need to research all the other things that are associated with that," Jones said.
Defending camp pay
The pressure to hit the summer circuit strains wallets, said Apopka (Fla.) coach Rick Darlington, who advocates earlier official visits for that reason.
Darlington paid visit expenses for his sons, Oklahoma center Ty Darlington and Nebraska quarterback Zack Darlington. Over the years, the elder Darlington has worked one Nebraska camp. He doesn't remember how much he was paid.
Apopka has a top 2015 prospect in offensive tackle Martez Ivey, whom Darlington says will make visits with Apopka fullback Chandler Cox, who has financial means to travel.
"It's a nice thing for assistant (high school) coaches and for players to do," Darlington said. "It helps them get good experience as long as it's done the right way."
Texas A&M's Kevin Sumlin plans to host about 500 players of all ages this summer.
You think the Aggies' nine assistant coaches and seven graduate assistant/quality control coaches can handle all 500, Sumlin asks rhetorically?
"Safety is an issue at that point," Sumlin said. "You have to have more people to help."
With help readily available, some coaches don't see a problem with a shuttle service.
Hiring externally promotes the profession and provides experience for up-and-comers, most coaches agree.
"As long as everybody is paid the same then it should be a positive experience," Florida coach Will Muschamp said.
This is where a good compliance department comes in. LSU athletic director Joe Alleva said schools "need to be cognizant" of potential problems such as uneven pay for coaches. The Tigers conduct background checks on each coach.
"We look at the pay and make sure they are comparable," Alleva said.
Colorado's Mike MacIntyre didn't use outside coaches for his 2013 camps, so he understands the skepticism when prep coaches travel cross-country.
But assuming travel distances are feasible, the prep coach should have the right to help guide players.
"That coach should be a source of trust," MacIntyre said.
As former coach of Oklahoma signee Michiah Quick and other FBS-bound players out of Fresno Central, Perry is unapologetic about driving players -- sometimes across a few states -- to facilitate workouts in front of college coaches.
Skeptics don't see players, coaches and families "busting our butts" to conjure enough money to travel, Perry said.
"They look at it as somebody's trying to get something," he said.
Well, all colleges are trying to get something: Players.
The ultra-competitive summer climate makes one power-conference head coach practically throw his hands up -- "everybody else is doing it, I should, too."
"That's not a good message to send to people, but that's the message that gets sent," the coach said.
The Tide, as usual, are dominating everything already

Jim McElwain won't rule out Luke Del Rio, Feleipe Franks or Malik Zaire as the starter

The three rule changes for 2017 are focused on player safety
There are new names to learn every season, and here are five to keep an eye on from the Big...

Can the Big Ten produce a champion capable of scoring points in the College Football Playoff...

Taking a close, detailed and opinionated look at the Big Ten a week before the start of the...