Sign of the times: Does National Letter of Intent need reform?
With talk of pay-for-play and unionization reaching a fever pitch, is the National Letter of Intent next to face reform? We translate exactly what recruits will be signing Wednesday.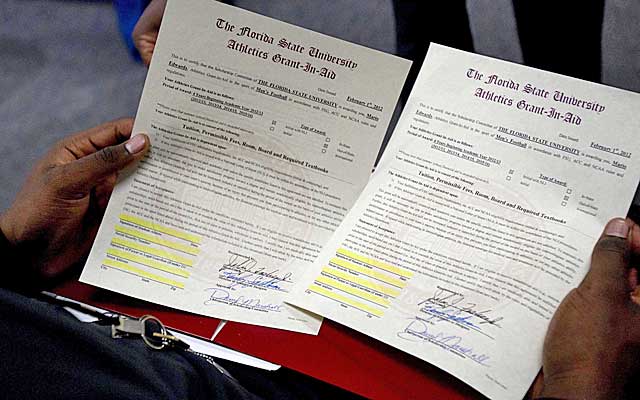 More on recruiting: Signing Day announcement schedule | Prospect rankings
The National Letter of Intent is a three-page document that represents a combination of Golden Ticket, American Idol pass-through and indentured servitude.
The NLI was created in 1964 to -- as the NCAA puts it "to curb recruiting excesses." (Feel free to pause for a chuckle.)
Over the past half-century the NLI has changed lives, caused controversy and -- some may argue -- limited opportunity. Who says you have to sit out a year if you want to transfer after signing the NLI? Well, the NLI. It is largely regarded as a sort of Magna Carta of amateur athletics. It binds the school and athlete in a sort of partnership.
Play for us, here's a free education.
That basically is the national discussion at the moment as college athletics considers pay-for-play, O'Bannon laws, governance structure and unionization.
So why not throw the NLI in the scrutiny bin? As we near Wednesday's National Signing Day, is the NLI itself next in the crosshairs of reform? Not officially, not yet. For now, the document signifies a partnership that we will point out here is a bit one-sided and, at certain points, needs a translator.
As we mark the 50th anniversary of one of the most significant documents in sports, here's an interpretation of what football players are about to sign on Wednesday.
Beginning with the fourth sentence of the NLI ...
The National Letter of Intent is a voluntary program ...
Sure, as voluntary as winter conditioning and weeknight film sessions. Miss those and the coach has the option of voluntarily not playing you.
"Voluntary" doesn't explain a thing called a scholarship agreement. It would render the NLI meaningless, especially for top-end recruits, but it doesn't get much publicity, for obvious reasons.
Signing a scholarship agreement merely guarantees a prospect room, board and tuition with that school when school starts in August (or September). Until then, the recruit can entertain any offer he wants.
Sounds like a sweet deal, huh? Market yourself, go through the recruiting process, take (at least unofficial) visits, right up until enrollment time.
Tell me that coaches wouldn't keep spots open for the top 5, 10, 15, 50 recruits if they all decided to sign scholarship agreements.
Rule 3a.: The terms of the NLI shall be satisfied if I attend ... for an academic year.
Clarification: A coach can also run you off after a year. While the NCAA and certain conferences have made four-year guaranteed scholarships optional, they are not mandated.
The perfect solution would be that all scholarships -- aside from academics and conduct -- would be guaranteed for four years. They aren't. Athletes must be notified by July 1 of the next academic year whether their scholarships are being renewed.
This from the NLI website: "In most cases, the coach decides who gets a scholarship, what it covers and whether it will be renewed."
Rule 8: I understand all [recruiters] are obligated to respect my signing and shall cease to recruit me after my signing this NLI.
There's a sort of hypocrisy at work here. That clause doesn't stop coaches from raiding their old employer's recruiting class if they change jobs. See: James Franklin.
That brings us to perhaps the most misleading and unfair clause in the NLI:
Rule 11: I understand I have signed this NLI with the institution and not for a particular sport or coach. If a coach leaves ... I remain bound by the provisions of this NLI.
Who are they kidding? Going by this logic, every football recruit theoretically is signing to play hockey at Harvard for this guy.
That particular clause has to be updated, challenged, sued -- something. Kids are absolutely going to Ohio State to play for Urban Meyer or Alabama to play for Nick Saban -- or even to Troy to play for Larry Blakeney.
How many times have we heard coaches talk about "relationships" and "bonding" and "family?" There's a reason coaches start sounding like car salesmen the closer to signing day we get ...
Salesman: "What's it going to take to get you in this new Lincoln?"
Bo Pelini: "What's it going to take to get you to come to Lincoln?"
Salesman: "Let me get with my finance manager."
Charlie Strong: "Let me get you some financial aid."
How is this particular blanket disclaimer enforceable? Sometimes it isn't. There is an appeals process that can be long and ugly and rancorous. They don't tell recruits that either in the NLI.
The NLI stands because recruits and parents ultimately acquiesce to a document that states, "I understand it is not uncommon for a coach to leave his or her coaching position."
What the NLI doesn't state -- or doesn't want to admit: Love of a school is a two-way street -- as long as a recruit's coach stays on the job.
In this age of litigation, even amateur athletics' Magna Carta should be vulnerable.
Happy signing day.
GoDawgs247 previews big-time college football recruits headed to Athens

Dig below the surface and you'll find a lot of intriguing matchups on the slate this Satur...

SportsLine tapped into its Vegas sources and found out pro bettors are all over No. 8 Michigan...
An early-season Big 12 game already has major conference and national implications

Top-ranked Alabama hits the road to take on upstart Vanderbilt in Nashville on Saturday

The battle of the Bulldogs will take place Saturday night between the hedges