Signing Day: Alabama raids Texas for 5-star lineman A'Shawn Robinson
With another top-ranked crop already in the bank, the Crimson Tide added yet another five-star signature Wednesday afternoon from a longtime Longhorns commitment.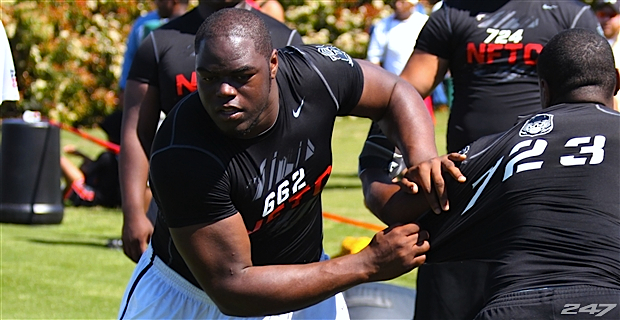 Robinson was committed to Texas for nearly a year before defecting to the Tide. (247Sports)
You might have thought that Nick Saban had run out of room for more five-star talent in Alabama's typically loaded signing class, on a roster already choked with players from the loaded classes of signing days past. But you would have thought wrong: With another top-ranked crop already in the bank, the Crimson Tide added yet another five-star signature Wednesday afternoon from longtime Texas commitment A'Shawn Robinson, a Fort Worth product rated by 247Sports as the No. 3 offensive tackle in the 2013 class and the 26 prospect overall.
His letter of intent brings the defending BCS champs' incoming crop to 25 players from a dozen states, although only one of them was accompanied by a person in a full elephant costume at the announcement.
Robinson, a 6-foot-5, 300-pound behemoth who could wind up on either side of the ball, was the last of six blue-chip prospects who backed out of a verbal commitment to Texas at some point in the recruiting process, and arguably the most devastating -- even more so, given the timing, than the defection of Ricky Seals-Jones, a five-star wide receiver who dropped UT in favor of rival Texas A&M in December. Robinson had been in the fold for nearly a year before de-committing on the heels of an official visit to Austin last weekend, costing the Longhorns their most high-profile commit just days ahead of signing day. What little hope remained for another change of heart was dashed with his signature for Alabama.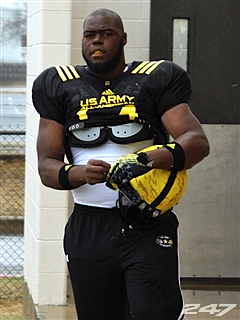 Robinson, a headliner at the U.S. Army All-American Game. (247Sports)
On the other side of the decision, Alabama is rolling toward another No. 1 class, of which Robinson is only a piece. Out of 32 players with five-star ratings by 247Sports, six of them are now locked into the Crimson Tide, including a pair of early enrollees who are already on campus: tight end O.J. Howard from Prattville, Ala., and running back/linebacker Derrick Henry out of Yulee, Fla. Robinson was the fourth five-star prospect to sign with Alabama on Wednesday, following Monaca, Pa., wide receiver Robert Foster, Ashburn, Va., linebacker Jonathan Allen and Auburn, Ala., linebacker Reuben Foster, whose much-chronicled waffling between the Tigers and Tide was punctuated by his decision to have the Auburn logo tattooed on his arm. Assuming he lives up to the hype, Bama fans have already forgiven him.
For most other schools, the rest of the class would represent a banner day by itself: Aside from the five-star haul at the top, Alabama landed signatures Wednesday from seven other players ranked among 247's top 100 nationally, four of whom -- defensive end Tim Williams of Baton Rouge, La., running back Tyren Jones of Marietta, Ga., running back Alvin Kamara of Norcross, Ga. and running back Altee Tenpenny of North Little Rock, Ark. -- hail from the backyard of an SEC rival. (For more on the staggering running back haul, specifically, see here.) Another out-of-state signee ranked in the top 100, Salt Lake City quarterback Cooper Bateman, is already enrolled.
The Tide haven't gotten everyone they wanted (five-star safety Antonio Conner spurned Bama in favor Ole Miss, as did the nation's top prospect, Loganville, Ga., defensive end Robert Nkemdiche), but the day isn't over: We're still waiting on an announcement from top-ranked target Eddie Vanderdoes, a five-star defensive tackle from Placer, Calif., who will decide Wednesday night from three possibilities: Alabama, Notre Dame and UCLA. At this point, picking up the most coveted player on the West Coast would just be piling on.
Patterson is looking to play immediately after transferring from Ole Miss to Michigan

From Chip Kelly to Billy Napier, did these schools and coaches make the right calls this silly...

SportsLine's computer model simulated every college bowl game 10,000 times, with surprising...
Everything you need to know to watch and pick the Boca Raton Bowl on Tuesday

College football recruiting begins earlier than normal with a National Signing Day in Dece...

Getting Leavitt back was obviously high on Cristobal's list of priorities