Small school Starr ready to shine at NFL scouting combine
South Dakota's Tyler Starr may not have played for an FBS program but the big linebacker has created some buzz inside the NFL scouting world.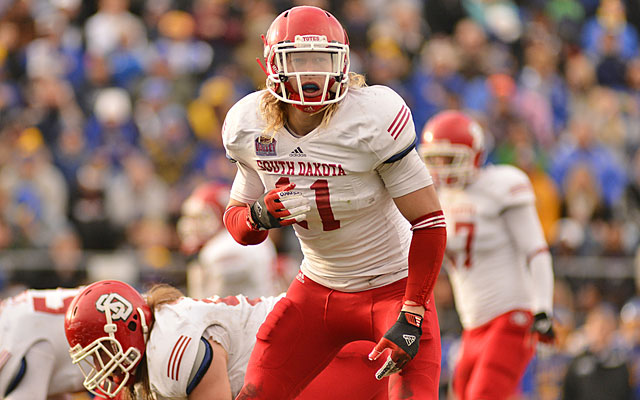 Just how small is the hometown of rising NFL prospect Tyler Starr?
"I think I can name everybody and the street they live on in town," said the University of South Dakota linebacker.
For the record, the population in Starr's hometown is 459. But the Missouri Valley Conference Player of the Year has put Little Rock, Iowa, on the NFL scouting map. An impressive showing last month at the East-West Shrine Game helped get the 6-foot-4¼, 250-pound linebacker a spot at next week's NFL combine in Indianapolis.
"I like him a lot," said one NFL scout. "He's tall, long and extremely athletic and plays with a high motor. I'd heard some chatter about him this fall and went to see him, and he's way more athletic than I thought he'd be. You still wonder if he has enough power and strength at the point of attack right now to be an every-down guy, but he really has a knack for rushing the passer and he has some real third-down value."
Word is, Starr should turn heads at the combine, not just for the long blonde hair that he hasn't cut since his freshman year at USD. Starr says he hass clocked a three-cone drill time of 6.29 in his training sessions in Tennessee. For comparison's sake, the fastest time in Indy last year was 6.52 by cornerback Will Davis from Utah. Oregon WR Jeff Maehl clocked a 6.42 in 2011, which the NFL considers its recent best. The fastest time by a linebacker last year was 6.71 by Mizzou's Zavier Gooden.
"I think I can blow that drill out of the water," Starr told CBSSports.com on Tuesday night. Even if he's anywhere near that mark, his stock should continue to rise.
"Tyler's mobility for his size is unbelievable," said Scott Reall at D1 Sports Training in Tennessee, who has worked with Starr the past two months. "Once I've been able to teach him proper technique and steps, he's been brushing all-time records in the [three-cone] L-drill. His ability to explode off a change of direction and not lose a lot of time is remarkable. He is just so explosive. The first time everybody saw it here, people were like 'Holy crap!'"
Reall, who is also training more than a dozen other football players including guys from the SEC and Big Ten, says Starr's 6.29 time is legit.
"I timed it myself twice, and also had another coach time it and he hit the same number."
There had been some concerns about whether Starr's shoulders are 100 percent healthy, but Reall says that talk is overblown. "He's got full range of motion and when people see him bench 225 [pounds] 25 to 30 times, they'll know."
It's a pretty amazing ride for a player who said he didn't have any direction coming out of high school as a self-described bad student. Starr's range and athleticism as a 6-4, 195-pound high school junior drew some interest from Iowa State after he attended a Cyclones camp, but his grades turned the ISU staff off.
"I didn't really have the core GPA," Starr says. "USD was the only 1-AA that put effort in getting me into school."
That effort and the school's patience had paid off. After two years at USD, where he had more struggles academically early on, Starr had a breakout season in 2011 with 14 sacks. He started the year with a bang, making seven tackles, a sack and forcing three fumbles in the opener against Air Force. So, what changed for him? Well, everything.
In May 2011, Starr became a dad. His son Hunter was born. All of a sudden, he felt a powerful sense of responsibility and purpose.
"It was like a 180-degree turn," he said. "Everything I did was so selfish before. Now, it's about being a role model for my son and for my family. Every decision that I make will reflect that because of this blessing that came into my life."
After the Shrine game, he also proposed to his now-fiancee.
Starr knows there is skepticism from some since he didn't play at the FBS level, but he has been impressive when he has played against 1-A opponents. In addition to his showing against Air Force, Starr was all over the field in 2012 against Northwestern, when he made 11 tackles, a sack and a TFL. This season against Kansas, Starr had two sacks, a QB hurry, a forced fumble and broke up a pass.
Starr, who likes to pattern his game after the pass-rush styles of DeMarcus Ware and Aldon Smith as well as the effort level of Ray Lewis and J.J. Watt, says his confidence has grown after his week at the East-West Shrine Game.
"I knew that there was a doubt factor with some people about whether I could play at that level, so I wanted to show everyone," Starr said. Better still, Starr says was the opportunity to visit children in the hospital in Florida.
"It was such an amazing experience," Starr said. "The kids were having so much fun with us. It brought so much to them. We were like superheroes to them. And to know how they go through all the struggles they have and still be upbeat, it gave me so much perspective. I'd get upset thinking about the things that used to upset me. It was eye-opening."
Now it's Starr's chance to open people's eyes.
Oliver's star has already been born, but 2018 is when it will truly be recognized

Craig Kuligowski is reportedly leaving Miami to take the same job with Alabama

BT Potter is about to be very popular in the Clemson locker room
McElwain will coach receivers and help coordinate the offense for the Wolverines

Nathaniel Watson Jr. was involved in a car accident that injured a passenger in early Febr...

The honorable Tom Fornelli presides over the ASU vs. UM case