Smart says Tide's No. 1 2012 defense 'not exactly up to par'
Alabama's defensive coordinator says the Tide's 2012 defense -- which led the nation in total defense -- wasn't good enough.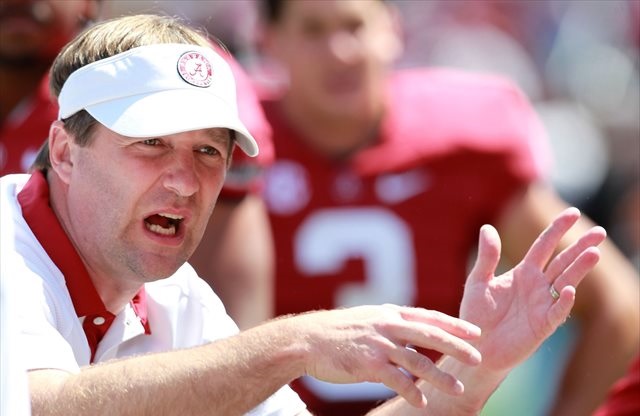 How does Nick Saban keep his Crimson Tide team motivated and focused after winning three national titles in four seasons? How about by telling them they're not good enough to carry the water for the first couple of those title-winning teams?
"They showed our stats from last season and pretty much we were first in the country," linebacker C.J. Mosley said Sunday, per Associated Press reporter John Zenor. "But he compared us to the last two teams from Alabama and they had better stats than we did. At the end of the day we've got to make sure that we're being better than we were before and not better than other people."
Mosley is correct: Alabama finished 2012 in its preferred perch as the No. 1 unit in the nation in total defense. (They haven't finished outside the top five since 2007.) But the Tide were only 3.8 yards better than their closest pursuer (Florida State) after being a mind-boggling 77.9 yards better than No. 2 (LSU) in 2011. Alabama also took solid steps back in 2012 in yards-per-play, scoring defense, rush defense, and especially pass defense -- where the Tide finished an unthinkable 16th in the nation (and fourth in the SEC) in yards-per-attempt allowed.
Of course, anyone with an ounce of charity would point out that the 2011 Alabama defense is one on the shortlist of the greatest college defenses of all-time, and that the 2012 edition was never, ever going to live up to those kinds of standards. Where his defense is concerned, though, Kirby Smart doesn't have that ounce of charity.
"A lot of people think our standard is to be first in the SEC, be first in the country, first in our red zone and run defense," Smart said Sunday. "We really don't go by that motto.

"We go by, be the best Alabama defense there's been. We compare ourselves to the last five years of Alabama defenses. When you do that, last year's defense was not exactly up to par. Not exactly spectacular. We put in a lot of work to improve on defense."
There you have it: the nation's No. 1-ranked, national championship-winning defense was "not exactly up to par." It was "not exactly spectacular."
And of course, compared to the stratospheric heights reached by the 2011 or 2009 units, it wasn't. (Also, this is the same defense that gave up 2 yards shy of 300 yards passing to Zach Mettenberger, so no one's calling them perfect by any measure.) But with seven starters returning including All-American Mosley, the 2013 version shapes up as one that might not mind the comparisons as much. The only trick for Saban and Smart will be making sure Mosley and Co. are as focused as they were at this time last year, or they were in 2011.
Which likely goes a long way towards explaining why Smart made those comments in the first place, doesn't it?
Cristobal's first game at Oregon ended the same way Chip Kelly's did

Conner Manning and the Panthers dominated the Hilltoppers in the Cure Bowl

You can only go to the well so often before it dries up
The Trojans beat LSU earlier in the year and now have their first 11-win season as a FBS t...

Saban has never been a fan of the early signing period and made it clear that hasn't chang...

Paul Tyson is a three-star quarterback prospect for the 2019 recruiting class