SMU to wear blue throwback jerseys for ''80s Night'
SMU will remember the Mustangs' 1983 Sun Bowl team with blue throwback jerseys and other '80s-inspired paraphernalia.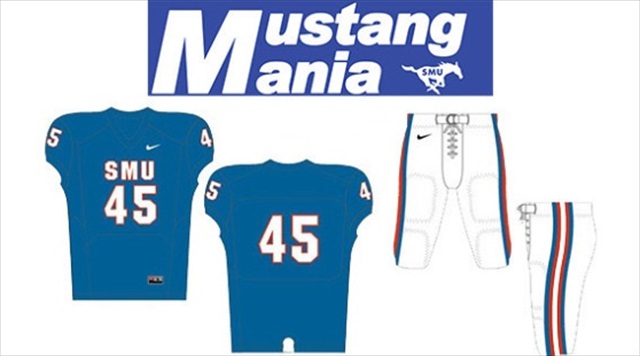 On the one hand, SMU, announcing you're hosting an "'80s Night" complete with Pony Express-style blue jerseys and "an '80s-specific graphics package for the videoboard" doesn't quite seem like the best way of putting your scandal-ridden past behind you, no matter how firmly you emphasize that the occasion honors the 1983 team (i.e., the one that came a year after the departure of Eric Dickeron and Craig James). 
On the other, SMU, it's not like your scandal-ridden past is any kind of a secret at this point, those blue jerseys will probably look sweet, and there are plenty of players on that 1983 team -- which went 10-2 and played the Sun Bowl, back when that really meant something -- who deserve the honor.
So go nuts. Have a good time. (That special ticket price is a nice start.) Just don't expect this "Pony Express" reference to be the last.
From the statement issued by SMU (titled "The 80s Are Back! SMU Rolling Out Blue Throwback Jerseys For American Debut"):
SMU today announced an 80s Night for its Oct. 5 American Conference debut, and revealed that the Mustangs will don blue throwback jerseys for the game against Rutgers. At the game, SMU will honor its 1983 football squad, a team that was captained by Russell Carter and Lance McIlhenny and went 10-2, advancing to the Sun Bowl.

"The fans have spoken," said SMU Director of Athletics Rick Hart. "They have been asking for blue jerseys since the day I was hired and we felt this game - our first American Athletic Conference game occurring during Lettermen's Weekend - would provide the perfect opportunity to break out these tradition-rich jerseys as a way to honor the 1983 team."

To create an even greater '80s vibe, SMU will be offering special blue cups at the concession stands that mimic the throwback jerseys, will play `80s music during breaks and will create an 80s-specific graphics package for the videoboard.

Fans can even purchase a special $19.83 ticket pack that includes admission to the game as well as a limited edition blue Mustang Mania t-shirt. Supplies are extremely limited, so fans should contact the SMU Ticket Office immediately at 214-SMU-GAME (768-4263) or log on to SMUMustangs.com and use the Promo Code 1983.
A concert is a nice way to break up preseason camp

Mills was arguably Georgia Tech's most important player coming into the season

Hugh Freeze's phone records reportedly show another troubling pattern for Ole Miss
They aren't necessarily great teams, but they're teams I'm really interested in following this...

The Irish will wear them on Nov. 18 against Navy

The fourth-year coach of the Nittany Lions led the program to the 2016 Big Ten Championshi...