So BYU is full frontal about Big 12 desires? Time to go all out
BYU coach Bronco Mendenhall publicly stated he wants a Big 12 invitation, but the Cougars must take several steps to have a chance.
• 4 min read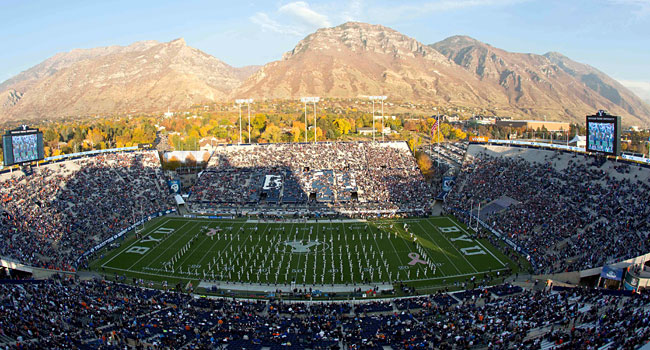 More college football: Jon Solomon | Dennis Dodd | Latest news
Camouflaged by NCAA litigation and LeBron's leg cramps was a nice and tidy nugget of news last week courtesy of Bronco Mendenhall.
BYU's coach would like to join the Big 12.
"I would love to be a member of that conference," Mendenhall told the Austin American-Statesman. "I think that would make a lot of sense."
This was clearly a calculated move. When the Cougars' coach of nearly a decade comes out that strongly, you can guess others in the BYU offices knew the comments were coming. Athletic director Tom Holmoe probably did.
BYU Conference History
Years
Conference
1922-1938
Rocky Mountain
1939-1961
Skyline/Mountain States
1962-1998
Western Athletic
1999-2010
Mountain West
2011-now
Independent
Note: BYU moved from Div. II to Div. I in 1973
This seemed like a planned, united -- and maybe a bit desperate -- front.
Maybe Mendenhall is feeling what athletic directors at Louisville, West Virginia and Rutgers once felt: The walls closing in, the dividing line of power-conference prosperity in neon lights. At least those three had a safe landing strip.
Apparently football independence becomes less a way of life and more a three-year bandage when tens of millions are at stake. BYU doesn't have to look far to know what Cincinnati, UConn and USF are dealing with. They stand to lose at least $100 million in revenue over the next seven years after realignment left them behind.
For BYU, Mendenhall's public comments might as well launch a well-orchestrated campaign in case the Big 12 wants to add -- which shouldn't be for a while, if at all.
After several conversations with Big 12 officials, it's clear the league is ready to ride out the first wave of College Football Playoff play with a 10-team setup.
Those 10 teams split $220 million, and that doesn't include third-tier rights. That's one way to make a living.
Clearly the playoff's conference-centric approach hurts BYU, which has no fallback access bowl clout like Notre Dame has with the Orange Bowl. It's Rose, Sugar or Miami Beach for the Cougars in 2014.
Not only must the Cougars go undefeated to make the playoff, they have to play tough schedules despite a box-out from the ACC and SEC.
With a reported $800,000 to $1.2 million per home game from ESPN plus the school's own BYU TV, the Cougars are better positioned than most or all schools in the five smaller conferences.
Mendenhall's statement implies the school has decided that's not enough.
So, while BYU is dropping media hints, why not go full frontal and really play this up? Here are five ways the Cougars can make themselves available if the carousel spins again.
Send holiday cards
Take a cue from Cincinnati president Santa J. Ono. No one in the history of holiday cards has said, 'Ugh, why did I get this card?' It's always a nice gesture. Warms the soul.
No shame in dancing for that invite. Remember the story of TCU's Chris del Conte charming former Texas AD DeLoss Dodds? That stuff helps. Invite Bob Bowlsby to a fishing trip in the Great North.
Have a monster year or two
History and nostalgia won out in the last realignment wave. West Virginia had more of that than Louisville when the Big 12 offered the Mountaineers a spot ahead of the Cardinals.
But the Big 12 still gets lambasted in some circles for dodging Louisville because of the Cardinals' recent success.
BYU already has tradition, so couple that with a 10-win season or two to stay on the Big 12's mind.
UCF isn't getting a call-up any time soon, but the Knights looked a whole lot more attractive than UConn last year. Staying on the good side of short-sighted fandom is crucial.
Be a team player
BYU was known in certain Mountain West circles as overpowering, and maybe that's because it could get away with it.
But no one wants to hire an employee who's difficult to deal with. BYU would have to blend its culture with a set of new schools that make a ton of money and aren't about to disrupt the pot.
Be willing to sing the company line.
Set up killer football schedules
If BYU can continue to schedule tough in football despite its outlier status, that would show the Big 12 it handles difficult situations deftly.
Word out of the SEC meetings two weeks ago was at least one SEC school was talking with BYU about a home-and-home before the league approved an 8 + 1 model that suppressed negotiations. Still pulling off at least one SEC game would be impressive.
Play the Big 12 more. Get into Texas and Oklahoma backyards. After the Texas game this year, BYU plays one game from that conference in the next two years -- a 2016 matchup with West Virginia in Landover, Md.
Call Oklahoma's Joe Castiglione every day. Agree to three consecutive games in Norman.
Play to your strengths
You can argue BYU is a top-40 program, which means it might be better than 25 so-called power conference teams.
Football success hinges on quarterback play, and you've had it: Ty Detmer, Jim McMahon, Steve Young, and to a lesser extent -- Taysom Hill. Play that up.
Show your value system is a strength, a different voice for the conference room.
And hope for a phone call.
A magic trick turned into a scholarship surprise for this Texas lineman

Michigan's notorious secrecy is getting called out again

Key was named a 2017 CBS Sports Preseason All-America selection this week
Our bowls expert looks at the toughest -- and weakest -- nonconference schedules in the na...

The new uniforms will be worn on Oct. 28 at Kyle Field vs. the Bulldogs

Kiffin's Owls have added myriad troubled players since he took over in Boca Raton