So Missouri had only the SEC's 2nd-most amazing turnaround
They didn't win an SEC title, but don't overlook how great a season Missouri had -- or how great a team Auburn beat Saturday.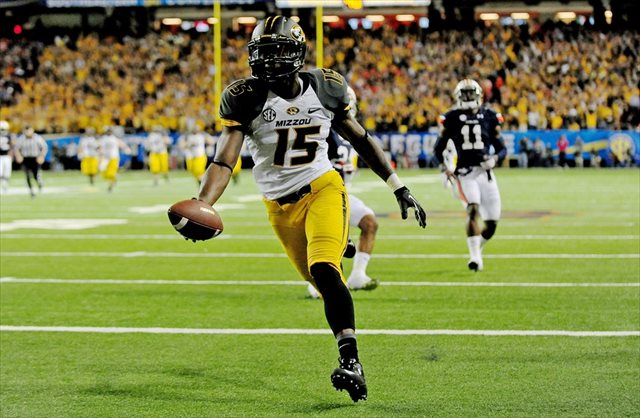 More than one pundit opined in the run-up to the SEC Championship Game that it would decide more than just the conference title -- it would decide which of Gus Malzahn or Gary Pinkel would win the SEC's Coach of the Year Award.
It does seem more likely that Malzahn will walk away with that particular honor after his Tigers outlasted Pinkel's in an old-fashioned 59-42 SEC shootout in the Georgia Dome. But that Pinkel was even considered Malzahn's equal after Auburn's fairy-tale-to-end-all-fairy-tales season should tell you something that even Saturday's loss shouldn't obscure: Missouri had a hell of a season, and a hell of a team.
There was plenty of evidence on the field Saturday, even in the loss:
• While no one's going to confuse Auburn's defense with the '85 Bears, it's still the same unit that (with the help of the Tide's field goal issues) held Alabama to 28 points just a week ago and ranked 31st in scoring defense. Led by Dorial Green-Beckham's and Henry Josey's dominating performances -- the sophomore wideout and junior tailback totaled 264 yards on just 15 touches, an average of 17.6 yards a pop -- Missouri shredded Auburn for 534 yards, 42 points, and 7.5 yards a play. Against any other offense in the SEC, maybe the nation, it would have been enough for a title. 
• Auburn's relentless offensive assault would have had plenty of teams buckling under the pressure long before Missouri did. Trailing 28-20 and with under three minutes to play, Missouri saw a tough personal-foul call go against corner E.J. Gaines, setting Auburn up at the Tigers' 24. From there Mizzou stuffed Tre Mason for no gain, dropped a wideout screen for a loss of 1, accepted a hold, and dropped Sammie Coates for another loss. Auburn punted, Mizzou got a 55-yard touchdown pass to Green-Beckham six plays later, and instead of being down two scores they went into the locker room down one point. And by the 5:35 mark of the third quarter, Mizzou had the lead.
There were plenty of reasons Missouri lost. Mental fragility, or succumbing to the pressure, or the moment being too big for them ... none of that applied.
• Yes, it was a day to forget for the Tigers' defense. But that didn't mean some individual brilliance didn't shine through. Gaines scored on a fumble return and made a whole series of dynamic plays, both in pass defense and occasionally in edge rush defense. (What resistance Mizzou had to offer was pretty much all Gaines', it seemed.) Defensive end Kony Ealy forced a pair of fumbles from Nick Marshall and generally forced havoc for the game's first half. And however Missouri might have looked vs. Auburn, this was not some patsy rushing defense Malzahn's team bulldozed; Mizzou entered the game second in the SEC in yards per-carry allowed, with Nick Saban his own self saying this week "I think Missouri has the best defensive front in our league."
In short: 59 points allowed or no 59 points allowed, Missouri was a team and played like a team that deserved to be in Atlanta. Pinkel's Tigers didn't lose the game as much as Malzahn's went out and won it -- and both teams deserve credit for such.
But there have also been whispers that as legit as Missouri is, it might be a while before they return; it's not likely for Florida and Georgia to both be four-loss teams again, and if not for South Carolina's gack job at Tennessee, they wouldn't have been in Atlanta this season. 
But to take that approach is to ignore Pinkel's long, long track record entering this season and how much talent remains on this roster. Gaines is gone. James Franklin is gone. Defensive end Michael Sam (who was mysteriously quiet this game after a monstrous season) is gone. L'Damian Washington is gone.
But Maty Mauk, Green-Beckham, Josey, three burly offensive linemen, defensive tackle Matt Hoch, Gary Pinkel himself ... they all return. And whether it's 2014 or a somewhat later date, there was nothing Saturday to suggest the Tigers can't return to Atlanta sooner rather than later.
The Alabama QB has a new look after the Tide claimed another national title

Young was injured during Miami's Orange Bowl loss to Wisconsin

The movie will zero in on former Penn State coach Joe Paterno during the Jerry Sandusky sc...
Bidding for Salaam's trophy, which the auction house says was obtained legally, ends Satur...

Locksley has been the offensive coordinator at Illinois and Maryland during his coaching c...

Many NFL-eligible juniors ignore advice provided by the league and risk going undrafted each...