Son of Cris Carter, Duron Carter, leaves FAU and heads to draft
A college football career with three different FBS stops has come to an end.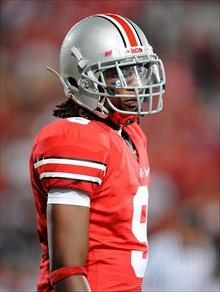 Duron Carter in his days as a Buckeye. (US Presswire)
The Christmas season has seen the apparent end of a college football career that promised much -- and never materialized.
Wide receiver Duron Carter has left FAU, Owls head coach Carl Pelini recently confirmed to the Sun-Sentinel and Owl Access, and is expected to enter April's NFL Draft. A native of the greater Miami area, Carter enrolled at FAU after 2012 spring practice, hoping to earn a hardship waiver from the NCAA. That waiver was denied, and Carter leaves without having played a down for the Owls.
The son of NFL great Cris Carter, Duron Carter was one of the top receivers in the recruiting class of 2009 and signed with Ohio State. After one year in Columbus -- where he caught what would be the only 13 receptions and lone touchdown of his FBS career -- he left the team with grade issues and transferred to Coffeyville Community College, where he became one of the nation's top JUCO wideouts.
Carter signed with Alabama in 2011 and was expected to play a major role for both those eventual national champions and the 2012 BCS title game representatives, but grades again prevented him from ever seeing the field, and he left for FAU.
The Sun-Sentinel reported it was "unclear" if Carter left FAU voluntarily or not. 
With two seasons spent on the sideline and his most recent high-level football competition coming all the way back in 2009, Carter is not expected to be drafted -- but his famous name and long-sought-after potential could get him a look somewhere.
Olson has a lot of the tools offensive coordinators want in a quarterback

The Tigers have a wealth of talent at their biggest position

Pineiro received the award for stopping an attack the morning of Oct. 15, 2017
The first opening weekend lines for college football in 2018 have been posted

A year-end wrap-up of college football statistics you need to know from 2017

Stanford produces apps and Super Bowl participants