Sorry, Pac-12: ACC, SEC staying at 8 games about strategy, not equity
Deciding whether to play eight or nine conference games often about playoff potential, and that's why the ACC and SEC aren't going to nine games.
• 3 min read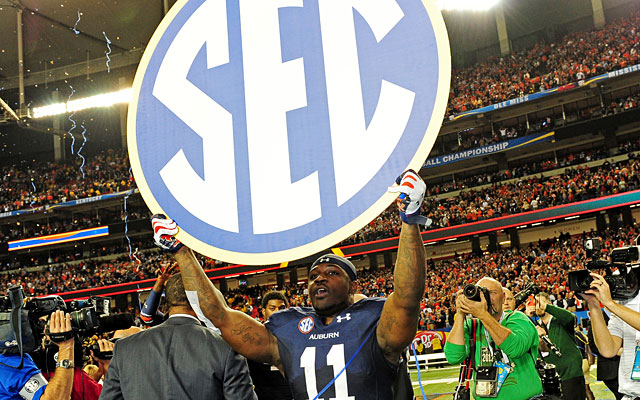 AMELIA ISLAND, Fla. -- Go ahead. Take aim at the SEC's manhood.
Question the ACC's ability to 'play up.'
You scared, inferior eight-game conferences?
Not quite.
Actually, they are pretty smart.
Playing an eight-game conference football schedule -- which the ACC is approving at this week's spring meetings -- is about strategy, not equity.
The Pac-12 can scream from Palo Alto to Eugene that all five power conferences should "all run the race on similar course,' as Larry Scott put it. That's a reasonable request.
But in the case of the Pac-12 and Big 12 (and the Big Ten in 2016), that means one more conference game that can stump an undefeated team.
One more chance to fumble a title chance or a playoff berth.
"You have the nine games, there's going to be nine more losses," Clemson athletic director Dan Radakovich said.
Make no mistake, the ACC this week is taking a calculated risk by approving an eight-game schedule with the promise of playing at least one power-five-level non-conference opponent -- the same format the SEC approved last month.
The ACC wasn't exactly pushing for national titles before last year.
But power brokering is often about momentum, and the ACC has a healthy dose of it coming off FSU's national title.
It's all about getting into the top four, not a channel. Inventory will be there for both the ACC and SEC. Teams will own seven home games a year now.
The reality is this: Unless a fundamental shift happens in the next five years, only the SEC can all but guarantee a one-loss team gets into a national semifinal.
Yes, a one-loss Michigan State probably would have been in last year, but that means a one-loss Baylor is out.
All About the Top Four
As conferences jockey for College Football Playoff positioning, let's use the BCS era as a guide for the frequency with which the power conferences appeared in the top four since 2006 -- the year the Pac-12 went to a nine-game schedule. The Big 12 moved to a nine-game slate in 2011, while the SEC/ACC/Big Ten played eight conference games throughout that span.
Conf.
Top 4
Top 4 Avg
SEC
13
1.63
Big 12
4
0.5*
Pac-12
4
0.5
Big Ten
4
0.5
ACC
2
0.25
Note: The Big 12 average goes to 0.75 if you count TCU's two appearances before joining the conference.
You get the point. Why promote balance when you can clear the path for FSU or Clemson to clean house with the schedule on the way to Dallas?
Radakovich said league athletic directors didn't talk in those terms, but he says the playoff angle "has a lot to do" with the eight-game decision, knowing the selection committee value conference champions and strength of schedule.
"Giving teams flexibility to do what they need to do in a given year," Radakovich said.
Like playing rival Georgia every year, a tougher game than most ACC matchups.
For the SEC, this is without question the right move based on precedent.
Consider that from 2006, when the Pac-12 first went to a nine-game slate, the SEC has pushed 13 teams through the top four in the BCS' final rankings.
A 13-person selection committee will have a different approach than the formulaic and flawed BCS, but at least the rankings can serve as a frame of reference here.
Why would the SEC want to change that unless the committee changes the outlook for them? That's why these conferences can be open-minded. Radakovich said the ACC can always re-evaluate the eight-game formula in four or five years.
This is where ACC risk comes in -- the 2007 Virginia Tech team was the ACC's only top-four BCS finisher from 2006-2012.
But those stats should be weighted by how many times ACC coaches admired Jimbo Fisher's championship ring at last night's reception in the Ritz-Carlton (this actually happened).
The Big 12 actually had better luck in an eight-game schedule (three top-four finishers from 2006-2010) than when going to nine games in 2011 (Oklahoma State in 2011). Texas was a contender back then, but still.
The Pac-12 has had four teams finish in the top four since going to nine games, all since 2010, so it's not that nine-game formula ruins your plans.
Doesn't make it easier to get there, though (See: Utah 27, Stanford 21).
College football needs stronger matchups, especially in an era of declining attendance. But now the ACC and SEC can schedule each other, while the ACC's five-game commitment to Notre Dame lessens the burden of staying at eight.
Five years from now, if the SEC and ACC are still pumping out titles, the decisions considered by the West Coast to be inequitable will actually prove profitable.
Expert picks for the top games during Week 8 of the 2017 NCAA football season

Leach wants a rally outside Texas Tech's stadium for $2.5 million he believes he is owed

It's the beginning of the end for a number of teams with College Football Playoff hopes
Every season has early surprises, but which ones are most capable of finishing the job?

Our computer model simulated every Week 8 college football game 10,000 times with surprising...

The bye weeks means there's more time for Smart to hit the recruiting trail