Source: Notre Dame, ACC safe from another Big Ten raid for now
Notre Dame is in the middle of leaving the Big East and entering the ACC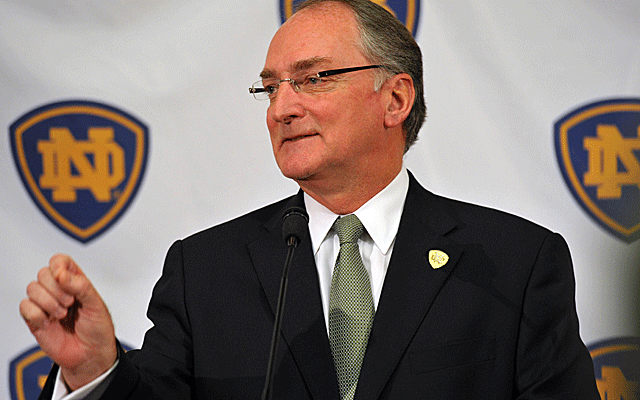 AD Jack Swarbrick is simultaneously overseeing Notre Dame's exit from the Big East and entry into the ACC.
(US Presswire)
SOUTH BEND, Ind. -- A source has told CBSSports.com there is no current "list" of expansion candidates to be taken in the near future by the Big Ten. That would make sense to Jack Swarbrick.
The Notre Dame AD is simultaneously overseeing the exit of his school from the Big East and entry into the ACC. Both conferences are wounded in different ways. However, Swarbrick senses a relative sense of calm settling over conference realignment.
"Given how much of this [there is], none of us could have predicted," Swarbrick said Monday during Notre Dame's bowl media day. "You can't be having definitive statements [but] my sense from talking to my colleagues, the presidential conversations that have gone on, is a real comfort level. I feel really good about the future of that."
While college athletics waits for what's next, Swarbrick told the Chicago Tribune that the exit of the Big East "Catholic 7" basketball schools feels like a divorce, "and we're the kid."
The Irish are making the move to the ACC in everything but football and hockey. Notre Dame has an ACC scheduling agreement in football and preferred access to ACC bowls. It also is guaranteed a maximum of two berths in the Orange Bowl (if qualified) against the ACC champion over the 12-year length of the college football playoff contract. But the current ACC is different even from the one Notre Dame thought it was joining when it made the announcement on Sept. 12. Maryland and Rutgers were taken by the Big Ten causing the ACC to scramble and invite Louisville to get ACC membership back up to 14.
College athletics, then, is waiting to see if Big Ten commissioner Jim Delany is done expanding. If he is standing down, at least for a while, then Notre Dame and the ACC can be free to prosper. When asked about Duke hoops coach Mike Krzyzewski's assertion that the ACC is "vulnerable" after last month's Big Ten raid, Swarbrick said, "I don't share that [view]."
Swarbrick was the second source in two days to say that the ACC will eventually be making more money per school than the Big 12. That would seemingly put to rest speculation that Florida State is trying to get out. Both of those conferences are behind the Big Ten, largely considered to be No. 1 in conference revenue at the moment.
One source said all the major conferences are within $500,000 of each other, hovering around the $20 million mark per year in annual per-school payout. However, estimates for a future Big Ten have gone as high as $40 million per school when its primary TV rights are renegotiated by 2016.
"What you have now is the Big Ten has put itself in a different category financially," Swarbrick said. "A lot of it has to do with their assets.  A lot of it has to do with Jim's leadership. A big part of it is they caught lightning in a bottle [with the Big Ten Network] and no one else can get there, at least in the foreseeable future."
One source said the ACC is in the process of monetizing its soon-to-be lucrative digital network located in Charlotte, N.C. Industry sources are split on whether the ACC can do a full-on network similar to the Big Ten that would be able to throw off profit in a relatively short period of time.
Meanwhile, the Big Ten is busy integrating Maryland and Rutgers into everything from future scheduling to local cable carriers. That has proven to be difficult enough without another planned raid.
"The point is, the ACC is not hurting," the source said. "They [FSU] would have to take a pay cut if they went somewhere else."
"That's why I'm so bullish on the ACC," Swarbrick said. "The ACC story still works, and the rivalries are great. That's what you're going to have to have with that future." 
The team at TheMichiganInsider.com have an exclusive look at Michigan's spring practice

The 'Conference of Champions' won't be in the Round of 32 for the time since 1986

Everything you need to know about Colorado's spring game
Gundy spoke at a Stillwater Public Schools Board of Education meeting

Diaco is the former DC at Notre Dame and Nebraska, and also coached UConn for three season...

Russell passed up on the NFL to return to Auburn to play his senior season in 2018