South Carolina freshman kicker missing a letter on his jersey
South Carolina kicker Elliott Fry has a jersey that is missing a letter. After his first quarter field goal, cameras spotted the missing A in CAROLINA.
• 1 min read
South Carolina freshman kicker Elliott Fry connected on his first attempt of the season, a 39-yard field goal that put the Gamecocks up 10-0 in the first quarter. His jersey may be one letter short with "CAROLIN," but he was not a yard short on the kick.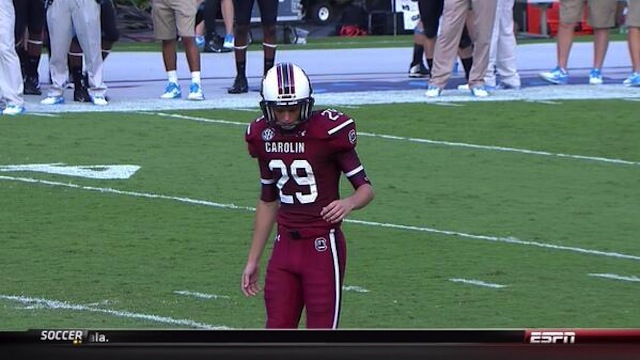 Florida's roster got a boost on Tuesday with the return of several key members of the prog...

Tom Hutton joins the ranks of former Aussie rules footballers joining the college football...

The freshman is already on Heisman lists after throwing the walk-off score in the national...
These seven teams should make the most noise down the homestretch towards signing day

Air Force was forced to cancel 11 athletic events because of the 69-hour government shutdo...

Olson has a lot of the tools offensive coordinators want in a quarterback