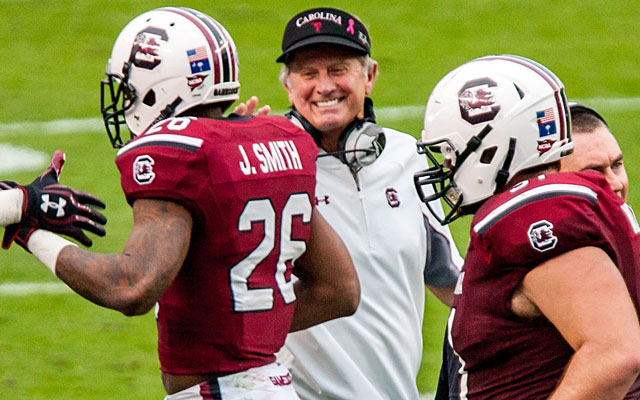 More SEC Media Days: SEC's new network world |   Latest from Birmingham
HOOVER, Ala. -- The second-oldest head coach at a BCS school pranced around the premises like an elf on Five-Hour Energy.
Steve Spurrier is 69, looks 49 and projects to a group of millennials an even younger vibe.
"He acts like he's 40 years old," South Carolina quarterback Dylan Thompson said, "and he's energetic and I love it."
Life has long been one big conjunction-connected run-on sentence around Spurrier. That says less about the coach -- a welcome staple at SEC media days no matter what the circumstances -- than how he got to this point.
Quite suddenly, he is the Spur Dog In Winter. Old, wise, still on top of his game, perhaps doing the best job of his career at once-forlorn South Carolina.
And not a drop of Grecian Formula was used in the process.
The Gamecocks have won 11 three years in a row. Only Nick Saban and Jimbo Fisher have a higher winning percentage during that span. Since 2011, 80 percent of his wins have come over teams above .500. Only Saban has a better record. During that time, Spurrier is 11-3 in games decided by a touchdown or less.
"We've quietly done what we've done the last few years," Spurrier said.
Except that nothing the coach does seems to be on the down low. Forty-two wins in the last four years have energized a fan base that never lacked fervor. Those straight 11-win seasons have boosters, media, fans and even players bowing at the waist.
But it's hard to conceive that the youthful Heisman Trophy winner of 1966 is now way past retirement age. Only Kansas State's Bill Snyder (74) is older among BCS coaches. This fall Spurrier will become the first coach in SEC history to stay at least a decade at two different schools.
Bear Bryant's record for SEC wins (159) is within reach. Spurrier is 31 away. At his current pace, he would pass Bryant in 2016 at age 72.
At one time Spurrier was the brilliant eccentric who dared advocated paying players and staging a playoff. Then in the snap of a finger, it all happened.
Who's the eccentric now? A four-team playoff debuts this year.
"I think the whole world planted a seed," said Spurrier who takes no credit for his years of advocacy. "Why are we the only sport in the world where you vote on who is the national champ?"
Also, next month the NCAA board of directors is expected to formally approve a governance structure that would allow cost of attendance over and above a scholarship.
"Maybe you would have more great players if they were paid. [Thinking], 'if I get paid, I'm going to ball out,'" said offensive lineman A.J. Cann.
It seems like only yesterday that Spurrier was up at the podium teasing Phil Fulmer and Roy Kramer. Fulmer -- his infamous Tennessee foil -- is out of football. Kramer, the former SEC commissioner and father of the BCS, is retired.
Often-suspended quarterback Stephen Garcia is out of football too, regretting that he got kicked off the team as a senior in 2011. He's currently playing arena football. Only now does Garcia realize the experience he missed out on.
"I wish I hadn't been so hard-headed," he said. "I wish I would have listened to him. I'm pissed off at myself for being so hard-headed."
Most of the other quarterbacks have survived Spurrier's meat-grinder. This is the guy who always knew he could do it better, because he did as that Heisman winner.
"He does it [critiques] in kind of a joking I'm-not-really-not-serious-type-of-manner," Thompson said. "You look up a few years later and it's getting done. I think that's how he coaches."
Thompson is starting a season for the first time as a senior. He can't explain why he didn't transfer. Thompson is just glad he didn't.
"I think God has me here for a reason," he said. "Everyone I know who has been in this situation has transferred or strongly considered it."
The most elusive piece for the new/old Spurrier: an SEC title at South Carolina. Maybe that's coming too. In this playoff era, Gamecocks would only have to finish in the top four, the same place they ended 2013.
If you haven't noticed by now, the coach has completely transformed his philosophy from his Fun-N-Gun days. With a dearth of talent at South Carolina, Spurrier figured out early the best way to win was to run and play defense.
"I wanted to go out a winner, not a loser," Spurrier said of his brief, failed dalliance in the NFL. "Fortunately, South Carolina was really the best opportunity I could ever ask for."
The man who brought the modern passing game to the SEC in 1990s, brought his coaching rep around for a modern burnishing. The best players in the state began flocking his way (Jadeveon Clowney, Marcus Lattimore, Stephon Gilmore).
As down as Florida was in 1990, South Carolina may have been worse. Spurrier owns eight of the school's 23 winning seasons since 1970. That means there had been only 11 winning seasons in the previous 113 years.
And so you cannot deny the coach his riches, his blasts. The man is the king of the backhanded compliment. On Tuesday, he congratulated Nick Saban on being "the greatest recruiter in the history of college football" but added, "Sometimes the team that plays the best is the team that wins instead of the team with the best favorites."
The perfect ending to a perfect barb would be a South Carolina-Alabama SEC title game. Until then, Spurrier can enjoy new contract that puts Spurrier in or near the top 10 in the country ($3.3 million).
"I'm already embarrassed about how much I make," he said after getting a $700,000 raise.
Maybe just making it this far is the reward.