South Carolina's Lattimore believed to have McGahee-like injuries
South Carolina tailback had just come back from left knee rehab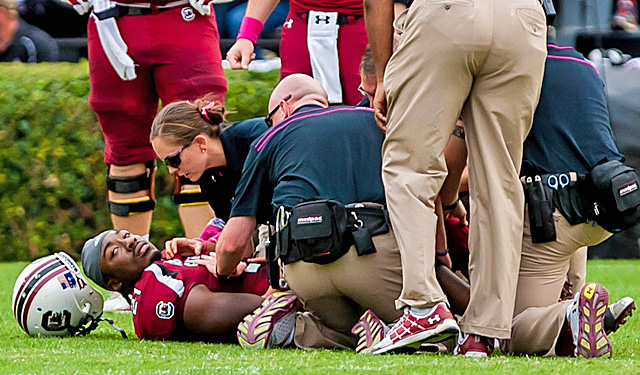 South Carolina running back Marcus Lattimore's injuries could require multiple major operations. (US Presswire)
South Carolina's Marcus Lattimore is believed to have injuries similar to those suffered by Miami's Willis McGahee in the 2002 national championship game, according to a source with knowledge of the situation.
More on Lattimore injury
Stories
Lattimore remained hospitalized on Sunday after suffering a horrendous second-quarter right-knee injury against Tennessee. The source said the injury could require multiple surgeries and major reconstruction could be involved.
In the 2003 Fiesta Bowl, McGahee suffered a left-knee injury that resulted in damage to his ACL, PCL and MCL. 
McGahee went through multiple surgeries and returned to play in the NFL.
While Lattimore may not have the exact ligament damage as McGahee, the injuries could be considered bad enough to require an extensive rehabilitation period.
Lattimore was carted off the field after the injury and taken to a local hospital. The school continues to say the he will be evaluated this week and is out indefinitely. 
Weinke was injured when Florida State lost to Tennessee in the 1999 BCS title game

It was one of the busiest offseasons for the assistant coaching ranks

Oliver's star has already been born, but 2018 is when it will truly be recognized
Craig Kuligowski is reportedly leaving Miami to take the same job with Alabama

BT Potter is about to be very popular in the Clemson locker room

McElwain will coach receivers and help coordinate the offense for the Wolverines