Southern Miss is doing the throwback thing for its football centennial
Retro look will commemorate the centennial of USM football and the Eagles' 1970 upset over Ole Miss.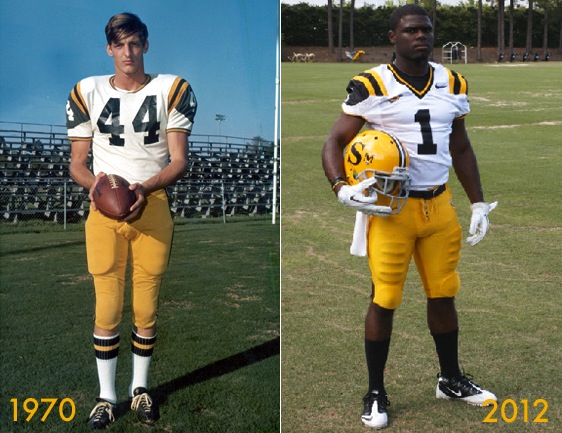 Mississippi Normal College fielded its first football team in 1912, when a makeshift squad composed of 13 students – two of whom had only one arm – began challenging local high schools in a nearby park. This year, Southern Miss is commemorating the centennial with a set of obligatory throwbacks in at least one game, most likely the Oct. 20 homecoming date against Marshall.
Presumably all limbs will be accounted for.
Specifically, the yellow-and-white look is a homage to the 1970 Golden Eagles, and even more specifically to the most satisfying win in school history, an inexplicable, 30-14 upset over undefeated, fourth-ranked Ole Miss in Oxford. At that point, the Eagles had never beaten Ole Miss, and had done nothing to suggest they could. The previous season, the Rebels had trounced USM by 62 points. Before the game, a local paper reportedly ran a photo of Ole Miss' star quarterback with the caption, "Archie Manning . . . Is This One Worth Suiting Up For?" Apparently he agreed that it was not.
Beating Ole Miss is not such a big deal these days, but I do dig the throwback look, modeled above by current tailback Tracy Lampley. (On the left, that's Hall-of-Fame punter Ray Guy repping the original. For another glimpse from 1970, here they are in thrilling black and white. And if you really can't get enough, here's a full photo gallery of the 2012 edition.) The school has already requested a waiver from the NCAA to wear white jerseys at home. As long as they keep the old mascot uniform in storage, the retro motif should come off just fine.
It looks like Jennings is slowly making his way back to the Vols after being dismissed last...

Offensive coordinator Brian Daboll's departure to the NFL has left a void at Alabama

Wilkins was considered a potential first-round pick in the NFL Draft
Brown will have two years of eligibility remaining

Chip Kelly has added some talent to his quarterback room from within the Pac-12

The 2017 season is in the books, and several big-name stars are jumping early to the NFL