Spring Game Saturday: Tidbits from around the FBS
Saturday, April 12, is the busiest Saturday of the spring for college football's spring games. Here's some tidbits from around the country.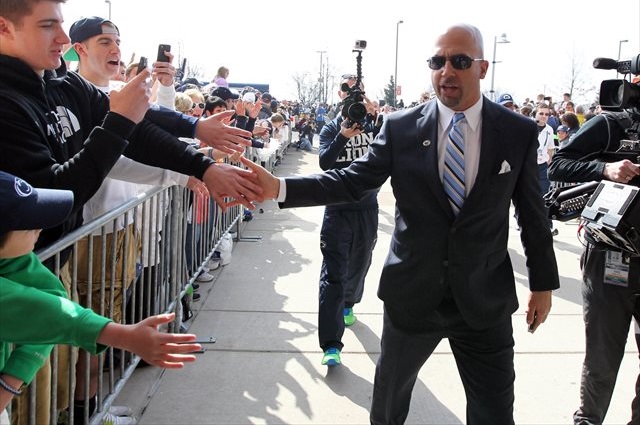 More spring game news: Pelini brings cat out of tunnel | Miami's new unis
Spring games maybe aren't quite what they used to be. (Just ask Texas A&M.) But they're still the most football-like substance available to college football fans between January and August, and so they deserve our attention.
And as detailed in our Watch List preview, Saturday offered the widest range of high-profile spring games of any day this, uh, spring. Here's some of the choice tidbits from around the country:
Purdue: Apparently it's not easy to grow grass on football fields in Indiana during the spring. Notre Dame announced during their game Saturday that it would replace its field with artificial turf for the 2014 season, and here's how the real stuff looked in West Lafayette for the Boilermakers' spring game:
The field has seen better days at Ross-Ade Stadium. #moreindianagrassnews pic.twitter.com/OVFfmtghCK

— Brent Yarina (@BTNBrentYarina) April 12, 2014
In a word: yeesh.
Tennessee: You may remember this family of Vol fans from the 2013 spring game. It appears that this time around, they've brought Mom along for the ride:
The Stubblefield Family is All Vol! pic.twitter.com/Szxh7ptbJF

— Tennessee Football (@Vol_Football) April 12, 2014
You are winning everything, Stubblefield family, and anyone who says otherwise is jealous and tired of their unexciting lives.
Kansas : Let's just check in on the Jayhawks with the Kansas City Star ...
Charlie Weis faces executive decision: Reserves lead starters 7-0 at half. Was to flip score so starters could play with deficit.

— Blair Kerkhoff (@BlairKerkhoff) April 12, 2014
KU spring game halftime: reserves outgained (mostly) starters 111-46, lead 8-3 in 1st downs. Only TD, a WR pass

— Blair Kerkhoff (@BlairKerkhoff) April 12, 2014
Oh. (At least the starters did rally for the "victory.")
Florida State: The Seminoles designed the spring game as the program's updated logo's grand debut, and here it is at midfield (via USATSI):
SEC East: From the "the more things change" files, here's the Macon Telegraph's Seth Emerson on the run-up to Georgia's Red-and-Black Game:
I guess this is appropriate: The alumni flag football game has ended after a player had to be helped off the field with a leg injury.

— Seth Emerson (@SethEmerson) April 12, 2014
And here's the Gainesville Sun's Robbie Andreu describing the Florida offense's debut drive under new offensive coordinator Kurt Roper: 
Quick three-and-out for the new Florida offense. Driskel should have been picked on third-down pass.

— Robbie Andreu (@RobbieAndreu) April 12, 2014
The good news is that things improved dramatically from there for both the Dawgs and Gators. In Gainesville, Jeff Driskel led a series of touchdown drives with former five-star running back Kelvin Taylor looking particularly shifty, and in Athens the Dawgs have watched Todd Gurley dominate on the way to giving his Red team a 17-7 halftime lead ... and more importantly, the Dawgs haven't suffered any major injuries.
In fact, by game's end, Will Muschamp said he was "extremely pleased" with his offense's performance, even if Driskel cooled off in the second half. Maybe the more things change, some of them actually do?
South Carolina : No, you're not going to find that name or her number on the roster:
Well sure, why not @Dawnstaley with a TD catch... pic.twitter.com/ayWqBLtQYj

— Heath Cline (@heathradio) April 12, 2014
In an encore of last year's Jadeveon Clowney touchdown, this year it was Gamecock women's basketball coach Dawn Staley coming off the "bench" to catch a surprise TD.
Louisville: The Cardinals played their game Friday night rather than Saturday, but it's worth noting that the hire of Bobby Petrino -- here's a shocker for you -- may have done quarterback Will Gardner some good. Teddy Bridgewater's heir apparent hit 32 of 37 for 542 yards. And while all the usual "just a spring game" caveats apply, 32-of-37 for 542 yards is a quality showing against air.
The Michigan coach had quite a few things to say on Monday after their visit to West Lafay...

Injuries are ravaging an LSU team that is searching for an identity

Jones started answering an injury question and then went off about 'fake news'
The full ranking of all 130 college football teams includes TCU up and a major drop for Florida...

The charges all stem from an investigation into improper debit card charges

LSU at Florida has been picked as the SEC on CBS Game of the Week