Spring Practice Primer: Arkansas
Bret Bielema kicks off his rebuilding program in Fayetteville after the Hogs' disastrous 2012.
College football never ends, and during the next few weeks teams will be getting ready for the 2013 season in their spring practice sessions. Here's a look at the Arkansas Razorbacks and what they'll be working on this spring.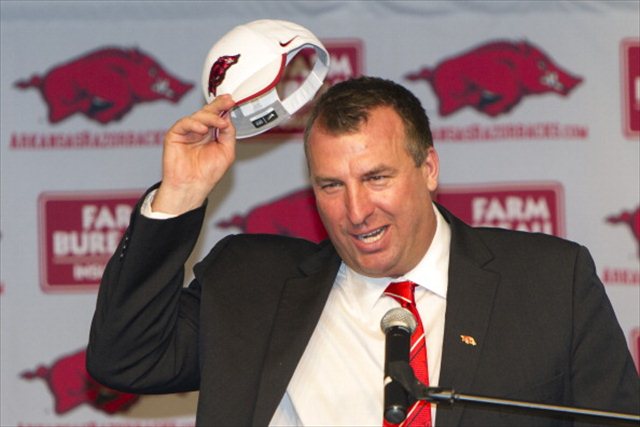 Spring practice began: March 10
Spring game: April 20
2012 record: 4-8 (6th SEC West) 
Returning starters: 12 (4 offense, 8 defense)
The Least You Should Know About Arkansas This Spring
-- This is a near-total reboot. Tennessee is likely the SEC team undergoing the most thorough facelift during the 2012-13 offseason, but Arkansas will run them a close second. Not only do the Hogs have a new head coach, new coordinators on both sides of the ball, and an offensive schematic overhaul to fit Bret Bielema's Badger-honed run-heavy offense, but Tyler Wilson, Cobi Hamilton, Dennis Johnson, Knile Davis and three starting offensive linemen have departed. That means Bielema will have that offensive overhaul with precious little experience on hand. The new head man's first job will simply be to get his team's collective head on straight after the chaos of its past 12 months.
-- Yep, there's a quarterback battle. Senior Brandon Mitchell has worn a few different hats during his time in Fayetteville (backup quarterback, Wildcat specialist, wide receiver) but Wilson's presence -- and now departure -- has meant that 2013 is his first and last shot at making the starter's job his own. But to get there he'll have to get past the 2012 backup, sophomore Brandon Allen, a former four-star recruit whose presence helped push Mitchell to receiver in 2012. While the job looks likely to remain undecided until fall camp, a big spring push from either QB could prove decisive.
-- The defensive line needs to look the part. With so much turnover and uncertainty, Bielema will need at least one unit to become the foundation for the 2013 Razorbacks, and on paper that unit should be the defensive line. Upperclassmen defensive ends Chris Smith and Trey Flowers each return after productive 2012 seasons in which they finished one-two on the team in both sakcs and tackles-for-loss, tackle Byran Jones returns for his senior season as a multiple-year starter, and fellow tackle Robert Thomas (a redshirt senior) is no stranger to the field himself. If this group doesn't lead from the front after the Hogs' weak 2012 performance, a repeat of their 12th-place finish in SEC total defense could be in store.
-- Bielema will be looking for offensive playmakers. Receiver Mekele McKay should be in line for a breakout sophomore season after collecting 21 catches for 317 yards as a true freshman, and fellow wideout Javontee Herndon should be a steady performer after making 21 catches of his own as a junior. But after years of wealth at the offensive skill positions with players like Davis, Hamilton, Johnson, Joe Adams, Jarius Wright, etc., whether there's another legitimate gamebreaker on the roster is a question that needs answering -- and one that may not get that answer one way or the other until five-star tailback Alex Collins arrives in the fall.
Cristobal's first game at Oregon ended the same way Chip Kelly's did

Conner Manning and the Panthers dominated the Hilltoppers in the Cure Bowl

You can only go to the well so often before it dries up
The Trojans beat LSU earlier in the year and now have their first 11-win season as a FBS t...

Saban has never been a fan of the early signing period and made it clear that hasn't chang...

Paul Tyson is a three-star quarterback prospect for the 2019 recruiting class