Spring Practice Primer: Auburn Tigers
It's back to the future for Auburn as Gus Malzahn takes the helm.
College football never ends. And during the next few weeks, teams will be getting ready for the 2013 season in their spring practice sessions. Here's a look at the Auburn Tigers and what they'll be working on this spring.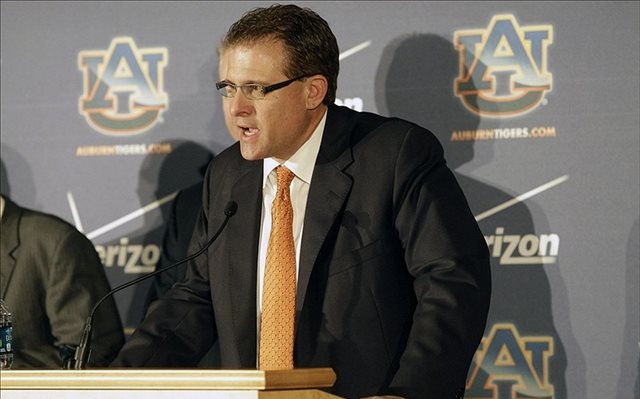 Spring practice began: March 27
Spring game: April 20
2012 record: 3-9 (seventh SEC West)
Returning starters: 15 (7 offensive, 8 defensive)
The Least You Should Know About Auburn This Spring
-- It's time to learn a new playbook! Again. Again again. At least the offensive veterans can dust off the ones that they shelved at the end of the 2011 season, when Malzahn left the Tigers' offensive coordinator position for the Arkansas State head coaching job. But there will still be work for Malzahn to do teaching the underclassmen, and the defense is a schematic nightmare, going from Ted Roof's read-and-react 4-3 in 2011 to Brian Van Gorder's more aggressive 4-3 in 2012 to now Ellis Johnson's 4-2-5 in 2012. That's three distinct playbooks in three years for the defense, meaning Johnson will have to live up to his impressive coordinating reputation (and then some) this spring to get Auburn's up-to-now lackluster defensive cast on the same productive page.
-- Jonathan Wallace and Kiehl Frazier can't waste time. Frazier got the starting quarterback nod to begin 2012, lost the job to the since-departed Clint Moseley and eventually saw true freshman Wallace get his shot to close the season. Despite that setback, Frazier is the tentative favorite heading into 2013, having run Malzahn's offense as a coveted four-star recruit out of Arkansas and seeing spot time under Malzahn as a true freshman in 2011. But both he and Wallace will face a stiff challenge this fall from incoming quarterback recruits Nick Marshall (an athletic juco transfer who has been described as a poor man's Cam Newton) and Jeremy Johnson, a 6-foot-5, strong-armed freshman. For Frazier and Wallace, spring is a must-take opportunity for each to not only put some distance between himself and the other but between himself and the challengers to come.
-- Some guys to catch passes would be nice. The Tigers' passing game was an unmitigated nightmare in 2012 -- 116th in FBS yardage, a 3-to-12 touchdown-to-interception ratio in SEC play -- and, yes, much of that falls on the shoulders of the quarterbacks and the previous staff. But the Tigers also spent two straight seasons looking for someone to make plays in the receiving corps other than Emory Blake or Philip Lutzenkirchen and never did; the two seniors accounted for 49 percent of the Tigers' 2012 receiving yards even with Lutzenkirchen missing half the season through the injury. Now both are gone, and the Tigers' top five returning receivers/tight ends -- C.J. Uzomah, Trovon Reed, Sammie Coates, Quan Bray and Ricardo Louis -- combined for all of 39 catches and 502 yards a year ago. Malzahn will have to see dramatic improvement this spring to expect the Tiger passing game to take any real step forward this fall.
-- The defense just has to, like, be better. The bad news for Johnson: He inherits a disheveled mess of a defense that finished last in the SEC in rush defense and 12th in opponent's passer rating after allowing a 20-to-2 TD-to-INT ratio. The good news: whether going by recruiting stars or the glimpses of potential shown in 2010 and 2011, the Tigers are not devoid of talent. Angelo Blackson, Gabe Wright, Jeffrey Whitaker, and Kenneth Carter provide a deep, experienced defensive tackle rotation; Dee Ford should come into his own as a pass-rusher; former five-star Kris Frost could be a difference-maker at linebacker; Jermaine Whitehead and Demetruce McNeal should be a productive safety tandem. Of course, the exact same argument could have been about the Auburn defense at this time last year, and that didn't get Brian VanGorder anywhere. (Anywhere other than back to the NFL, anyway.) Unfortunately for Johnson, there's no single issue for him to focus on to turn the Tigers around. But if he can nudge his new team toward an across-the-board improvement this spring, the dividends paid by the close of the 2013 season could be major indeed.
The Canes have put themselves in a great spot in this college football rankings prediction

Mayfield will not start and will not be a captain in Oklahoma's regular-season finale

Barrett Sallee is 12-6 on his best bets and says Oklahoma State will prevail this week
Let's pay some respect to a couple of overlooked teams in this week's college football ran...

Jones has been with the program since its inception for the 2009 season

SportsLine's computer model simulated every Week 13 rivalry weekend game 10,000 times with...