Spring Practice Primer: Missouri
Gary Pinkel aims for bigger and better things in Year 2 of Missouri's SEC adventure.
College football never ends. During the next few weeks, teams will be getting ready for the 2013 season in their spring practice sessions. Here's a look at the Missouri Tigers and what they'll be working on this spring.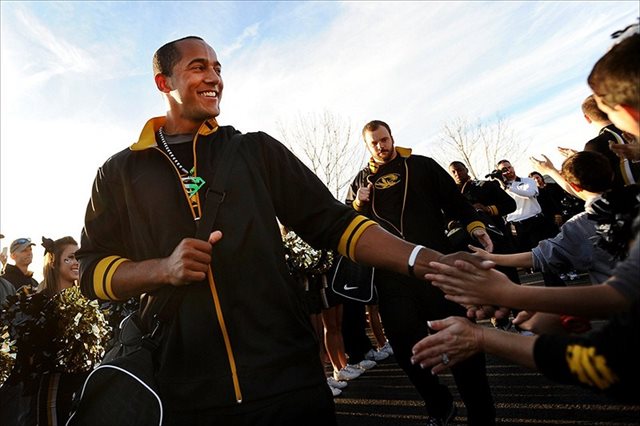 Spring practice began: March 12
Spring game: April 20
2012 record: 5-7 (5th SEC East)
Returning starters: 14 (8 offensive, 6 defensive)
The Least You Should Know About Missouri This Spring:
-- Getting everyone on offense out of camp healthy and functioning as a unit sure would be swell. The Tigers were publicly confident last summer about forcing the SEC to adjust to their offense rather than adjusting their offense to survive the SEC, but a vicious bite from the injury bug ruined those plans before they even had a chance to come together. James Franklin missed parts (or the wholes) of several games; the line suffered multiple season-enders and was in flux from its first game to its 12th; and, of course, Henry Josey -- the team's starting tailback and arguably most explosive playmaker -- missed the entire season with his catastrophic 2011 knee injury. The end result was that the Tigers finished 13th in the SEC in yards per play, pulling off the seemingly impossible task of averaging more than a third of a yard less per snap than 12th-place Auburn.
If there's any bright side to those injuries, it's that they opened the door for the 2013 offense to boast eight returning starters, including four-fifths of the offensive line. If everyone can remain upright and new offensive coordinator Josh Henson can use that health to get everyone on the same page for the first time since, well, last spring camp, the Tigers can head into summer workouts with some actual confidence.
-- Dorial Green-Beckham needs to take another step forward. The class of 2012's consensus No. 1 overall recruit and biggest recruiting coup of Gary Pinkel's tenure, Green-Beckham didn't exactly disappoint in his first season in Columbia -- his five receiving touchdowns led the team -- but "28 catches for 395 yards" likely wasn't the impact that he or his coaches were hoping for, either. There were signs late in the season that the light was coming on (six catches for 48 yards during the first four games, 16 for 242 in his final four). But on a team with a dearth of stars at the skill positions, a player with Green-Beckham's sky-high ceiling has to do more than simply turn the light on if the Tigers are going to make any dent in the SEC's collective defense.
-- The defensive line should be OK without Sheldon Richardson. Should be. The Missouri defense wasn't a disaster in 2012. And though that was due in large part to Richardson's space-eating in the middle of the line, the Tigers found a couple of other nice parts to go with him. Projected 2013 starting ends Kony Ealy and Michael Sam combined for 17 tackles for loss and eight sacks, and 300-pound tackle Matt Hoch showed promise. If 295-pound junior Lucas Vincent can come out of spring doing an even semi-reasonable Richardson impersonation and the Tigers can find a modicum of depth, the unit should enter fall camp as a strength. Unfortunately, given everything that Richardson provided, that's not a small if.
-- James Franklin needs to be 2011 James Franklin and not so much the 2012 version. That 2012 version has an excuse for his ineffective play, of course, since he was dealing with one injury or another virtually the entire season. But it doesn't change the bottom line for the Tigers: If their senior multi-year starting quarterback can't leave spring practice in good health and with his confidence restored, even dramatic improvements elsewhere might not make much of a difference in the final record.
The first opening weekend lines for college football in 2018 have been posted

A year-end wrap-up of college football statistics you need to know from 2017

Stanford produces apps and Super Bowl participants
The Alabama QB has a new look after the Tide claimed another national title

Young was injured during Miami's Orange Bowl loss to Wisconsin

The movie will zero in on former Penn State coach Joe Paterno during the Jerry Sandusky sc...