Spring Practice Primer: South Carolina Gamecocks
Can Jadeveon Clowney and Co. give Steve Spurrier another division title -- and a shot at that long-awaited SEC title?
College football never ends, and during the next few weeks teams will be getting ready for the 2013 season in their spring practice sessions. Here's a look at the South Carolina Gamecocks and what they'll be working on this spring.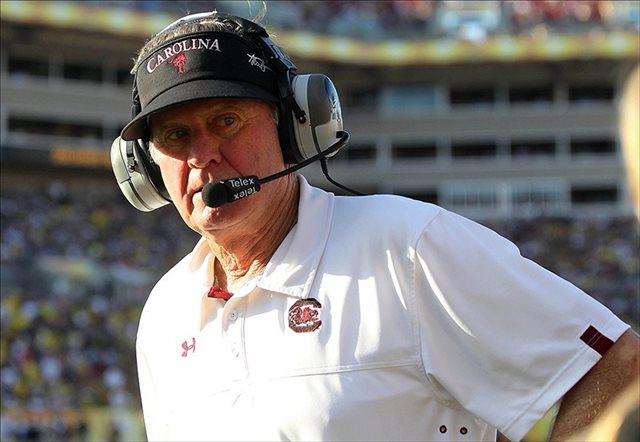 Spring practice begins: Tuesday, March 5
Spring game: April 13
2012 record: 11-2 (3rd SEC East, Outback Bowl champions)
Returning starters: 12 (7 offense, 5 defense)
The Least You Should Know About South Carolina This Spring
-- Dylan Thompson will stake his claim in the quarterback race. If this were any other head coach, it might not even be worth discussing whether the junior backup could unseat the senior incumbent at the quarterback position when that incumbent has (mostly) led the team to a 22-4 record over the past two seasons. But this is Steve Spurrier we're talking about, and the foot surgery that will keep Connor Shaw out of spring drills means Dylan Thompson will have the starter's reps all to himself. It's without question an opportunity for Thompson (who started the Gamecocks' big win over Clemson and threw the winning touchdown pass to beat Michigan in the bowl) to carve himself out some legitimate playing time ... and, knowing the Ol' Ball Coach, possibly even go into fall camp with a leg up in the race to become the starter.
-- The receiving corps might not need someone taller than six feet to step forward. This has to have been some sort of record, right? The listed heights for the Gamecocks' top four wideouts in 2012 (yes, in 2012) were, in order, 5-9, 5-8, 5-9 and 5-7. The positive for Carolina is that Nos. 1, 3 and 4 on that list -- Bruce Ellington, Damiere Byrd, and Nick Jones -- are all back. The negative is that their one consistent target with size, jumbo tight end Justice Cunningham, has graduated. New projected 6-foot-5 starting tight end Rory Anderson (14 catches, 271 yards, and five touchdowns in 2012) should be ready to pick up Cunningham's slack. But a big spring from him, 6-4 sophomore K.J. Brent, or even just the remainder of the Gamecocks' mighty-mite brigade would help calm any concerns that the departed Ace Sanders was the key to making those height issues irrelevant.
-- Those interested in tackling are welcome to move to the front of the line. The Gamecocks' depth chart looked mighty nice at linebacker in 2012, with two seniors backed up by two more seniors. But now that it's 2013, it looks a lot less nice, and the loss of DeVontae Holloman and safety D.J. Swearinger -- all in all, six of the Gamecocks' top eight tacklers -- doesn't help matters a bit. Coordinator Lorenzo Ward can likely find a handful of able replacements this spring, but can he find enough to fill not only the starting roles, but the two-deep as well?
-- If anyone wants to take a great leap forward and join Mr. Clowney on the All-SEC plateau, they are warmly invited. Did Spurrier do a masterful coaching job in coaxing a team with just three players named to either the 2012 All-SEC first or second teams to an 11-2 record, or did that 11-2 record indicate the Gamecocks should have had more players in the first place? In either case, with two of those three gone in Sanders and Swearinger (not to mention Marcus Lattimore), it's on the likes of Ellington, Shaw (or Thompson), offensive tackle Brandon Shell, defensive tackle Kelcy Quarles, tailback Mike Davis or some sleeper candidate to take the next step and give the Gamecocks another legitimate star. As otherworldly as Jadeveon Clowney might be, SEC champions aren't typically (or ever) built on the back of a single all-conference player. 
The former Oregon coach is one of the hottest commodities on the coaching market

The CFP Selection Committee got Miami right, but there are some decisions that make you go...

The newest college football rankings are out, but did your favorite team make it in?
Sumlin is 51-25 overall and 25-22 in the SEC over six seasons in College Station

This is precisely what you'd think would happen between Kiffin and Saban

Anybody can rank the best 25 teams, only the Bottom 25 ranks the worst