Spurrier laughs off idea Clowney should sit out season
Likely future No. 1 pick doesn't take notion too seriously, either.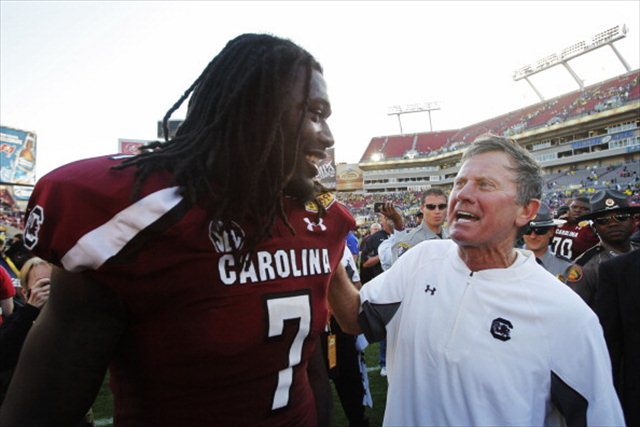 Steve Spurrier doesn't have to worry about Jadeveon Clowney skipping his junior season. (Getty Images)
Admit it: On its face, the idea that a player who's 99.9 percent certain to be the No. 1 pick in the 2014 NFL Draft whether or not he plays a down in 2013 to simply skip the coming season -- working out, polishing technique, and above all not engaging in any activity that might threaten the health of his hundred-million-dollar body -- doesn't sound so completely crazy.
That's how this column by the Charlotte Observer's Tom Sorenson has sparked some intense (if almost completely one-sided) debate in SEC and even national circles. Of course, the notion that Jadeveon Clowney might actually sit out South Carolina's 2013 season (and short-circuit his own budding Heisman momentum) is just this side of entirely ludicrous, and so it's no surprise to see Steve Spurrier skewer the premise in comments made Tuesday to the Atlanta Journal-Constitution.
"Now if money was his only goal in life, then he couldn't play. And he might not get into a car before next year's draft, so he wouldn't be in a car wreck and get injured," Spurrier said. "He would be just very, very careful for a year not to have any kind of injury.
"But Jadeveon likes football. Football players play football ... I think he wants to play. I certainly hope and believe he does. I think he should play for South Carolina this season." 
The AJC doesn't specify, but here's a guess that the sarcasm in the air during Spurrier's comments was thick enough to smell it.* For his part, Clowney also found Sorenseon's suggestion amusing:
I'm playing lol

— jadeveon clowney 7(@clownejd) February 12, 2013
Sorenson isn't wrong when he asserts that Clowney is taking a major financial risk by playing this fall, or that he doesn't have to look any further than teammate Marcus Lattimore to see why that's the case. (Though Lattimore is still currently projected as a fourth-round selection and ranked as the No. 9 tailback in the draft, it's a safe bet he'd have been rated much more highly before his second major knee injury in two seasons.)
But Spurrier is even less wrong when he points out that those risks come with far more rewards than even a No. 1 pick's paycheck.
"Most of the guys that say he should sit out, they don't realize the benefits of being on a college football team, and continuing with your teammates to have as big of a year as you possibly can," Spurrier said. "The money is going to be there down the road, so why would a person give up the thrill of playing college football?
"Those people have never played football, so they say he should sit out and get the money. That's the only side of sports they see -- the money. There's a lot more to it than just the money."
Like, say, this, which we post (again) as our way of saying we couldn't agree more: 
*In Spurrier's case, since you're wondering: like bacon and suntan lotion.
College football bowl games were all announced on Sunday, and you can check out the entire...

SportsLine simulated every bowl game 10,000 times for pick'em leagues and confidence pools

Everything you need to know to watch and pick the Las Vegas Bowl on Saturday
Everything you need to know to watch and pick the Camellia Bowl on Dec. 16

Everything you need to know to watch and pick the New Mexico Bowl on Dec. 16

Everything you need to know to watch and pick the Cure Bowl on Saturday