Spurrier on Saban: 'Greatest recruiter in history of college football'
Steve Spurrier had lots of praise for Nick Saban and his recruiting efforts at SEC Media Days, but he also didn't retract previous comments suggesting Saban could have done more with that talent.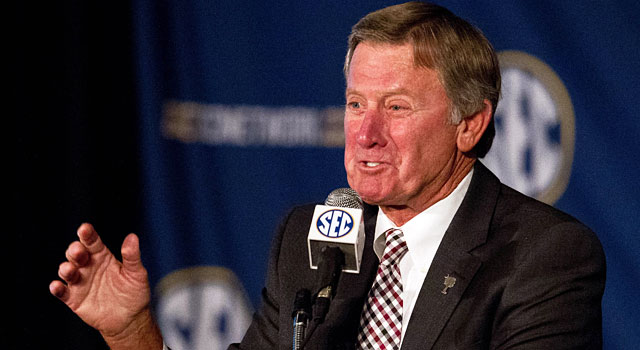 More college football: Jon Solomon | Dennis Dodd | Jeremy Fowler | Latest news
"You can find faults with anybody if they don't win them all," Steve Spurrier said in an interview this past June. "How many SECs has [Nick Saban] won there in eight years? He's won two. He's won three nationals, but he's only won two SECs in eight years.
"Now, if you had the No. 1 recruiting class every year and so forth," Spurrier continued, "I don't know if he has maxed out potentially as well as he could."
This being Steve Spurrier, those comments didn't exactly go unnoticed in SEC circles, and this week's main event being SEC Media Days, it wasn't surprising to have Spurrier asked about them during his time at the podium Tuesday. The most successful coach in South Carolina history responded by calling Saban "the greatest recruiter in college football history" -- but, notably, stopped well short of baking away from his previous remarks.
The exact transcript, from the invaluable ASAPSports:
I think [Saban and Alabama have] done extremely well.  There's no question about that.  I just made a statement that I think they've had five number one recruiting classes out of the last six years, which has got to make him the greatest recruiter in the history of college football.

Arguably, they've got the greatest collection of football players ever assembled for a college team.  If the recruiting services are correct, and they're pretty much correct.

So they're the favorites.  They're the favorites.  There's no question about that.  As long as they can recruit like that, they're always going to be the favorites.

I guess fortunately sometimes the team that plays the best is the team that wins instead of maybe who all has the best players.
We could stop there, but Spurrier didn't, so why not keep going?
I just mention that because it is amazing.  When I was at Florida, we had two number one classes, 1991, Danny Wuerffel, all those guys, we had a bunch of players come in.  The next year the guys said, Coach, you got too many players on Florida, I'm not going to get on the field.

But at Alabama they just keep signing them year after year after year.  It's amazing.  I give him credit for it.  They do it the right way.  He runs a good program.  It's just amazing to me how they've been able to stack and keep loading up players every year.

That's what I was just trying to mention.  They're going to be the favorites.  They got to be the favorites.

Now LSU is pretty good, too.  Everybody else recruits very well also.  But to be number one that much, that's just sort of amazing to me.
Notice that Spurrier calls the Tide's recruiting under Saban "amazing" no less than four different times ... and compliments Saban's actual coaching no more than zero different times.
Alabama is the "favorites." They're a "good program." They've "done extremely well." But nowhere does Spurrier even come close to retracting his statement that they could have done better.
Spurrier "just made a statement" about Saban's recruiting? He "guesses" it's "fortunate" that teams with more talent -- like, say, Alabama -- get upset sometimes? He knows he's taking a jab at Saban's coaching ability and ever-so-subtly expressing some confidence in his own, and he knows that we know he's taking a jab at Saban's coaching ability and ever-so-subtly expressing some confidence in his own. Look up the expression "damning by faint praise" in the Dictionary of American Slang later this week, and there's no doubt you'll see "greatest recruiter in the history of college football" used as your first example.
It's worth asking: is there anyone in all of American sport better at saying more in fewer words than Steve Spurrier? The argument here would be no.
The movie will zero in on former Penn State coach Joe Paterno during the Jerry Sandusky sc...

Bidding for Salaam's trophy, which the auction house says was obtained legally, ends Satur...

Locksley has been the offensive coordinator at Illinois and Maryland during his coaching c...
Many NFL-eligible juniors ignore advice provided by the league and risk going undrafted each...

Snyder died in Manhattan, Kansas, on Wednesday

Locksley joined Alabama's staff in 2016