Spurrier takes jab at ESPN, USC for airing of Trojan pro day
The Ol' Ball Coach feels his program deserves more attention.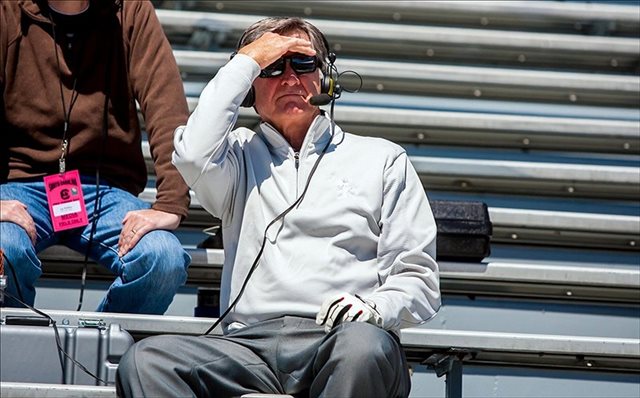 BREAKING NEWS: Steve Spurrier has opinions. And he has no problem sharing them.
Well, all right, that's not so much news as it is a rite of the SEC offseason as ingrained as sunshine at spring games and insanity at media days. So maybe the biggest surprise concerning the Ol' Ball Coach's comments Wednesday about ESPN electing to air that other USC's pro day over South Carolina's is that he didn't rub any more salt in the Trojans' wounds than he did. From the State and reporter Josh Kendall:
"I noticed both USCs had their pro timing day today," Spurrier told The State. "One of them finished No. 7 in the country last year, the other was not in the Top 25, yet ESPN decided to go out to the one in California which did not finish in the Top 25 and televise their pro timing day live. It's interesting that (ESPN doesn't) come around here on signing day, they don't come around here on pro timing day, and yet they want us to play all these Thursday night games for them, which we do.

"Maybe we need to consider playing on that new network, what is it? Fox Sports Live?"
It's Fox Sports 1, and an SEC team will appear on it the day pigs fly in a bacon-powered rockertship to the moon. If pushed, we'd bet even Spurrier could explain the World Wide Leader's decision -- the Trojans are an easy cover for ESPN's Los Angeles production center, their pro day featured arguably the most notable first-round quarterback prospect in Matt Barkley, and they simply have a larger national following. 
But Spurrier doesn't really care about any of that -- he cares about standing up for his team, his players (particularly Marcus Lattimore, who earned cheers from scouts for his game-of-limited efforts in the Gamecocks' pro day drills), his program and his fans. This kind of us-against-The-Man chippiness isn't just the OBC throwing the Gamecocks faithful a bone, it's him offering up an entire slab of juicy red meat. 
So we don't blame him at all for taking a jab at ESPN and Lane Kiffin. It just doesn't mean that jab landed, necessarily.
Hurricanes Harvey and Irma created a ripple effect around college football the last few we...

Odds were issued for the first SEC coach to be fired this season, and it does not look goo...

Guice was ruled out for Saturday but convinced Ed Orgeron to let him play in a limited rol...
Greg Huegel suffered a knee injury during Wednesday's practice

The Wildcats and Utes open conference play on Friday night

Eichorst's firing on Thursday sets Riley's seat ablaze, even if a decision won't be made i...