Stanford crushes Oregon's title hopes with power football
Oregon is no longer a BCS contender because Stanford has the formula to beat the Ducks. The Cardinal outmuscled them up front.
• 4 min read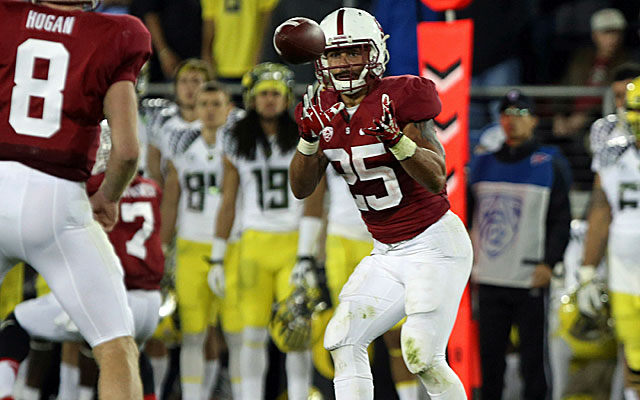 STANFORD, Calif. -- That pesky Utah loss will probably prevent this, but Bama-Stanford would be delicious.
Until proven otherwise, power football still prevails. That Oregon's no-huddle attack, with its Hi-Liter uniforms, could translate record-setting offense into a national title is still a tease. The 26-20 loss to Stanford on Thursday's national stage took everything you think you knew about college football this season and torched all of it.
Get a nasty offensive line and move people until they can stop you, just like Stanford did with its slow Duck roast. The Stanford offense that once belonged to Jonathan Martin, whose face is emblazoned in Stanford Stadium as an All-American, milked clock for more than 42 minutes and converted 12 of its first 16 third downs with glass-chewing toughness.
Just how the SEC would do it, right, David Shaw?
Stop it.
As Stanford's leader left the stadium, still holding a colorful play sheet the size of a Denny's menu, he was asked whether he had an ounce of intrigue about what Stanford would do in a full SEC schedule.
He really doesn't like the SEC comparison, he reminds.
There's no tougher conference schedule to navigate than the Pac-12's, Shaw says, in part because of the SEC's November "cupcake" nonconference games such as FCS opponents.
"You can write that -- cupcakes," Shaw told CBSSports.com. "It's hard from here on out in our conference."
Comments like Shaw's deepen the cross-country curiosity for a fight that probably won't happen. Don't count on FSU, which won't play a team with a winning record the rest of November, to drop a game. And if Bama or FSU fall, Baylor or Ohio State might have the undefeated trump card.
But if you extract Stanford's curious 27-21 loss to Utah nearly a month ago, do you see a contender?
"I'll let the country see what we're all about," Shaw said.
This game was unfortunate. People came all the way to California to watch a light show. Instead, they saw one of the best offenses of the past few years relegated to garbage-time touchdowns. Oregon first scored with 10:11 left, a 23-yard strike from Marcus Mariota to Daryle Hawkins.
For all the talk of Oregon fans wanting Bama, the Ducks really wanted a nap through the first three quarters. De'Anthony Thomas wanted 40 points, but the Ducks barely got off 40 plays.
Stanford's game plan was clear-cut: keep Oregon on the sideline.
"We went to the locker room and I felt we hadn't even played yet," Oregon left tackle Tyler Johnstone said.
An early 12-play, 96-yard scoring drive by Stanford set the tone. Four yards here, seven yards there, Kevin Hogan deep for 47, tackle Andrus Peat and guard David Yankey pulling and piling, four more yards, or seven, depending on the mood of running back Tyler Gaffney, who had an obscene 45 carries for 157 yards.
The Cardinal basically played with 26 linemen on the field, lined up foot to foot with an array of graveyard bones, Chinese swords and Muscle Milks.
Oregon's offense saw the field every two hours or so.
Stanford players Shayne Skov, Kevin Hogan and Gaffney entered the postgame press conference wearing what they called 'nerd nation' glasses -- all black with white tape between the eyes. The play at the line of scrimmage was equally studious.
"What happens within the lines is dictated by us," Stanford linebacker Shayne Skov said.
This was true after Oregon's defense appeared gassed and Mariota was clearly struggling, wearing a knee brace after a report surfaced that the Heisman candidate would play with a partial MCL sprain. Mariota acknowledged after the game he was "a little banged up" but that his knee wasn't a major factor.
This was terrible timing for Oregon, which relied too much on Mariota's arm (20-of-34 passing, 250 yards) in an offense that thrives when Mariota is a threat to run.
The Ducks didn't help themselves with careless play. Coach Mark Helfrich should have taken three points on a first-quarter drive but instead opted for a fourth-down, overthrown fade route at the goal line. An Ifo Ekpre-Olomu interception overturned by a holding penalty hurt, followed by costly fumbles by Mariota and De'Anthony Thomas within scoring range.
"We just weren't able to finish drives," Mariota said.
The Ducks hung around, returning a late field goal block for a touchdown and recovering an onside kick that Mariota converted to a score, a beautiful 12-yard pass to Pharaoh Brown on fourth down with 2:12 left.
But it was far too late. Stanford is built to play with a lead.
"I've got to prepare them better," Helfrich said. "There's a ton of stuff."
Stanford hasn't played this well every week, which shows why the annual midseason debate about whether the BCS will fairly treat three or four undefeated teams seems futile. Teams are unpredictable. They flail on occasion.
Oregon teased us.
Stanford seems ready for anything.
"When we play like that, we can stop anybody," Skov said.
Weinke was injured when Florida State lost to Tennessee in the 1999 BCS title game

It was one of the busiest offseasons for the assistant coaching ranks

Oliver's star has already been born, but 2018 is when it will truly be recognized
Craig Kuligowski is reportedly leaving Miami to take the same job with Alabama

BT Potter is about to be very popular in the Clemson locker room

McElwain will coach receivers and help coordinate the offense for the Wolverines