Stanford, Syracuse make totally historic Twitter handle trade
Syracuse traded Stanford some oranges and 'a collection of local goods' for the rights to the Twitter handle '@SUAthletics.' No, really.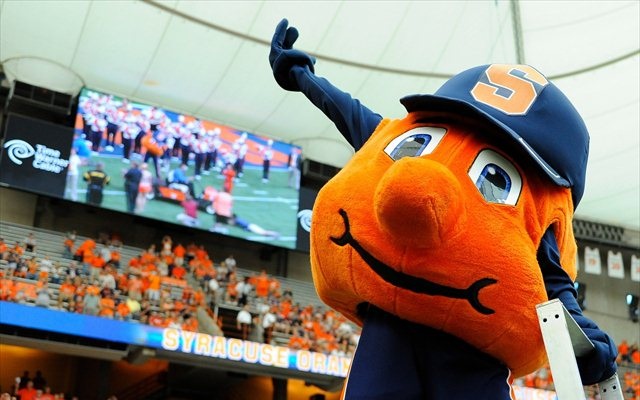 It has been a quiet offseason by college football's recent standards: no realignment chaos, no coaches of national title contenders fired for covering up clandestine motorcycle accidents, no NCAA sturm und drang in places like Columbus or Happy Valley. Listen closely, and you can almost hear the offseason crickets.
That is, until Monday, where the world of college athletics was rocked -- nay, shaken to its very core -- by the NCAA's first-ever marquee trade. Stanford athletics announced that it had agreed to a deal with the Syracuse athletic department that would send the Twitter handle "@SUAthletics" to the Orange in exchange for "a collection of local goods to be named later but also including one case of oranges, which Stanford intends to use in refilling its 2011 Orange Bowl trophy."
Stanford will adopt the new Twitter handle "@GoStanford" instead.
No, really. Yes, your calendar does read "July 1" and not the April equivalent. Look here:
Obviously we're thrilled to activate @GoStanford as our official Twitter handle and pull off this dynamic trade, said Bernard Muir, The Jaquish and Kenninger Director of Athletics at Stanford. From a branding standpoint, this trade makes sense for both schools. We held both accounts -- the social media equivalent to having two starting quarterbacks, and we wanted to derive as much value fun as possible. We expect great things from our new starter, @GoStanford, and wish @SUAthletics good luck in a new home.
Meanwhile, it was our fondest wish to see the traded Twitter handle respond with "It is what it is. It's a business. Just have to make the best of it." But no:
We can confirm the trade rumors ... http://t.co/pklyZ8h2o0

— Syracuse Athletics (@SUAthletics) July 1, 2013
We now look forward, enthusiastically, to USC and South Carolina resolving their trademark dispute by having Cocky ride Traveler for a year and Sir Big Spur wear a tiny chicken suit of Trojan armor. 
Everything you need to know to watch and pick the Boca Raton Bowl on Tuesday

College football recruiting begins earlier than normal with a National Signing Day in Dece...

Getting Leavitt back was obviously high on Cristobal's list of priorities
Cristobal's first game at Oregon ended the same way Chip Kelly's did

Conner Manning and the Panthers dominated the Hilltoppers in the Cure Bowl

You can only go to the well so often before it dries up