Stanford's band makes fun of Iowa during Rose Bowl halftime show
Stanford's band trolled Iowa during their halftime show at the Rose Bowl.
• 1 min read
Stanford dominated Iowa on Friday evening in the Rose Bowl, beating the Hawkeyes, 45-16.
Not only did the Cardinal beat Iowa on the field behind a record-setting performance from Christian McCaffrey, the Stanford band used their halftime performance to troll Iowa fans.
The Stanford band did a "Farmer's Only" halftime show, playing the jingle from the dating website's ad to make fun of Iowa fans -- which made up a large majority of the crowd at the Rose Bowl. 
The #Stanford band #FarmersOnly jab at Iowa is by far the most entertaining moment of the #RoseBowl thus far pic.twitter.com/DAamxeG36S

— Matt Crawford (@Metro_Matt) January 2, 2016
Then the Stanford band brought out a big cow to wander around on the field, because of course. 
Loud, loud boo's from Iowa fans upon the conclusion of the Farmers Only halftime show. pic.twitter.com/4Kckysi4Pj

— Bryan Fischer (@BryanDFischer) January 2, 2016
The goal was apparently to make a corn maze and have the cow drunkenly wander through it. Iowa fans, already down 35-0 to Stanford at the half, did not find the humor in it. 
The Stanford band is always a bit different and regularly find themselves at the center of controversy for the content of their shows -- Wisconsin fans weren't happy with 2013's "Ode to Cheese" show in the Rose Bowl.
It's not just the content of their shows that is strange, but the "instruments" they play are quite different as well. I mean, they have a guy playing a stop sign and a girl playing a skateboard. 
Stanford percussion section includes pounding on a Stop sign (L) and a skateboard (R) pic.twitter.com/cptSd4pTJQ

— Tom Hoffarth (@tomhoffarth) January 2, 2016
The content of their shows always makes showing the Stanford band on live TV a bit of an adventure, and ESPN's response was to show them briefly and then zoomed out to a really wide blimp shot for a chunk of the show. 
The blimp didn't want any of the Stanford band #RoseBowl pic.twitter.com/evBHRaTWcX

—  Keith  (@KeithMcC29) January 2, 2016
Stanford's band did not care that people had their feelings hurt by their halftime show. 
Glad you liked our corn show, Iowa! Couldn't tell, was that booing or mooing? #imsosorry #1dayfromretirement

— Edward M. Beaux (@lsjumb) January 2, 2016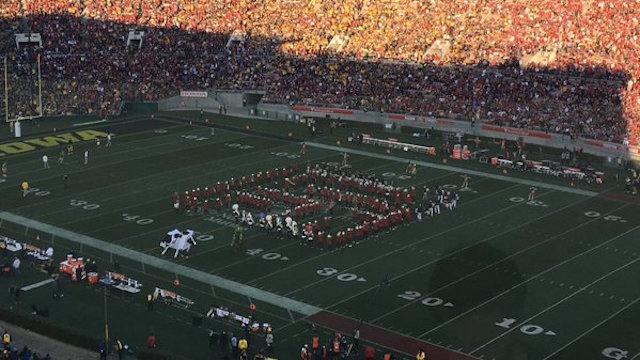 The former Oregon coach is one of the hottest commodities on the coaching market

The CFP Selection Committee got Miami right, but there are some decisions that make you go...

The newest college football rankings are out, but did your favorite team make it in?
Sumlin is 51-25 overall and 25-22 in the SEC over six seasons in College Station

This is precisely what you'd think would happen between Kiffin and Saban

Anybody can rank the best 25 teams, only the Bottom 25 ranks the worst