Stanford's Shaw: Stipends? Emphasis should be raising grad rates
Stanford coach David Shaw weighed in on the cost of attendance stipend issue at Friday's Pac-12 media day and explained why he thinks some of the discussion is misguided.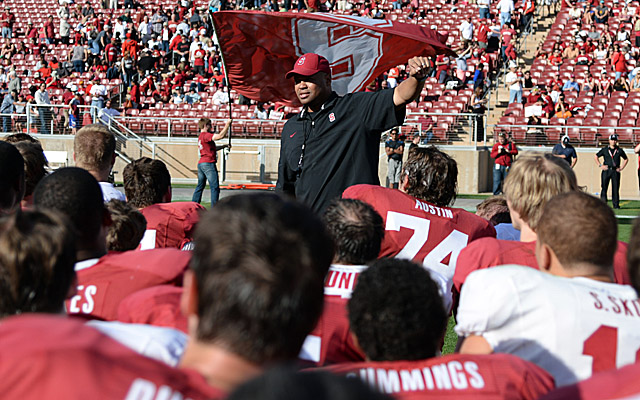 CULVER CITY, Calif. -- In just two seasons David Shaw has proven to be one of the top coaches in college football. The 40-year-old has led Stanford to a record of 23-4 and consecutive top-seven finishes. In his first season running the show in Palo Alto, he showed there's life after Jim Harbaugh. In 2012, he proved there's life after Andrew Luck. Along the way, Shaw's also emerged as one of the strongest voices in the college football coaching community. On Friday, at the Pac-12's media day, Shaw, again, was not shy about speaking out about a controversial topic.
In his press conference, while flanked by two of his top players, as David Yankey and Shayne Skov were asked about the cost of attendance stipend and how much $2,000 would mean to them to have during the school year and how hard is it to "get by," especially in such an expensive area such as Palo Alto, Shaw also weighed in.
"If the NCAA does pass this rule, we will comply, but my big comment is we're also giving these guys a $58,000 per year education and unbelievable contacts and summer jobs and great opportunities as well, and it's our job to make sure that these guys take advantage of these opportunities.
"I like to say that our job is to teach these guys how to make a living and not have them make a living in college."
Later in the day, Shaw expanded on his thoughts, saying the biggest point of emphasis for the leaders in college athletics needs to be on raising graduation rates more than getting bogged down on the stipend debate. "I'm a purist on this," Shaw told CBSSports.com. "It's disgraceful."
Shaw pointed out that for all of the talk about how much money schools make, the economics of such changes could end up squeezing many student-athletes out of a college scholarship opportunities altogether.
"If the rule changes, great, but I was a college student-athlete once. These kids aren't starving. They're already getting room, books, board.
"We always have to remember that they are still amateurs," Shaw said, before evoking the old adage, "Give someone a fish and you can feed him for a day, teach them how to catch a fish and you can feed him for a lifetime.
"Throwing money at a problem isn't solving a problem."
A new names joins Saquon Barkley, Baker Mayfield and JT Barrett in the race

Anderson didn't hold back when taking a shot across the state

Arizona State will wear military-themed uniforms against Colorado on Nov. 4
The Gators are off to their worst start since 2014

Just in case you wanted another reason to watch this game

Irvin's son is a sophomore tight end for the Hurricanes