Statement from former Big East commissioner John Marinatto
The Big East has officially announced John Marinatto's resignation. Joseph Bailey III, former Miami Dophins CEO, named interim commissioner.
• 1 min read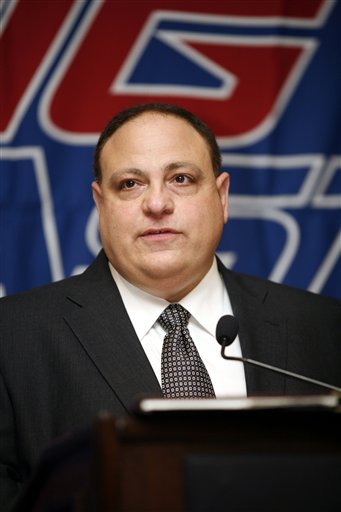 As
first reported by CBSSports.com's Brett McMurphy
, John Marinatto has resigned as commissioner of the Big East.
The news became official on Monday with a statement from Marinatto, released through the league office.
"After a great deal of thought and prayer, I have decided to step down as Commissioner of the Big East Conference and formally advised our Board of Directors," stated Marinatto. "I have been associated with this league for my entire adult life and have had the tremendous honor of serving as its Commissioner since 2009. Our recent expansion efforts have stabilized the Conference for the long term, and we are likewise well positioned for our very important upcoming television negotiations. "As a result, I felt this was the right time to step aside and to let someone else lead us through the next chapter of our evolution. I am proud of what we have been able to accomplish and would like to take this opportunity to publicly thank both our membership and my staff for their unwavering encouragement, support and loyalty -- especially during this past year. I am extremely confident about the future of this league that I love very much."
The Big East also announced that Joseph A. Bailey III, former CEO of the Miami Dolphins, will assume the position of interim commissioner immediately. Most recently, he has served as managing director of RSR Partners - an executive recruiting firm.
"The Big East has a terrific future," Bailey said. "I'm excited to participate in shaping a new structure and strategic plans for the conference, and I look forward to engaging on these matters with the leadership of all of the conference's members, old and new alike."
In addition to leading the search for a new commissioner, Bailey will have very little time to get settled. The league commissioners are currently in the process of deciding the future of
college football
's postseason and the Big East is set to re-open negotiations for a new media rights deal in September.
Keep up with the latest college football news from around the country. From the opening kick of the year all the way through the offseason, CBSSports.com has you covered with thisdaily newsletter. View apreview.
Get CBSSports.com College Football updates on Facebook
Air Force was forced to cancel 11 athletic events because of the 69-hour government shutdo...

Olson has a lot of the tools offensive coordinators want in a quarterback

The Tigers have a wealth of talent at their biggest position
Pineiro received the award for stopping an attack the morning of Oct. 15, 2017

The first opening weekend lines for college football in 2018 have been posted

A year-end wrap-up of college football statistics you need to know from 2017