Steering committee member explains autonomy draft proposal
Kansas State president Kirk Schulz goes inside Thursday's autonomy draft proposal in a Q&A with CBSSports.com. Schulz reveals athletes will probably be part of the voting process.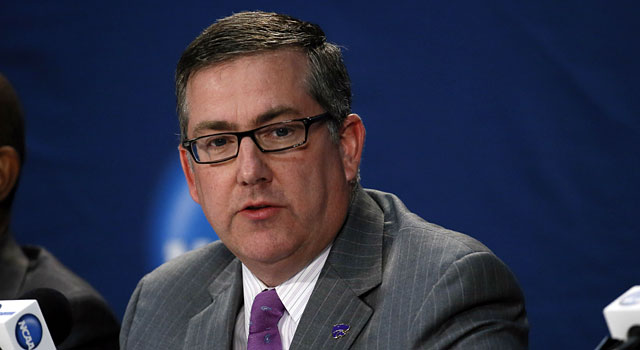 The NCAA steering committee is proceeding with caution.
How much caution is in the eye of the reformer. In this revealing interview with Kansas State president Kirk Schulz, he explains the rationale for the committee's draft proposal last week that will begin to shape the new NCAA.
Schulz is one of the seven members of the committee -- all school CEOs on the board of directors -- who took the first tentative steps toward giving Big Five schools autonomy. Some schools (from the Big 12, Big Ten, ACC, Pac-12, SEC) have complained the committee didn't go far enough in terms of the voting structure.
Schulz explains here why Thursday's first draft contains language regarding a super majority vote. That is, at least two-thirds of the 65 Big Five schools would have to agree on legislation.
Some commissioners have already begun to speak out on that high bar. Schulz told CBSSports.com, "Because a group of schools have the ability to do something doesn't always mean they should exercise that ability. We're going to hear some comments out there from the schools with the largest athletic budgets, sort of pushing the envelope [saying] we need to have more authority."
There's no doubt the committee is being contemplative. The results of a current 60-day comment period will be published in full (in June), Schulz said. Also it's likely that the 65 Big Five presidents will meet annually.
Sort of like a special convention within the NCAA.
For now here's an inside look at Thursday's draft proposal. 
CBSSports.com: What was the idea of the super majority vote? These schools want autonomy. This seems to be a high bar for them to pass legislation.
Schulz: The idea of the super majority was to set purposely a high bar for sort of things the Big Five would do. There was also the sense that when the super majority was there, there couldn't be a couple of conferences that said, 'Hey, this is what we're going to do.'
There needed to be an insistence that each institution had a choice.
I'm well aware the Big Ten took a strong stance [against a super majority]. It's very, very early. Prior to our meeting we had several letters from presidents in the Big Ten Conference. President [Bernie] Machen at Florida, [said] that bar was way too high. It needed to be lowered somewhat.
Our perspective on this is we have a 60-day comment period on this. We want to hear from everyone on this before making a decision … We didn't want to do something and the later on say, 'We really should have waited.' 
CBSSports.com: What about the concept of 15 athletes having an active voting voice along with the 65 Big Five schools? (One proposal that wasn't acted upon would have three athletes from each of the Big Five conferences having voting privileges to pass rules.)
Schulz: As we went through the time in San Diego [NCAA Convention in January] it was really, really clear the student-athlete felt they needed a more formalized voice … The purposeful addition of the 15 student-athletes having a full vote is not only symbolic, they can make a difference in something that is done.
If we look at the issues at Northwestern, for example, on the unionization vote, try to get to the root cause of that … unionization is simply a route to improve facilities, money, whatever you want to call it.
Clearly student-athletes are going to be in the room where decisions are made.
CBSSports.com: It's one thing to have athletes vote, it's another having almost a 20 percent stake (actually 18.7 percent) in the process.
Schulz: I think the seven presidents feel pretty strongly about this. This doesn't mean … there won't be some modification. I ... feel strongly this part of the proposal we really need to leave there.
I'm OK with maybe consideration some of the [voting thresholds], but I don't want to change the role of the student-athlete.
CBSSports.com: Why didn't the committee act on some of the issues like transfers and time away for athletes?
Schulz: A lot of it is we needed to wait and hear from everybody on things …
The public review part is absolutely critical. At the end of the 60-day period we're going to make all comments public. What we can't have is a lot of backroom dealing and something pops in July and people go, 'Where did this come from?'
I like to remind everybody this was a proposal crafted with lots of different perspectives out there from schools with the highest athletic budgets to medium resources to schools that don't have monster athletic budgets. One of the reasons I'm a proponent of the fairly high [voting] bar is that I think we have to be real careful that we're not doing it to benefit those 65 schools to the detriment of everybody else.
Craig Kuligowski is reportedly leaving Miami to take the same job with Alabama

BT Potter is about to be very popular in the Clemson locker room

McElwain will coach receivers and help coordinate the offense for the Wolverines
Nathaniel Watson Jr. was involved in a car accident that injured a passenger in early Febr...

The honorable Tom Fornelli presides over the ASU vs. UM case

Arkansas State is seeking $650,000 for a canceled home game last September due to Hurricane...