Steve Sarkisian names Cody Kessler USC starting QB
USC's quarterback battle appears over for now, as Steve Sarkisian has named Cody Kessler the team's No. 1 quarterback.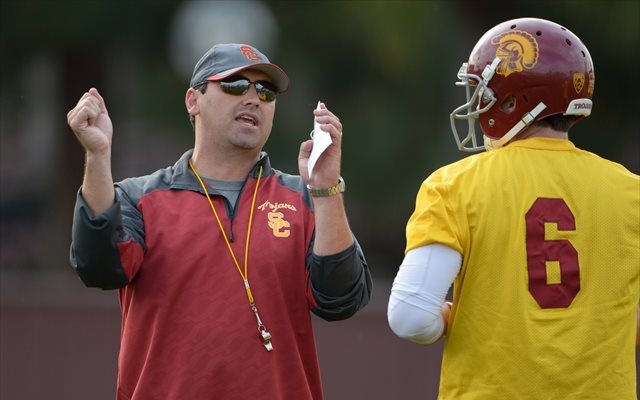 USC 's spring quarterback battle appears to have ended with the expected outcome.
Steve Sarkisian announced after practice Tuesday that junior Cody Kessler, the Trojans' 2013 starter, would remain the team's No. 1 quarterback coming out of spring. Kessler had been battling redshirt freshman Max Browne after 2013 second-stringer Max Wittek decided to transfer out.
"I told [the quarterbacks] that if we had a game this Saturday, Cody would be the starting quarterback," Sarkisian said in a video posted to YouTube by USC Athletics. "I think he's deserved it, I think he's earned it. He's performed well."
Kessler improved as last season progressed, finishing with a 20-to-7 touchdown-to-interception ratio, an 8.2 yards-per-attempt average, and a 65.2 percent completion rate. Browne redshirted after being ranked as a five-star recruit and the No. 1 pro-style quarterback in the 2013 247Sports composite rankings.
That experience advantage made Kessler the heavy favorite coming into spring, but even after his announcement Tuesday, Sarkisian said he didn't expect either quarterback to relax.
"This competition is going to wage on," he said. "Max isn't going to just go away."
An early-season Big 12 game already has major conference and national implications

Top-ranked Alabama hits the road to take on upstart Vanderbilt in Nashville on Saturday

The battle of the Bulldogs will take place Saturday night between the hedges
Penn State hits the road to take on Iowa under the lights in both teams' Big Ten opener.

Penalties include a two-year probation and a show-cause for former coach Kyle Flood

Dig below the surface and you'll find a lot of intriguing matchups on the slate this Satur...